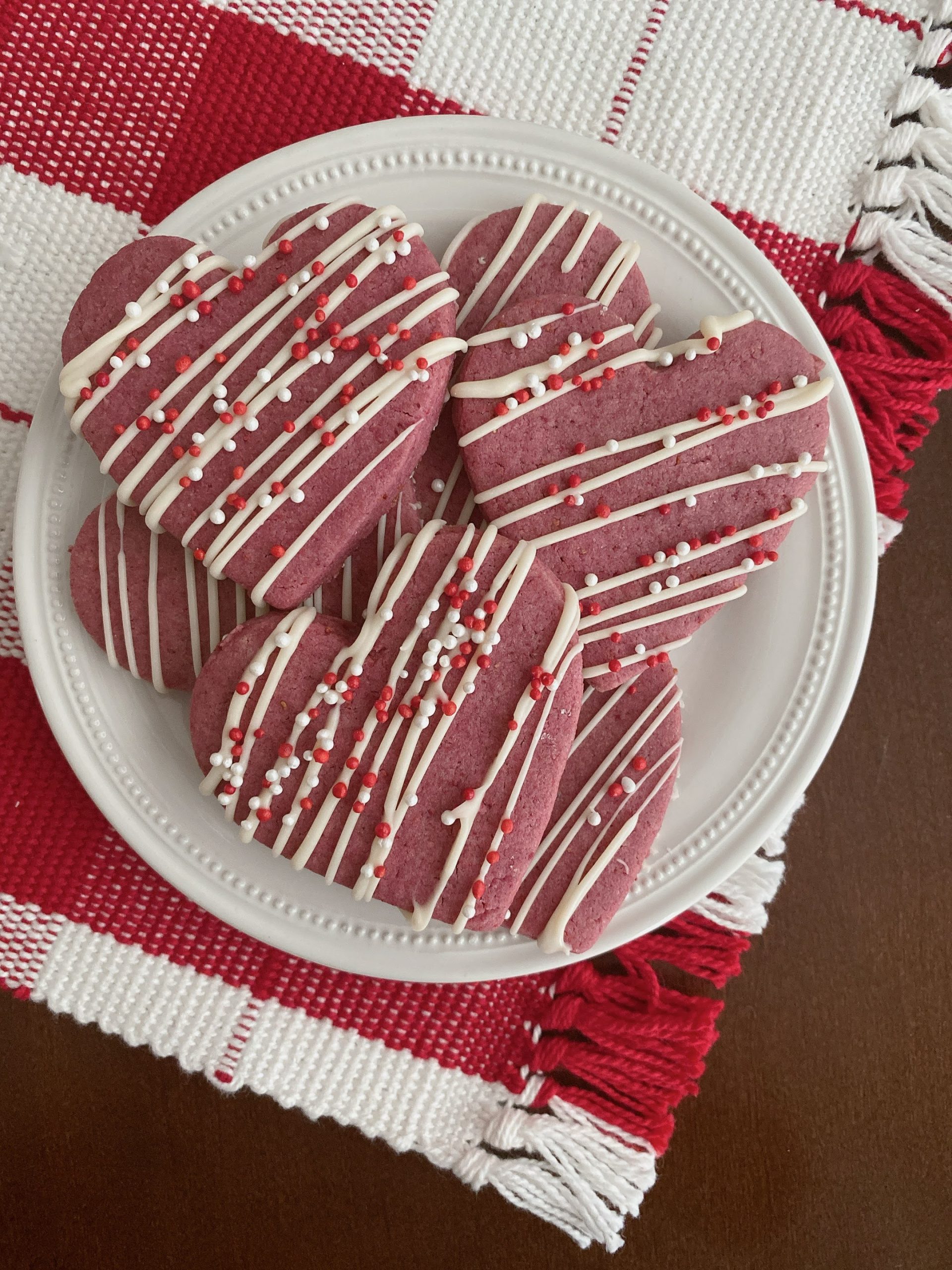 I feel like I just put my Christmas decorations away (probably because I did), and now it's time to think about sweet goodness for Valentine's day — like these raspberry cookies made with real, freeze dried raspberries and drizzled in white chocolate.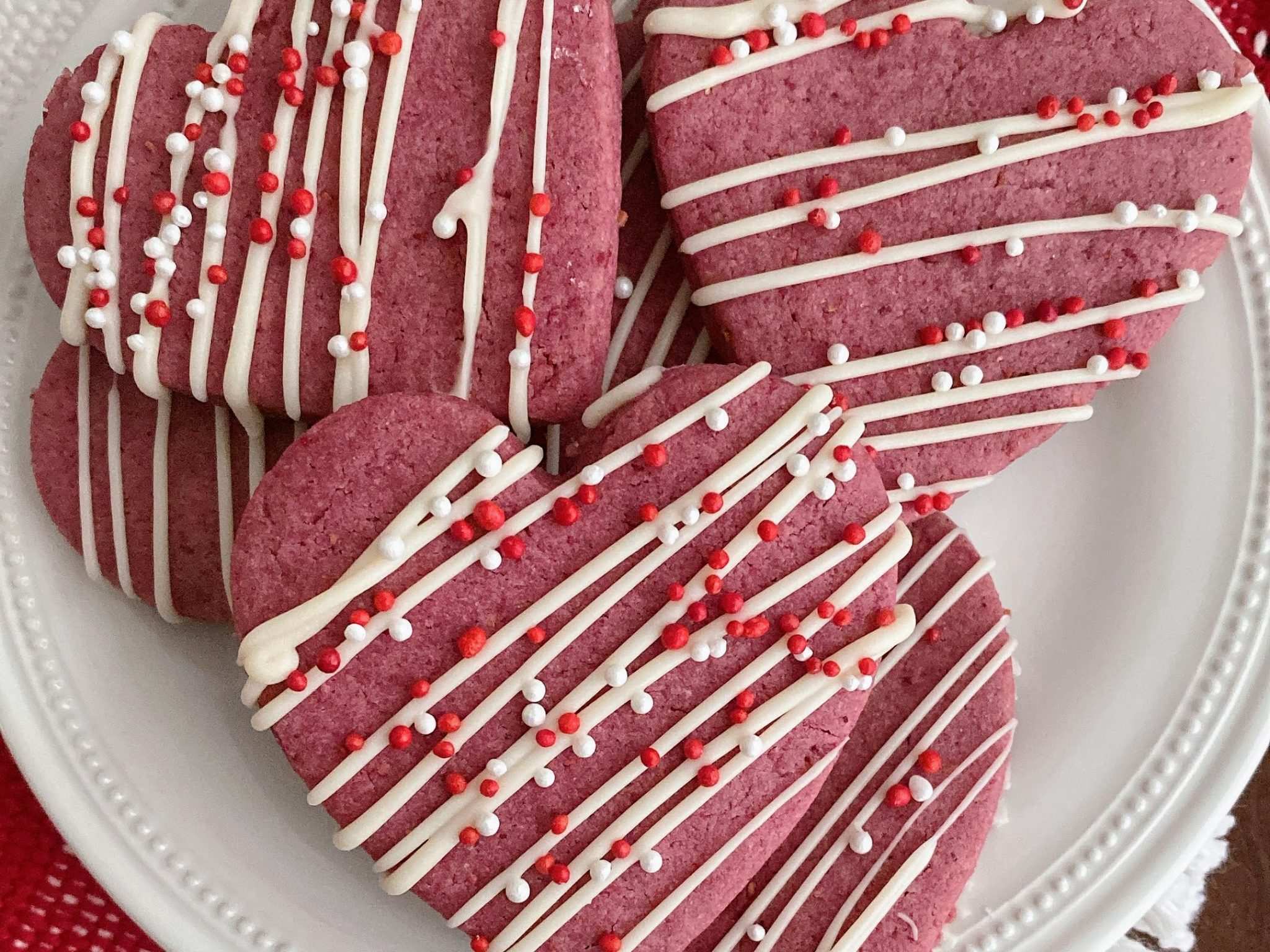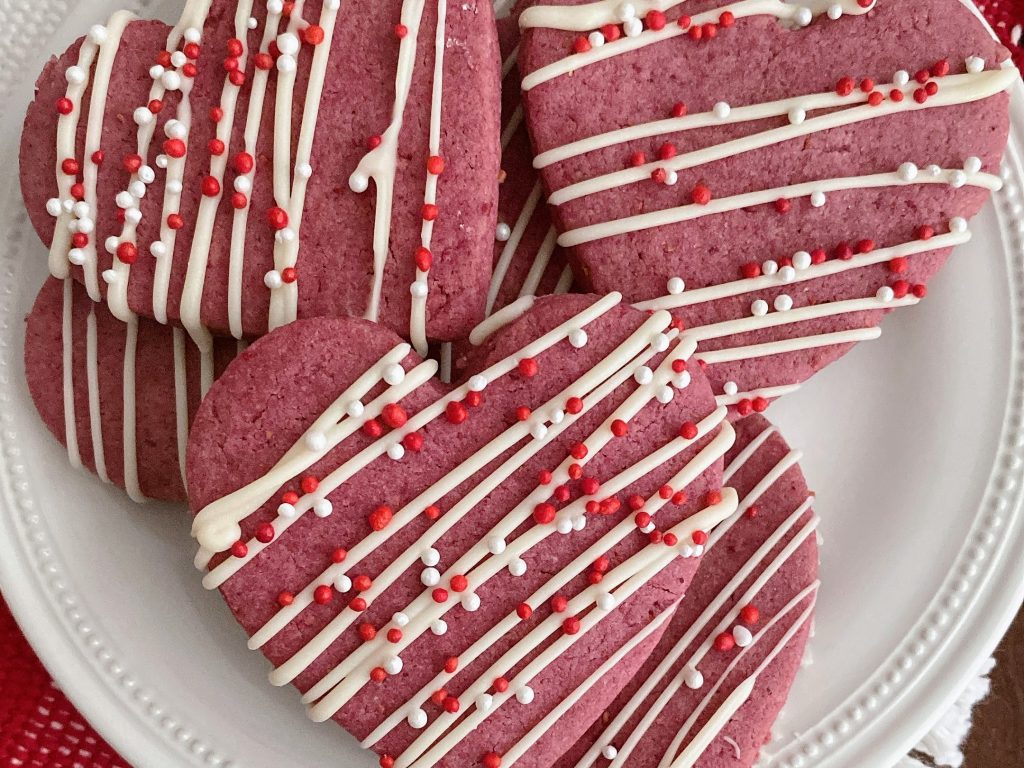 My husband wasn't much of a fan of cutout sugar cookies, saying that they don't have much flavor. So, I set out to prove him wrong — and I did! These cookies are his favorite…. so far!
raspberry cookies that tastes JUST LIKE RASPBERRIES! Yes, please!
Jump to Recipe
The rich pink color of these raspberry cookies comes from the freeze dried raspberries I use in the recipe. I kept the decoration simple, drizzling them with white chocolate.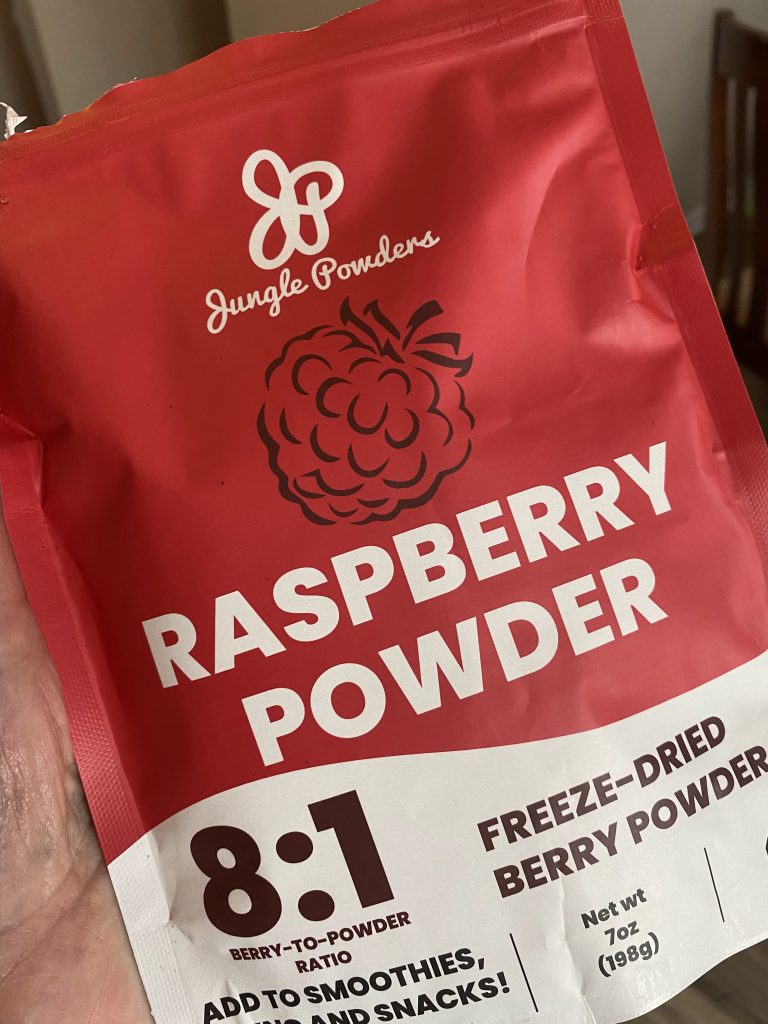 And, they pass the Rob taste test! YAY!
Get all my tips for making perfect sugar cookies here.
Raspberry COOKIE RECIPE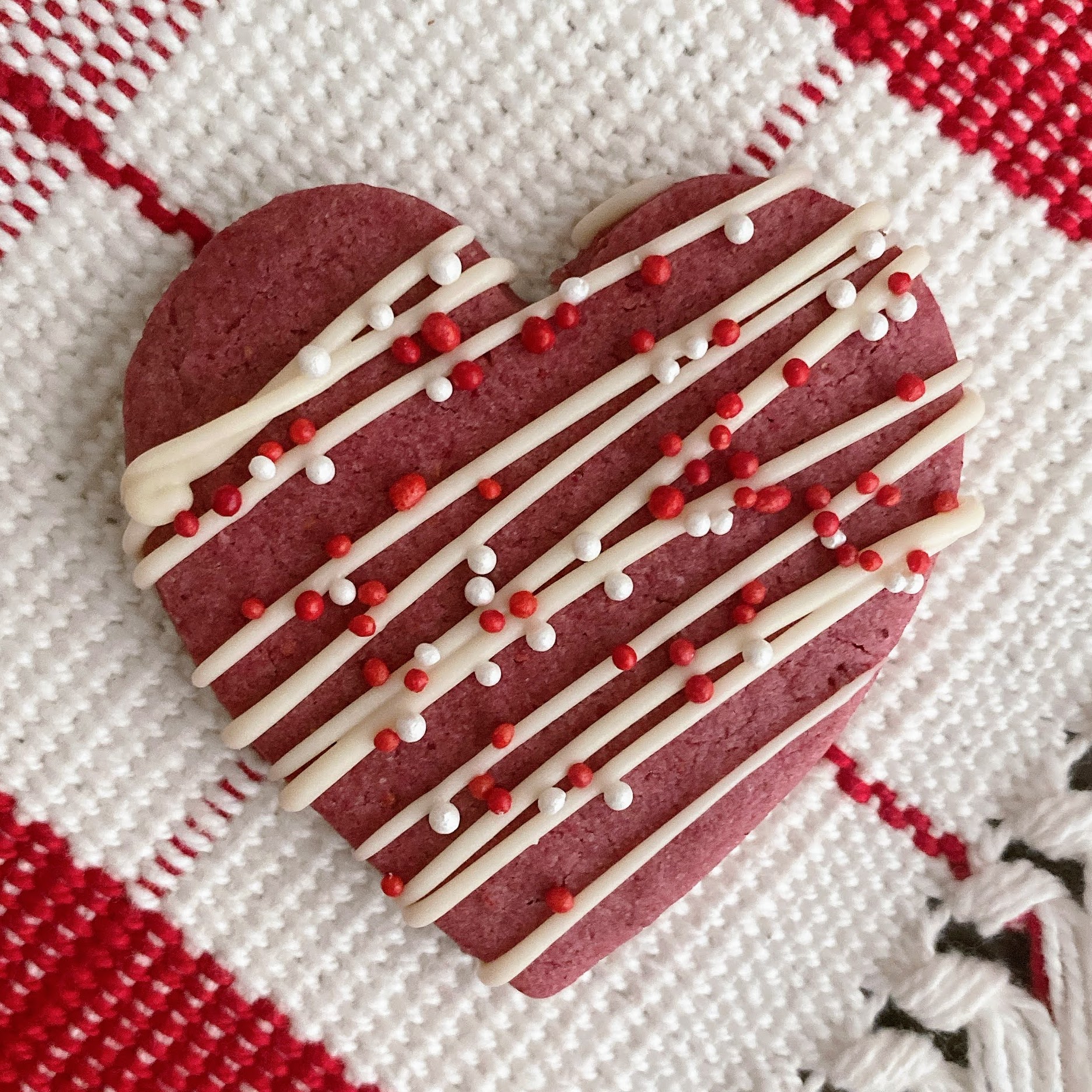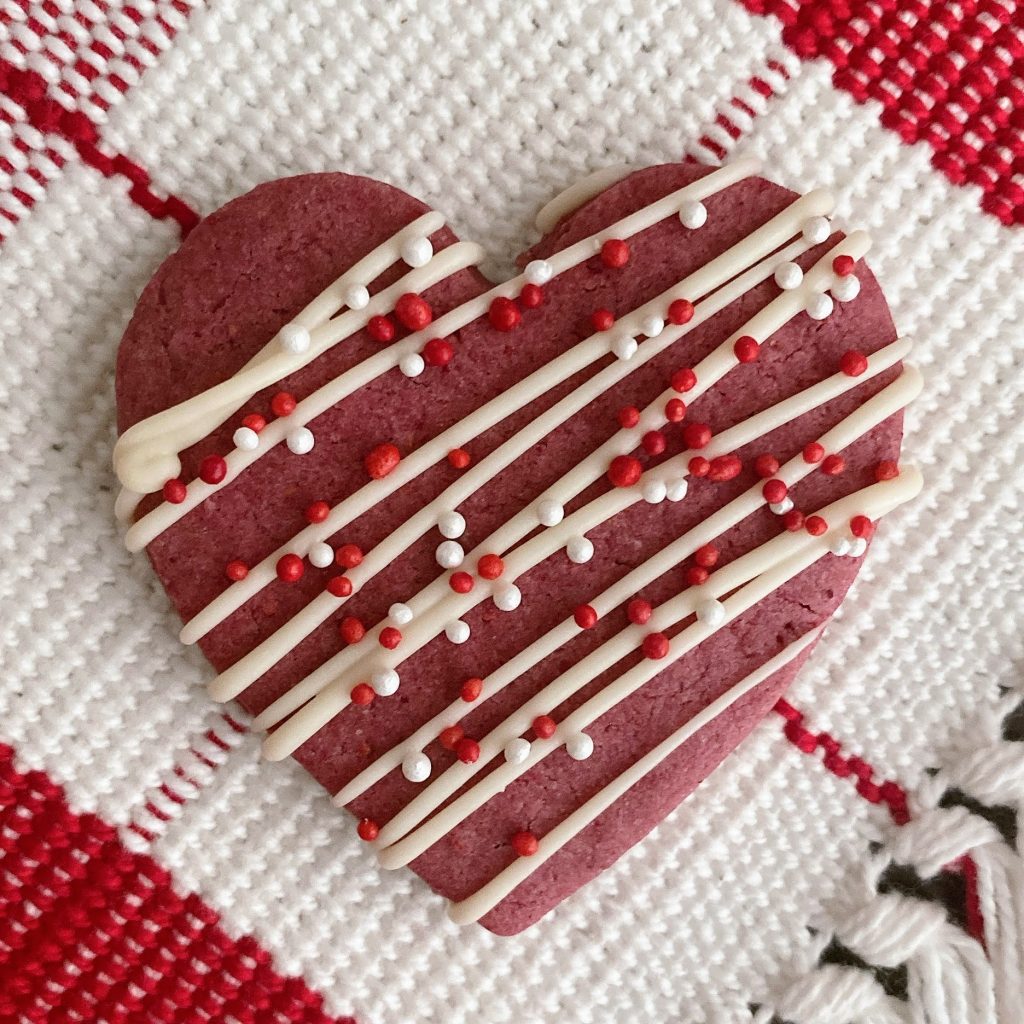 A key ingredient in this recipe is freeze dried raspberries. Make sure you get 100% freeze dried raspberries and NOT dried raspberry juice. Dried raspberry juice is cheaper, but it contains additives. You won't get the same flavor, color or texture if you use the dried juice.
Here's a link to the freeze dried raspberry powder that I use in this recipe.
For perfect sugar cookies, I use a kitchen scale for accurate measurements, like this one: the Nicewell Food Scale.
I also use a Joseph Joseph rolling pin, which has discs on each end to help me roll cookies to a consistent thickness every time. I usually use the 1/4″ or 3/8″ rings for my cookies. If you watch Food Network cookie competitions, this is the rolling pin they use. It's pretty awesome!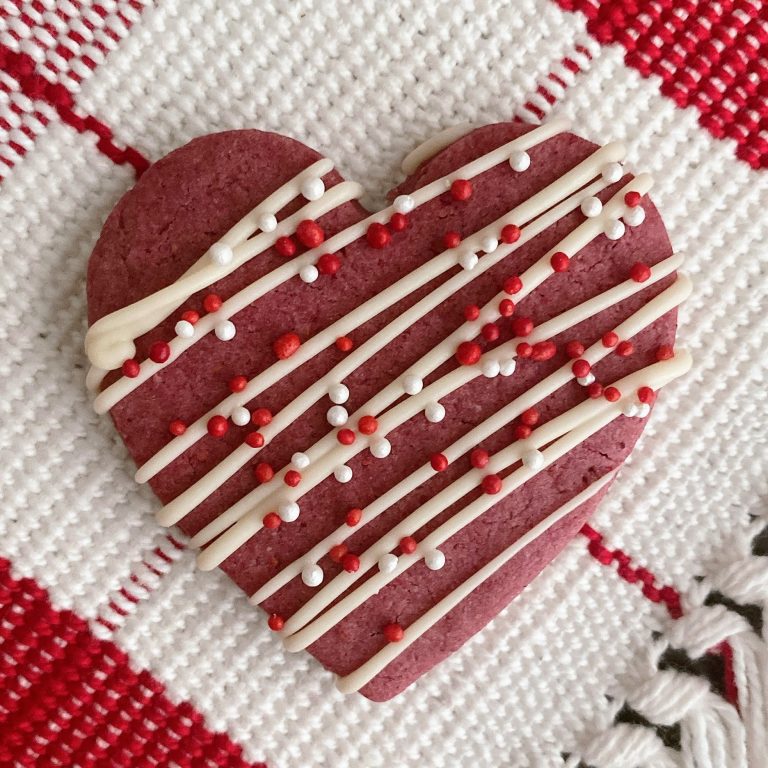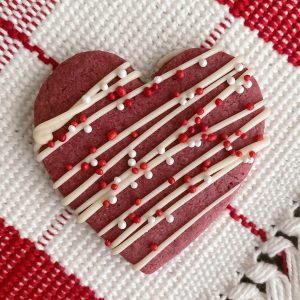 Raspberry Cutout Cookies
Raspberry sugar cookies — shown here drizzled with white chocolate, and can be decorated like
"traditional" sugar cookies
Equipment
Rolling Pin

preferably one with thickness guides
Ingredients
1 1/2

cup

all purpose flour

(190 g)

1

tsp

baking powder

(6 g)

1/2

tsp

salt

(3 g)

1

stick

unsalted butter — room temperature

(1/2 cup)

1/2

cup

sugar

(105 g)

5

Tbsp

raspberry powder

(30 g)

1

large

egg — room temperature

1

tsp

vanilla
Instructions
In a medium mixing bowl, whisk together the flour, baking powder and salt. Set aside.

In a medium mixing bowl or stand mixer, mix butter and sugar until light and fluffy. It will turn almost white.

Mix the raspberry powder into the butter mixture until well combined.

Add the egg and vanilla and mix until fully incorporated with the wet ingredients.

Add the dry ingredients — all at one time is fine for this recipe — and mix until it pulls away from the side of the bowl. It will make little dough pellets first. Keep mixing just until it pulls away from the side of the bowl.

Take the dough from the bowl, and form into a ball and place it on parchment paper.

Place another piece of parchment over top of the dough, and roll it out to 1/4" thickness. (See notes below)

Refrigerate dough for 30 minutes to allow it to develop. (You can chill longer, but the color will dull in time, just like fresh cut fruit browns and dulls)

Preheat oven to 350 degrees.

Line cookie sheets with parchment paper.

Take from refrigerator and remove the top piece of parchment.

Cut cookies with your favorite cutters and place on parchment lined cookie sheets, leaving about an inch between cookies. (See notes below)

Bake cookies for 8-10 minutes for 3" cookies. Bake slightly less for mini cookies and allow a couple extra minutes for larger cookies.

Cookies are done when the top looks even and the edges just begin to brown.

Remove from oven and let sit on cookie sheet for 5 minutes before removing to cooling rack.

Decorate as desired — these are drizzled with white chocolate.
Notes
I used the kitchen scale to measure ingredients, which I found to provide far more consistent results than measuring — especially for dry ingredients.
Adding the raspberry powder to the wet ingredients gives the raspberry flavor a chance to develop fully. This creates a more uniform pink appearance in the cookie as well.
Don't roll these cookies too thin. This is a delicate cookie recipe, and rolling to 1/4″ gives them the structure they need.
Using the same size cookie cutters allows cookies to bake more consistently. Smaller cookies (or narrow cookies like a candy cane) bake faster than larger cookies.
Don't skip the refrigeration time in the recipe. Chilling the dough helps it hold its shape when using cookie cutters and allows the flavor to develop.
My journey into sugar cookie baking began a year ago. Every year, I pick a new skill to work on and explore (rather than a resolution). Needless to say, this was one of my favorites!
If you want to explore cookie baking, here's everything I learned about making perfect sugar cookies in 2022!
If you live nearby (Raleigh, NC or Columbia, SC), I love to bake for friends! Reach out to me on Facebook!