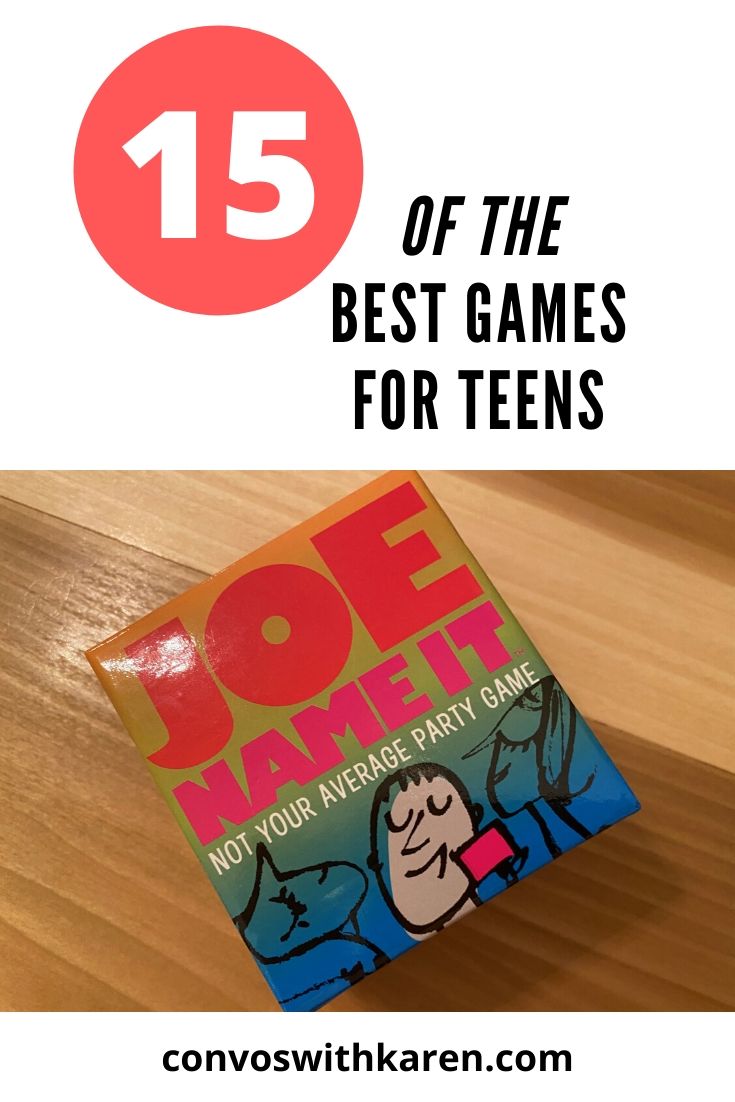 Updated December, 2022
We have always loved family game night!
Once, we played a game of Rummikub that took more than three weeks. Just when we thought someone would win, another player would win the critical round and set the front-runner back. We'd play a few rounds each night after dinner until the big winner (me) finally declared victory!
As our kids got older, family game night got more important. Our teens had lives of their own — school activities, nights out with friends and jobs that meant less time at home.
Those rare nights when we are all home, you'll find us at the kitchen table playing board games.
They don't complain about being bored.
They come out of their rooms — willingly!
They even, remarkably, set aside their phones while we play (most of the time).
My oldest son is now married. He and his wife have an entire closet devoted to board games — which they play on game night with friends every week!
When our whole family is together, we pull out the board games and popcorn. An evening at the table, together, priceless!
Top Games for Teens
Here's our list of the top games for teens — from the best board games for teens to fun party games for teens! These make great gifts — and they're great for family game night or for when your teen has friends over.
Before I get into the list, here's our absolute favorite party game. It takes just a few minutes to play, and is perfect for groups of four to six — though more can play.
You might wonder how we can say it's our ABSOLUTE favorite party game. Well, every time we play, we laugh. Hysterically. AND, it's easy to learn!
The game is called, Taco Cat Goat Cheese Pizza! It's a card game, and except for a few gorillas, groundhogs and narwhals, it's all about tacos, cats, goats, cheese and pizza. It's a blast. TRUST ME!
NEW FOR CHRISTMAS, 2022
I honestly don't know who is creative enough to come up with new game ideas, but I think our game cupboard needs to grow! These are the best games of 2022 — and there's still time to order for Christmas!
This amazing game takes five minutes — or less — to learn and only 30 minutes to play! It's perfect for teen parties or get togethers with friends. If you don't know each other well, this is a great game to break the ice… "Let's get this party started, so to speak!" SPOOF is for 4-8 players, or teams, and suitable for ages 10+.
(Ummm…. silent is misleading, FYI. But it's fun!) This game involves a simple deck of cards, numbered 1 to 100. The goal is to play the numbered cards in order from lowest to highest without saying a word! YEP! Using facial expressions and nods, see how far you can get without making a mistake! (I love it when my cards are low or high, and not in the middle.) We play a couple rounds every time the family gets together.
College friends introduced our son to this game, and he enjoyed it so much, he got one for our family! The goal is simple — get three circles of the same color in a row. Sounds easy, but this game is for four players. It's quick. It's challenging. And it's fun. We play so often we leave the game on the coffee table year round! Otrio is easy to learn and quick to play — strategy takes a bit longer to master!
Of course, our original list of the best games for teens and families is still amazing! If you need more ideas, then keep reading! I'm sure you'll find something for everyone on your list!
Best Board Games for Teens
The best board games for teens draw on things they find fun. It seems the sillier the game premise, the better. Though, some of the best board games for teens involve teamwork, intrigue and strategy. Our list of the best board games for teens includes some of both — some days, we like strategy. Other days, we just want to have some fun together!
Today's teens grew up with Harry Potter. Harry Potter Trivial Pursuit draws on trivia from the books, movies and even from movie production, actors and set design. It's not easy, but it sure is fun! This is a great game to play with teens — though, parents, expect to lose.
Yes, the game is called Exploding Kittens, and it's a best seller! Similar to UNO, this strategic card game (that's quick to learn, promise) has goats, unicorns and exploding kittens! A game takes about 15 minutes to play, perfect for a quick round after dinner!
We received this game as a gift. I was skeptical, but it came highly recommended — for good reason. Deception: Murder in Hong Kong (Grey Fox Games) is a team game disguised as a board game — sort of like Clue, except that the players are the characters. One person designated the "forensic investigator" tries to get the players to guess who the "murderer" is and how they killed the victim. The murderer, secretly among the players, tries to point the blame elsewhere so they don't get caught. It's one of our daughter's (age 15) absolute favorite games!
Don't groan! This is an incredible board game, though not necessarily shorter than a traditional Monopoly game. In Anti-Monopoly, there are two types of players: Monopolists (following rules similar to regular Monopoly) and competitors (who follow slightly different rules). Same basic goal, though, win the quest for big money! This is currently my favorite board game, especially on weekends when we're a bit less rushed — and my teens don't complain about playing, so they must like it, too!
Sometimes, simple games are the best. Simple games with penguins? Even better! One of my oldest son's (he's 25) favorite games is Ice Cool. The game is simple: flick the penguins around school to catch fish while running away from the hall monitor (who is one of the other players). An expansion pack is available for more layouts, to make the game more challenging or so more players can play. Each game takes only a few minutes to play, and is great for including younger kids.
I received this as a gift from the kids a couple years ago (my kids are way cooler than I am). Sushi Go — Party! is another quick game, though it does involve some strategy. The goal is simple — a pass the cards game, develop sets of sushi cards to score the most points. But, since everyone is trying to develop sets at the same time, there's some strategy involved. It is easy to learn, quick to play and lots of fun!
Our 15 year old daughter got Joe Name It for her 25 year old brother this past Christmas, and it quickly became a family favorite. Joe Name It is a fast paced game where players have to beat the clock by naming items to fit a category before time runs out. Some are tough — like naming the 4th item on the periodic chart (our daughter was the only one who could — yay, public school win). Some are easy — like guys' names that start with J. It's never the same game twice, quick to play and loads of fun.
One of my absolute favorites, Relative Humanity is the "family friendly" version of Cards Against Humanity, created by comedian Jeff Foxworthy. Throw in some redneck accents when reading your cards and embrace the fun! This is a great group game!
We played this game recently by candlelight during a winter storm. It's a great game for just about any occasion!
Fun Party Games for Teens
Board games aren't the only popular games for teens. Fun group games for teens add a social element — usually in teams. These social games for teens are also great for families with kids of different ages — even younger kids can join in on the fun when they're part of a team. BUT, I find these fun party games for teens take a Saturday hangout to a whole new level.
Like Charades, only faster! It's in The Bag is a hilarious, fast-paced game that is sure to erupt in laughter! It's easy to learn and fun for family or group gatherings. (They even recommend it for bridal showers!)
Can't beat the smartphone addiction? Phone Phever is a great team game where anyone can win! You don't need to know it all — just know how to search on your phone! If they're using their phones for the game, teens won't be off scrolling social media or texting friends.
What are the Odds? declares itself "freakishly odd." Reviews declare it hilarious for all ages! This team card game version of truth or dare pits teams against each other. The goal? To get your opponent to take the dare! The team with the most cards at the end, wins.
A great teen team game, players have 5 seconds to shout out the answer to the question on the card. Sounds easy, right? For some reason the silly timer and team intensity make it challenging — and hilarious! 5 Second Rule is a great game to pull out when you have a group of teens in the house to get them laughing.
Based on the concept of "Would you rather," Pick Your Poison is a family friendly version of the game, great for teen gatherings! As cards are flipped, each player votes for which one they'd rather do. Find out who's like you and who — is not! This game brings laughs — and gets the conversation going!
A longtime favorite, Taboo (from Hasbro) is a great party game. Get your team to guess the word but don't use the TABOO words on the card! We love the buzzer! Tabloo made the list of top games for 2022, again! It's a proven winner.
My husband and I have been playing "traditional" Pictionary since we were dating (back in the 1980s). Pictionary Team Relay takes the game to a whole new level, giving each team one minute to try to get through four clues — with a new person drawing after each guess. This team game works great for parties, sleepovers or even family events. Everyone has a chance to win when you're on a team!
These are the top games for teens, at least according to my crew! If you have a favorite, please share. We love discovering new board games and party games for teens (and their really cool parents)!