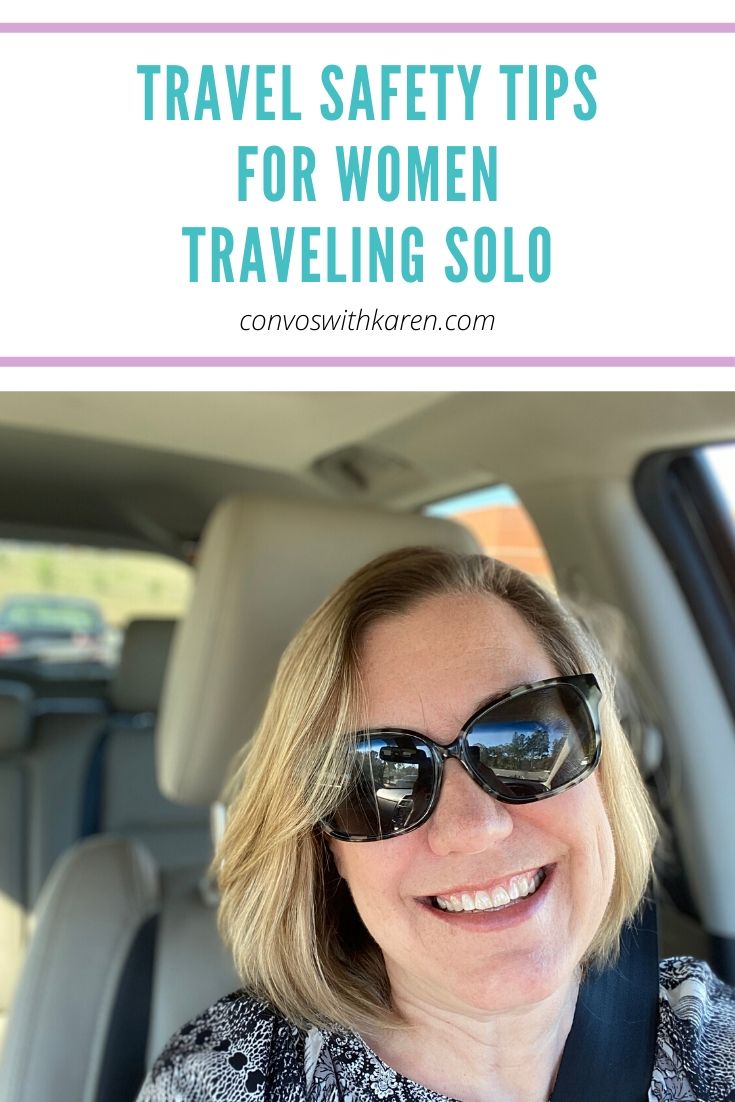 In my "day job" as a travel blogger, I regularly travel alone to visit new places. I never really considered myself a solo traveler, but I am. There are so many wonderful benefits to traveling alone, which I fully appreciate these days. But, my first few trips as a woman traveling alone, I was nervous.
Over the past few years, I have learned many travel safety tips to stay safe wherever I go.
Now, I'm an adventurous wanderer, not afraid to travel alone!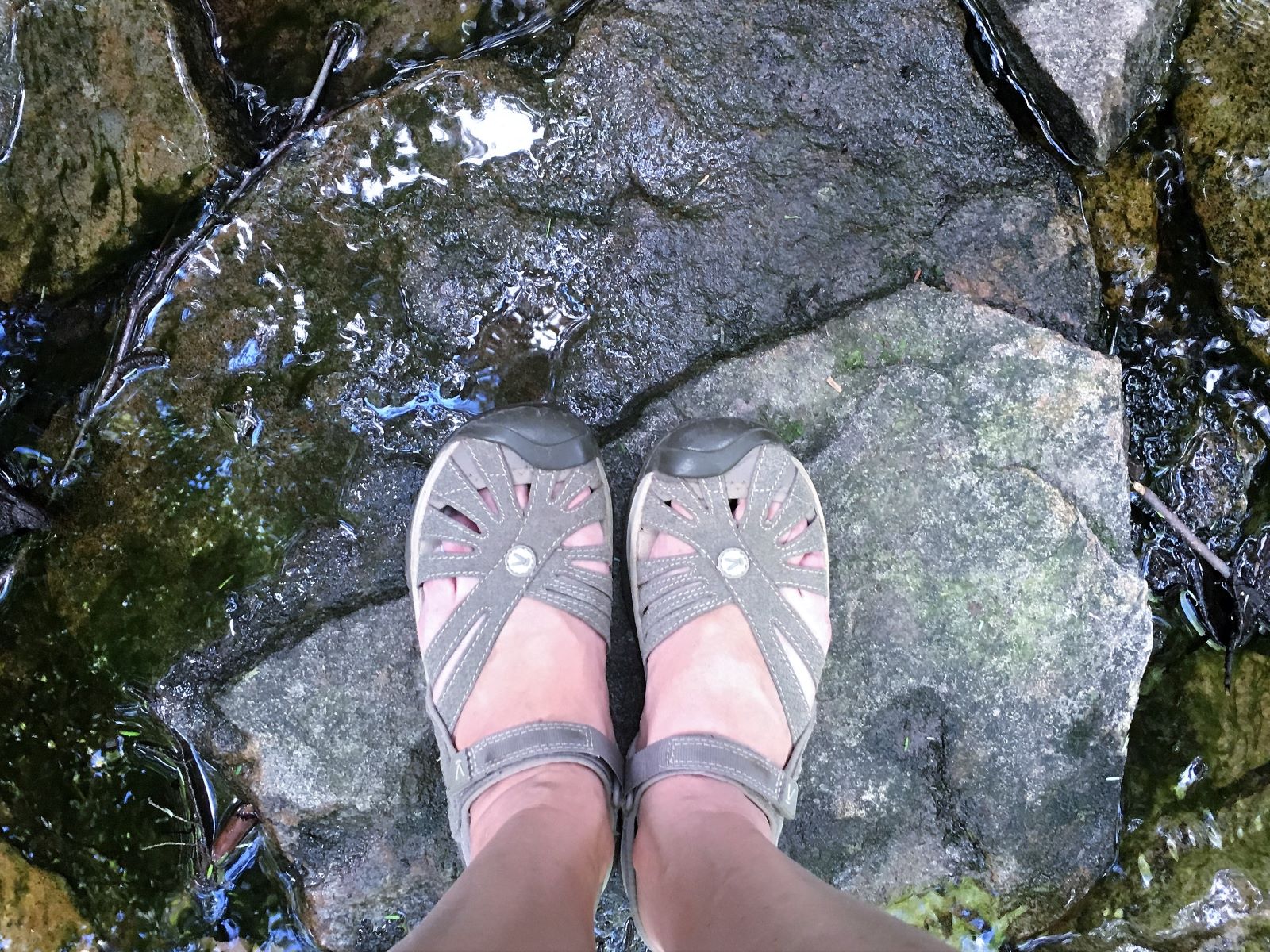 Even in countries with travel advisories, I feel safe when I travel solo. Honestly, it's not too hard!
There's a basic key to safety on the road:
Women traveling alone should be as aware as they are at home!
What does that mean, exactly?
That means the same skills you use around town to stay safe are the skills you need when traveling solo. This really isn't anything new!
But, if you like lists — I LOVE LISTS — here's a list of travel safety tips for women traveling alone. These are the solo travel tips I use whether I'm traveling for work or fun!
1. trust your intuition
Yep! That's always first. If something doesn't feel right, trust your gut. Whether you realize it or not, your subconscious is always evaluating the information from the environment around you. That uneasy feeling you get sometimes? It's not a sixth sense (not exactly). It's your subconscious, signaling to your body that something is not quite right.
LISTEN to your intuition!
I had a three day stay booked at a hotel recently. The first night, despite taking my usual safety measures (listed below), I didn't feel comfortable there, so I checked out early. Nothing went wrong. There was no "incident" at the hotel that weekend. It just didn't feel like the right place to stay alone — so I left. I slept better at the new place, so it was the right decision for me. If it doesn't feel right, it's not.
2. Be aware of your surroundings
In your home town, you know how things are supposed to be. You're likely to notice a strange car sitting down the block. If you pull into your driveway and see the door standing open, you notice.
(And hopefully, you call the police to let them investigate before you go inside.)
When you travel someplace new, you don't know what's "normal." Which cars regularly park in the area? Who lives here? What noises are normal? Women traveling solo need to be especially aware of our surroundings.
Not knowing, it's important to be aware of your surroundings when you're out:
Put your phone away and watch where you're going/who's around you. If I'm walking, I often carry my phone, ready to make the emergency call if it's needed.
Don't wear earbuds, but listen to what's happening around you.
Stay sober! Yes, it's fun to go out on the town, but being intoxicated makes you an easy target. If traveling alone, stay sober.
3. Know where you're going
One time on a family vacation to a fairly large city, we finished one activity and punched the next attraction's address into our GPS. The phone, taking the quickest route, took us through a dangerous part of town. We literally found ourselves in the midst of collapsed homes, burned out cars, gang graffiti and pot hole filled roads. It was not an area of town we'd choose to drive if we lived there.
Another time, we plugged in an address for a town not too far from home, though one we don't visit often, and the GPS directed us to a dirt path. It ended at a ravine. GPS was wrong — very wrong. We found ourselves in the middle of some strange compound with no way through. We had to retrace our route to find a different one.
For some reason, when I'm with my husband, I don't pre-check our routes like I do when I travel alone. HA! Maybe I should!
Anyway, for solo travel I use these travel safety tips for safe driving in unfamiliar areas:
Study maps before travel and know your route. GPS spoils us, but in unfamiliar places, it can be dangerous.
Make sure you have enough gas to get where you're going!
Don't drive with earbuds in or the music so loud you can't hear your surroundings. That's driver safety 101 — at home or on the road.
And please, don't ever text and drive!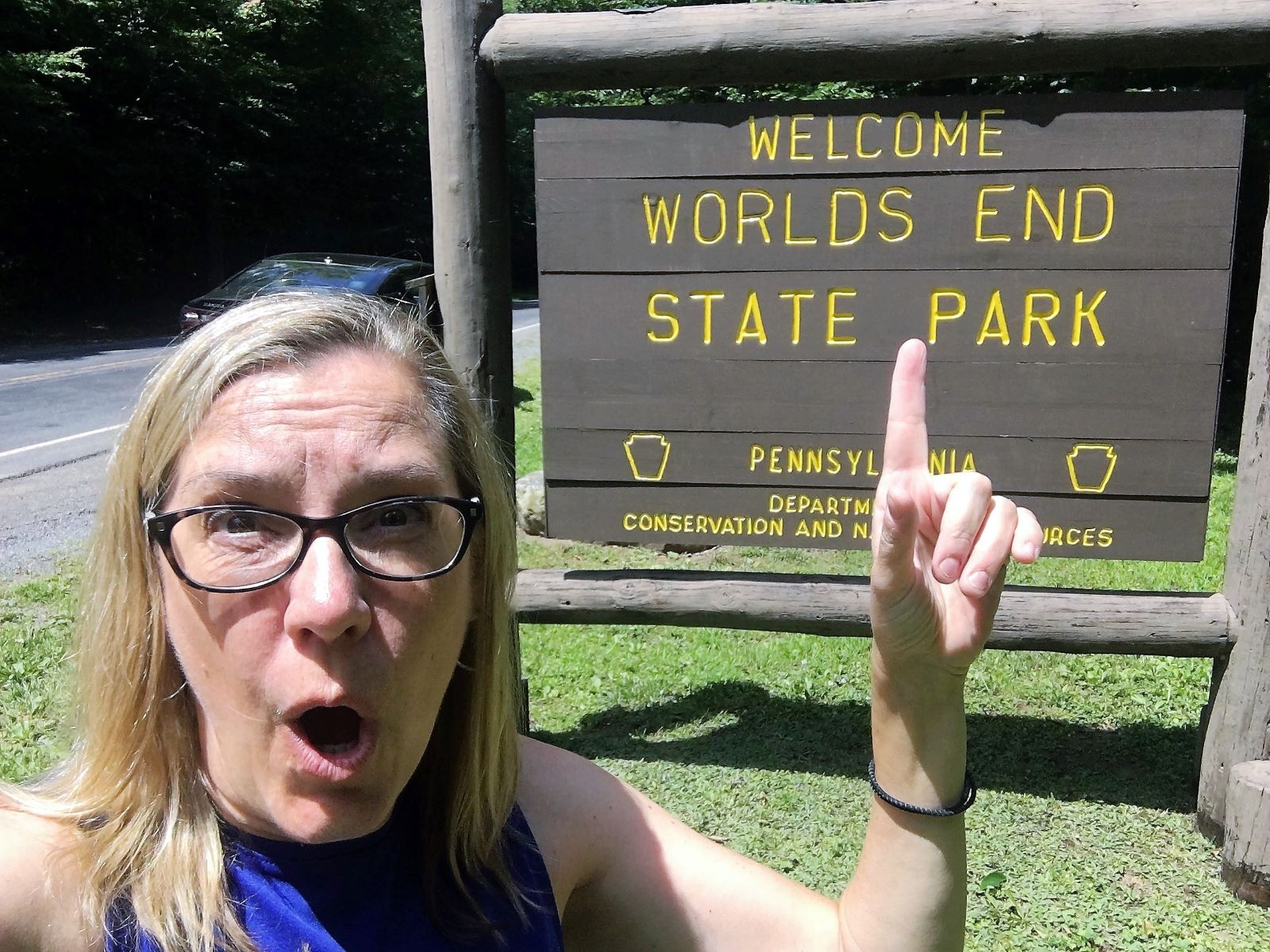 On my solo trip to Pennsylvania, I got to visit several state parks. My cell phone GPS did not work at Worlds End State Park. I didn't have navigation in my rental car (hmmmm….). Thankfully, I had reviewed the map beforehand and was familiar with road names. I found "the end of the world" and have the selfie to prove it!
4. Use Hotel Safety tips for a good night's sleep
When it comes to solo travel, hotel safety and security is probably my biggest concern. I'm a safe driver, trust my gut and pay attention to my surroundings so those travel safety tips are all in my control.
But, hotel safety is different. I never know if someone's watching for women traveling alone. (Sorry, creepy thought, I know.)
My first couple years of travel blogging, I never traveled alone. I wrote about our family trips. On my first few solo travel trips to learn about destinations and share with my audience, I had trouble sleeping at night. In some ways, I was thrilled to be a woman traveling solo — and having the bed all to myself. But, I also felt small and vulnerable.
Like anything, though, the more I traveled solo, the more I understood travel safety.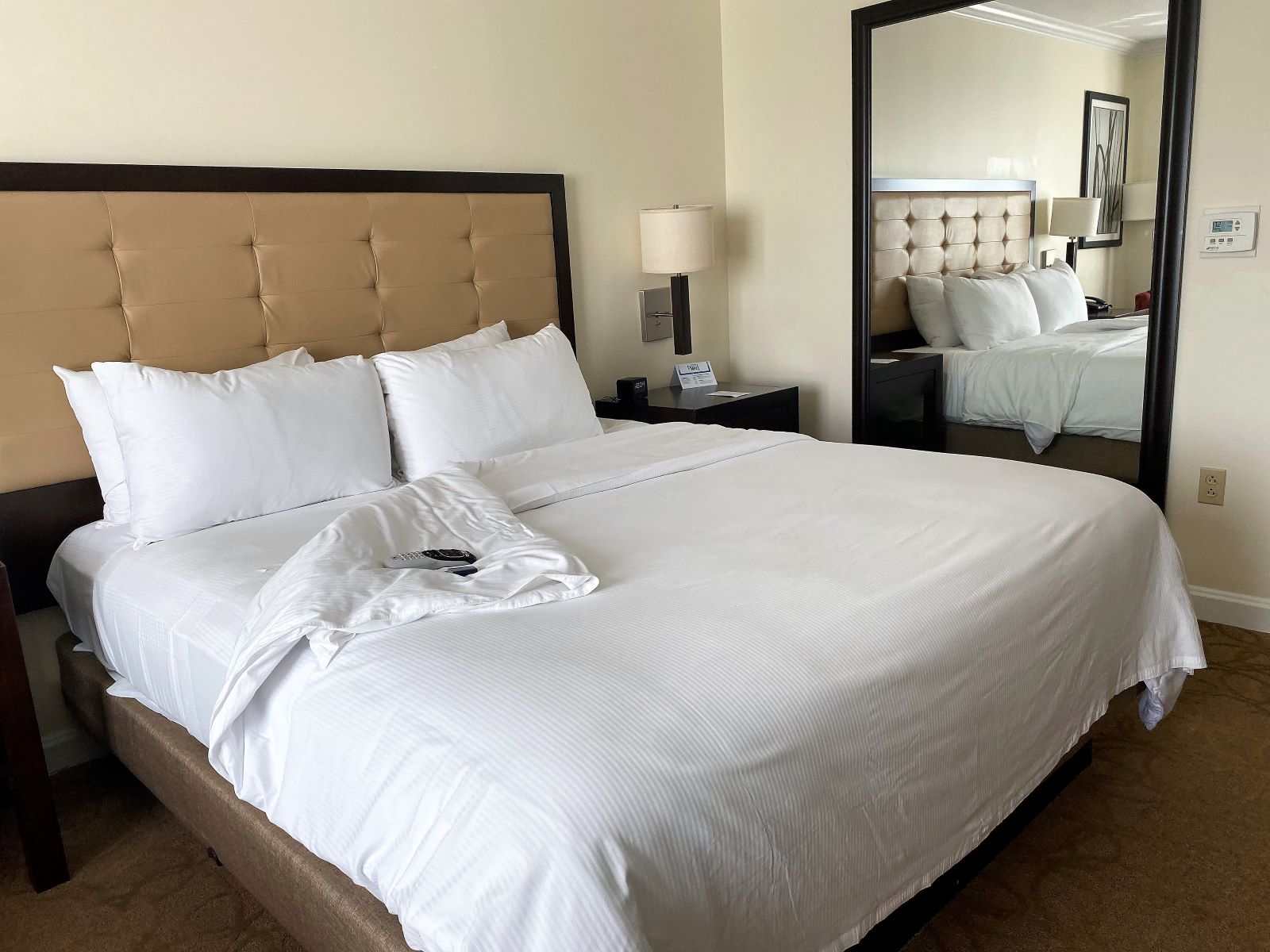 Today, I apply these travel safety tips and sleep soundly everywhere I go:
Pack smart! The less you have to juggle, the easier it is to manage check in and hotel safety. I use hard-sided wheeled luggage — my favorite is this bag by Chester Travel — so I can stack my computer and bathroom bag on top. One trip, tidy, means I'm not distracted as I go to my room.
Use plural pronouns while checking in. The term "WE" sends a message you are not alone, while saying "just me" signals you as a target. I also ask for two room keys.
Going to your room — whether riding the elevator or walking down the hall, be aware of who's around. I am very mindful of conversations on elevators. Those "innocent" questions like, "Are you here on business?" or "Did you forget the rest of the family (haha)?" might not be as friendly as you think.
When in your room, always lock the door. That's probably common sense, but I like lists, so I'm including it for completeness.
At bedtime, I always put my phone, room key and slip on shoes right next to the bed. (I do this even when I travel with others, actually.) If there's a fire or emergency, I can grab my phone and room key in one motion as I slip into my shoes. I keep my credit card and hotel room key in a credit card sleeve like this one that sticks to the back of my phone. Easy!
I also carry a security doorstop — like this best seller from Amazon — that wedges under my door for added hotel security when I travel alone. It's small so I can tuck it in any bag, and the alarm offers an extra set of hotel safety and security that hotel door locks alone can't provide.
5. Use Uber, Lyft and Taxis wisely
I had a late flight into Washington, D.C. a few years ago that made me a bit nervous. At the time, I wondered are ubers safe (the whole thing was pretty new). So, I opted to take a traditional taxi to my hotel.
More recently, the story of Samantha Josephson, a University of South Carolina student, reminds us to use best practices with Uber and Lyft to stay safe when traveling alone. Samantha had gone out with friends and ordered an Uber ride to take her home. A car pulled up, and Samantha got in. It was a fake Uber and Samantha lost her life. Her friends and family have used this tragedy to educate others on how to stay safe with Uber and Lyft rides.
Women traveling alone should use these travel safety tips:
With Uber and Lyft, match the vehicle and license plate to the app information before you get in the car.
Ask the driver to confirm your name (don't volunteer it yourself) before you get in — "who are you picking up?"
Confirm the driver's name by asking "what's your name?" Don't ask "Are you _______?" They can say yes.
Tell a friend or family member where you're going.
Try to rideshare with someone you know whenever possible. There's safety in numbers.
Track your route as you ride along.
Sit in the back seat.
Don't volunteer personal information (and watch out for those tricky questions that get you to disclose personal information unwittingly).
If you take a taxi, send a photo of the operator's license to a family member or friend.
6. Apply Cyber safety tips
When I travel for work, I am going to share the destinations and experience with my readers and followers. I'm expected to share photos and stories in real time. I'm also generally traveling with a group of writers, so I'm not exactly a solo traveler and feel comfortable sharing those stories.
But, when I travel solo and don't have other writers nearby, I take a more cautious approach to stay safe.
Follow these cyber safety tips when traveling alone:
Don't post photos or other information about lodging until after your trip.
Try not to "advertise" that you're traveling alone by watching what you say in photo captions on social media.
Don't use location services or do check-ins when traveling solo.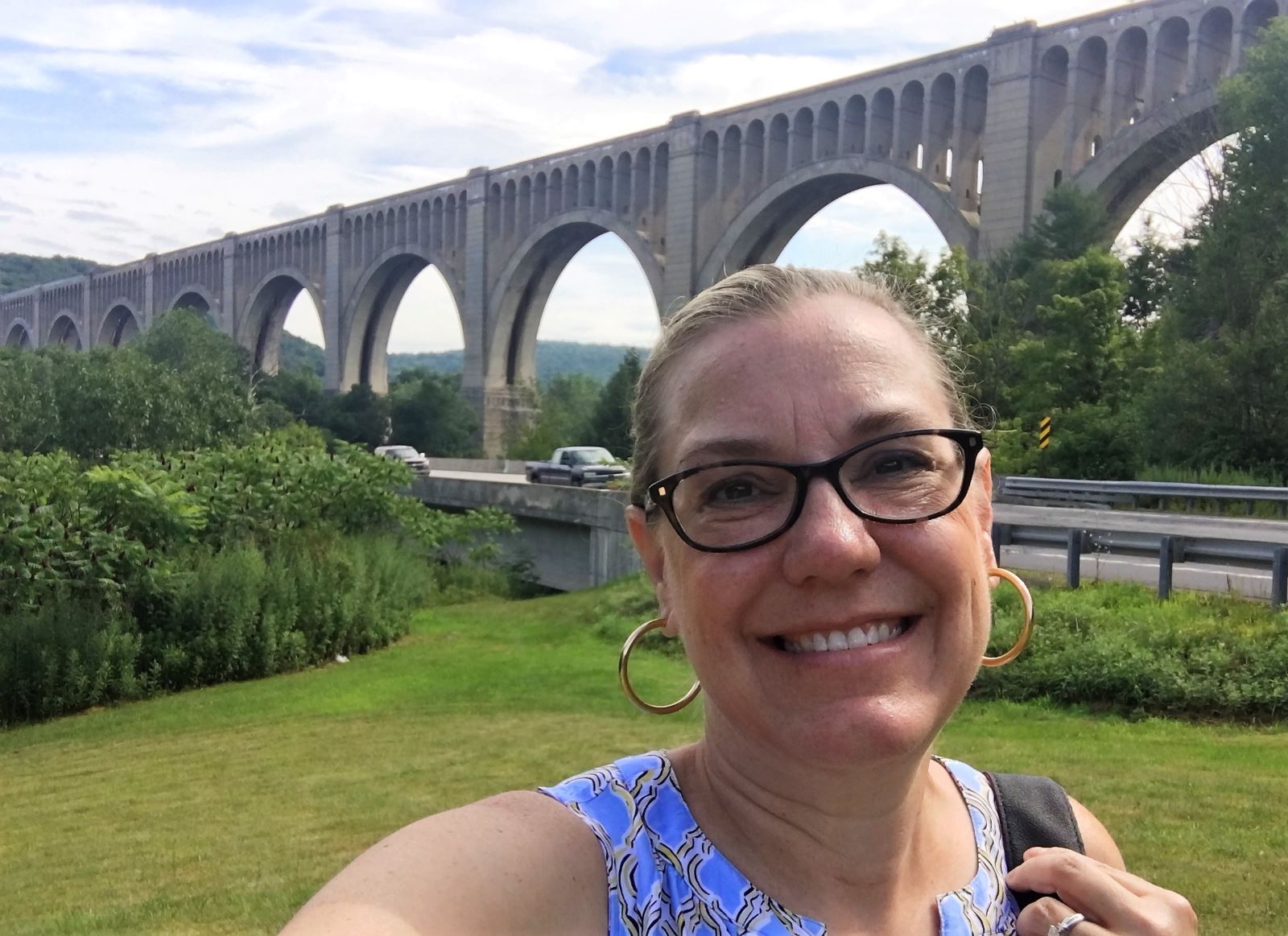 7. Make sure others know your itinerary and check in daily
Whether I travel solo for business or pleasure, I make sure my husband knows my itinerary. I also check in with him daily, at lunch, when I get back to my room for the night, and sometimes in between depending on the activities and schedule. A simple text, "Hey, at breakfast. Hope you slept well." is all he needs. Having these safety measures in place help us both. If I don't check in and he can't track me down, he knows where I should be.
We've never had issues at all, but having this security measure in place gives me peace of mind.
We live in a big, beautiful world. Whether traveling someplace considered safe or to a developing country on the travel advisories list, there are so many amazing people to meet and things to do. Use common sense. Keep your wits about you. Make smart choices. Check in regularly. And go see places!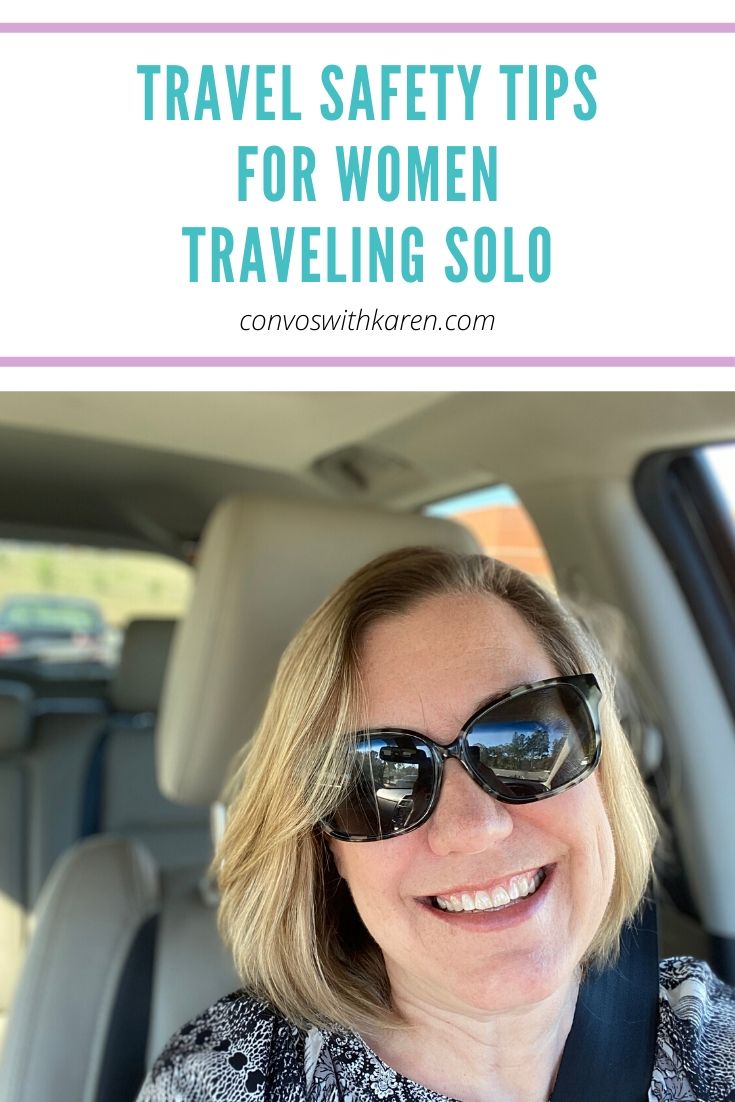 Let's Chat!
What travel safety tips would you add? Leave a comment and add to this list!