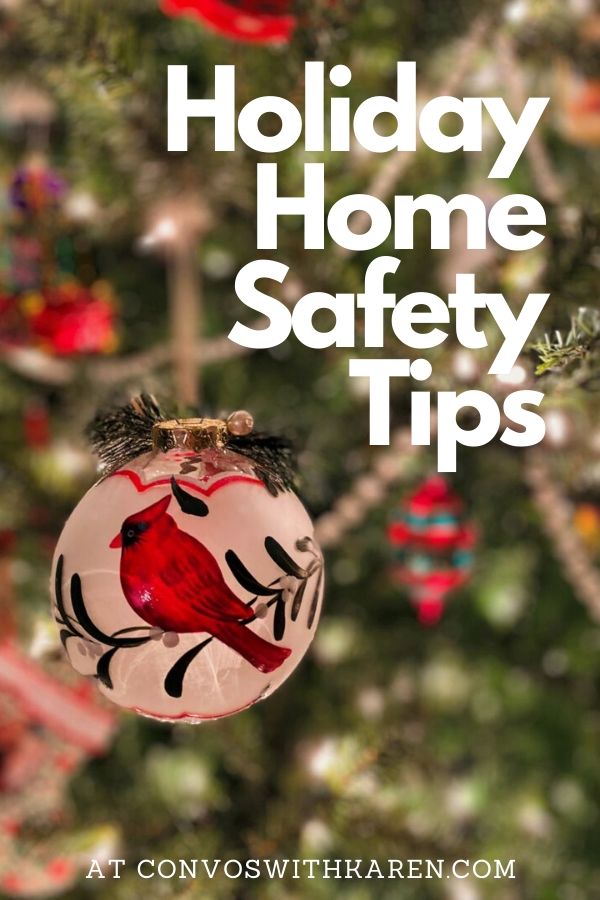 The holidays are upon us. That means it's time for family celebrations, decorations, cooking, travel and shopping.
It also means that things can go wrong… like the year my mom fell over the open dishwasher and broke her elbow when I was a kid. My brothers and I stayed home to finish cooking dinner while my parents spent the day at the hospital. No fun! To this day, decades later, we always announce "dishwasher's open" whenever we load or unload it.
Funny? Yes. But, it's way better than spending the weekend in the hospital!
We want you to have a safe and happy holiday season, so here are some important tips to help you avoid disaster.
Holiday Home Safety Tips
If you're anything like me, there's really no such thing as too many Christmas lights. And, if you're also frugal like me, you reuse Christmas lights year after year! But, it's important to inspect all your holiday decorations to ensure they are safe to use. Look for:
Brittle insulation (that plastic coating) on wires,
Rodent damage to wires,
Frayed wires — especially at stress points near the plug, and
Corroded parts.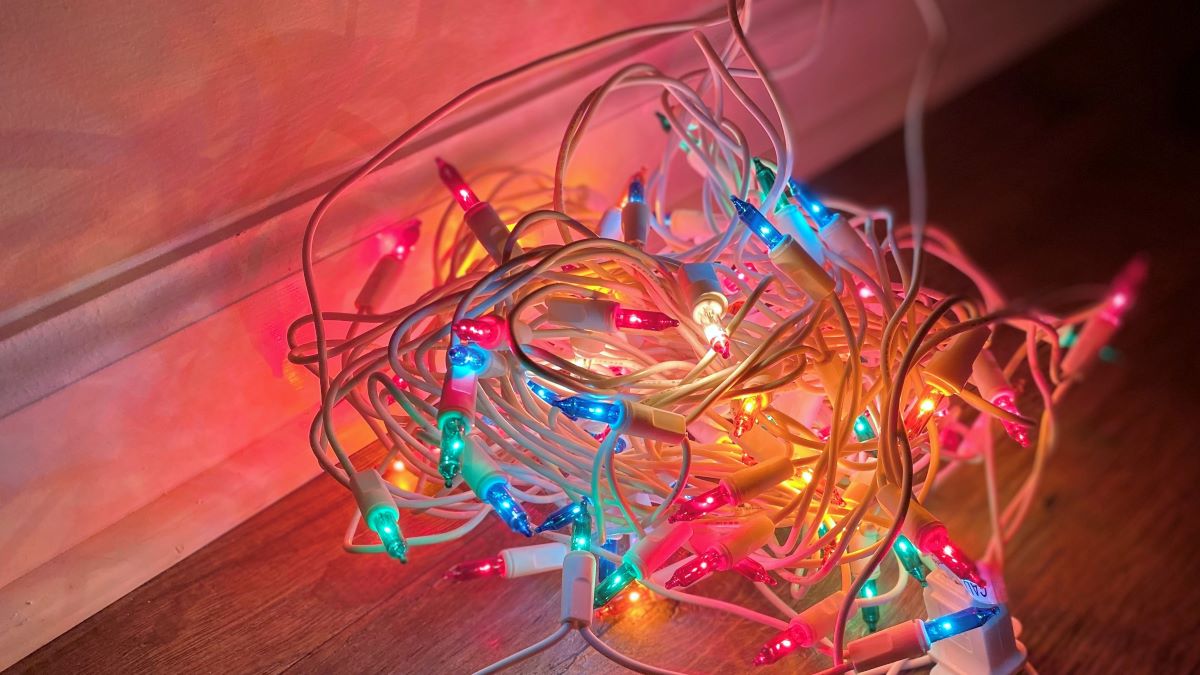 If you see any of these issues, practice holiday safety and replace them. Here are some great options to consider:
MOre Holiday Home Safety Tips for Christmas Lights
You've heard it on the news, every year, someone dies or their home is lost because of fire due to Christmas decorations. The National Fire Protection Association states that most house fires occur between November and January, and holiday decoration related fires caues twice the number of injuries and five times more fatalities than other house fires. (Source)
However, these fires are easily avoided by applying easy holiday home safety tips like these:
Extension cords are designed for temporary use. To avoid risk of fire, don't overload them or string a bunch of extension cords together.
Don't override safety devices. If a plug has three prongs, it should only be used with other three-prong devices. Tampering with safety features increases your fire risk.
When decorating outdoors, be aware of power lines! Just like highway construction zones have signs that say "look up, electrical lines overhead," you should look up to keep your ladder from hitting the power lines. And, the same is true for power lines that run through tree limbs.
Read the fine print in the instructions that come with electrically powered Christmas decorations. Pay attention to whether items are rated for outdoor use, how many strings of lights can be strung together and safe operating temperatures.
Water your fresh cut Christmas tree as often as it needs to keep needles from falling off. Christmas trees need an average of five quarts of water daily to keep from drying out. When they start dropping needles and/or a branch snaps in your hand, it's time to remove the tree from your house.
More fire safety tips for the holiday season
Besides fires caused by Christmas decorations and dried out Christmas trees, these fire safety tips come into play throughout winter.
Space heaters are the second leading cause of house fires and death in the United States. To use a space heater safely, follow all instructions it comes with. Never plug a space heater into an extension cord, but only into a wall outlet. Don't use a space heater near flammable items like carpet, curtains or bedding. Don't use a space heater while sleeping. (For more space heater safety tips, read this article.)
Believe it or not, candles cause more than 8,000 house fires in the United States each year. To minimize the risk of fire, follow these three safety tips when burning candles: Never leave a burning candle unattended (like in a bathroom during a party). Never burn a candle near anything that might catch fire (like curtains). Keep candles out of the reach of children or pets so they aren't knocked to the floor. (Source)
Do not use kitchen appliances to heat your home. When the temperatures drop, some people are tempted to heat their homes with the oven, but this is very risky. If someone falls onto the open oven door (my mom fell over the dishwasher once, remember?) they could be severely injured. If a towel or paper product falls onto the hot oven door or there is grease in the oven, fire can develop. No matter how cold it gets, ovens aren't meant to heat a house.
More Holiday Season Safety Tips for your Home
Besides the risk of fire, the holidays present other risks which lead to emergency room visits every year.
Kitchen holiday safety tips
The kitchen sure does get a workout at the holidays. From Thanksgiving through the new year, we cook for family and friends, bake cookies and entertain. These holiday safety tips should help us all get through the holidays safely and healthy!
If you're sick, skip the potluck. YES, office parties and holiday traditions might be calling for your great-grandma's holiday lemon bars, but if you're sick, skip it. I absolutely love a good lemon bar — but I don't want it with a side of flu! You know what I mean? Skip it. We will be doubly thrilled to get those goodies next year — without a side of germs!
Never leave the stove unattended. Oh my gosh, I am totally talking to myself here. It seems whenever I cook, the doorbell rings. As much as I want to run to the door, I have recently disciplined myself to first remove whatever I'm cooking from the burner. Of course, that came from setting a rice dish on fire a few years ago — no damage, except for my pride. It only takes a few minutes for a dish to burn — so don't leave the stove unattended.
Don't leave handles hanging over the edge of the stove or counter. This might seem like common sense to parents with kids at home. If a handle hangs over the edge, little ones can knock them over and suffer an injury. In my house, though, the kids are all grown, so this isn't something we always think about anymore. BUT, there's still a risk. If you'll have a crowd "helping" you cook or little ones visiting, take a few extra seconds to put knives out of reach and turn handles away from the edge while cooking.
Keep cleaning chemicals and other hazards locked away. An easy way to keep kids safe is to safety-proof the cleaning cabinet. Here's an easy, inexpensive cabinet lock to help keep little ones safe when they come to visit. You can use it when kids visit and tuck it away between visits!
*** If you don't have a fire extinguisher, get one now! Here's a great one!***
Medical Safety Tips
Throughout the year, we get comfortable with our routines. I take allergy medicine every night before I go to bed. I keep my prescriptions in a cupboard by the fridge, easy to grab with a glass of water. Also, I carry an epipen and Benadryl in my purse for emergencies (rarely needed, thankfully).
I don't have little kids at home anymore, so convenience works for me. BUT, at the holidays, when little kids invade — or when traveling to visit friends and family with young children — it's important to keep prescription medications away from them. In fact, kids make more than 60,000 emergency room visits each year due to accidentally ingesting other people's medications! Sometimes, the results are fatal. (Source)
It's not just prescription medications either. Vitamins and supplements can be dangerous to children and pets, too, if ingested. And, believe it or not, essential oils can trigger health issues for individuals with severe allergies. They can be fatal to pets.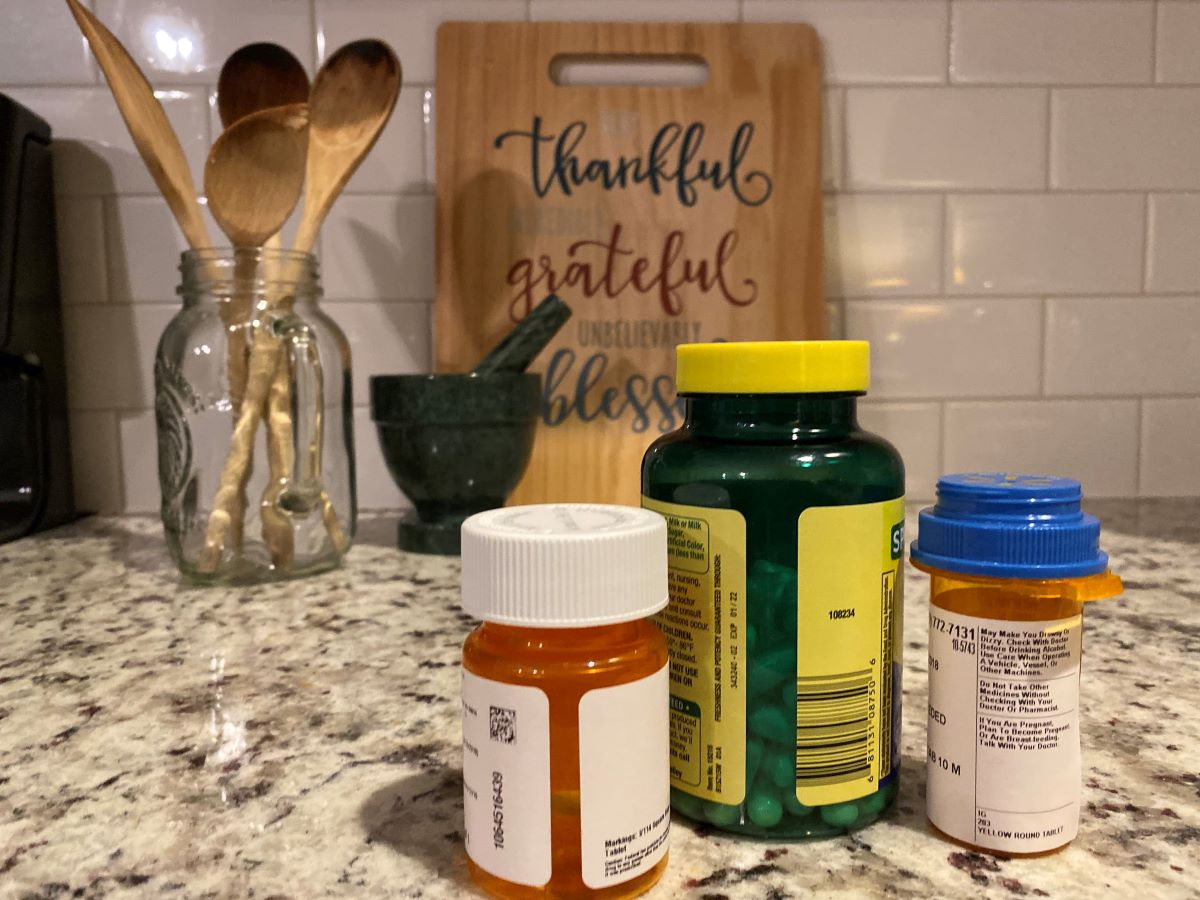 These holiday safety tips can help keep kids (and pets) safe this holiday season.
Keep medications in their original bottle with child-resistant caps. This also helps should you need medical care while traveling as the medication, dosage and your doctor's name are also included.
Move medications from convenient locations to a place where kids are less likely to reach them — a locked cabinet is best, but a high shelf in the kitchen might be a good option.
If you don't have a good spot to keep medications, or if you have special concerns, a lockable box like this one is a good alternative as well.
If you carry medications in your purse, don't leave it where kids can get into it. When I visit friends with young kids, I always ask the best place to put my purse — and I let them know I keep medication in it. That way, if they have a concern, they can take the lead.
Program the Poison Control Number, 1-800-222-1222, into your phone just to be safe. If you have any concerns, call them. If there's a concern, they'll let you know what to do. With accidental drug ingestion, a few minutes can make a tremendous difference.
Pin this post To Your Holiday Boards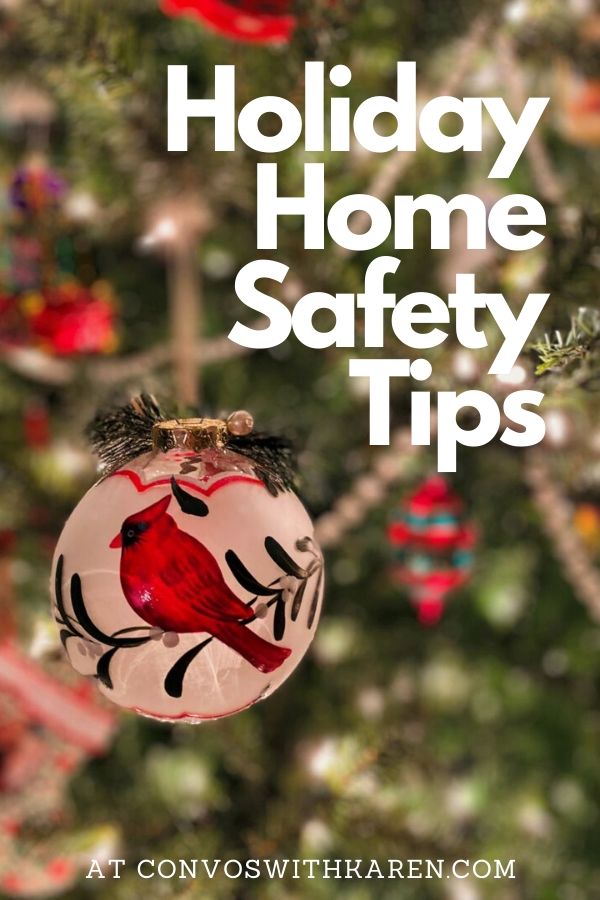 We wish you a happy, safe holiday season filled with love, wonder and joy!
Love,
Karen