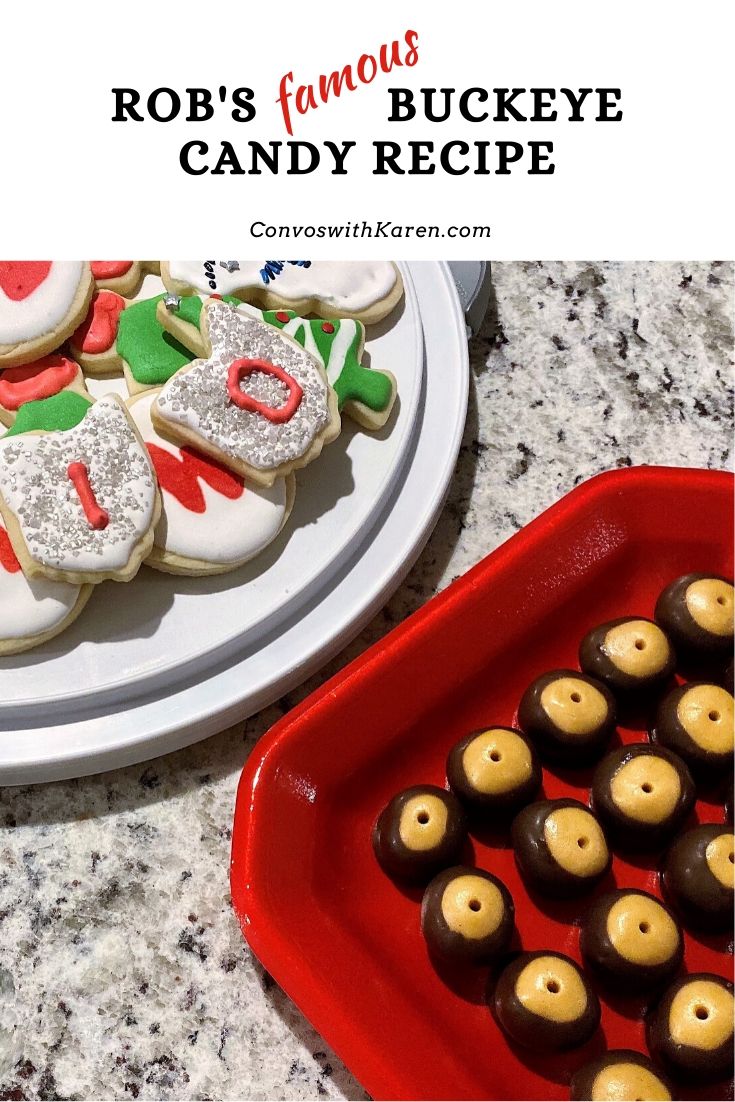 If you're an Ohio State Buckeye fan — and even if you're not — chocolate and peanut butter balls, famously called Ohio Buckeye Candy, is pretty much a standard requirement for any college football party.
O-H Heck! Peanut butter buckeyes make random Tuesday nights special!
You know, who needs a football game for this delectable treat?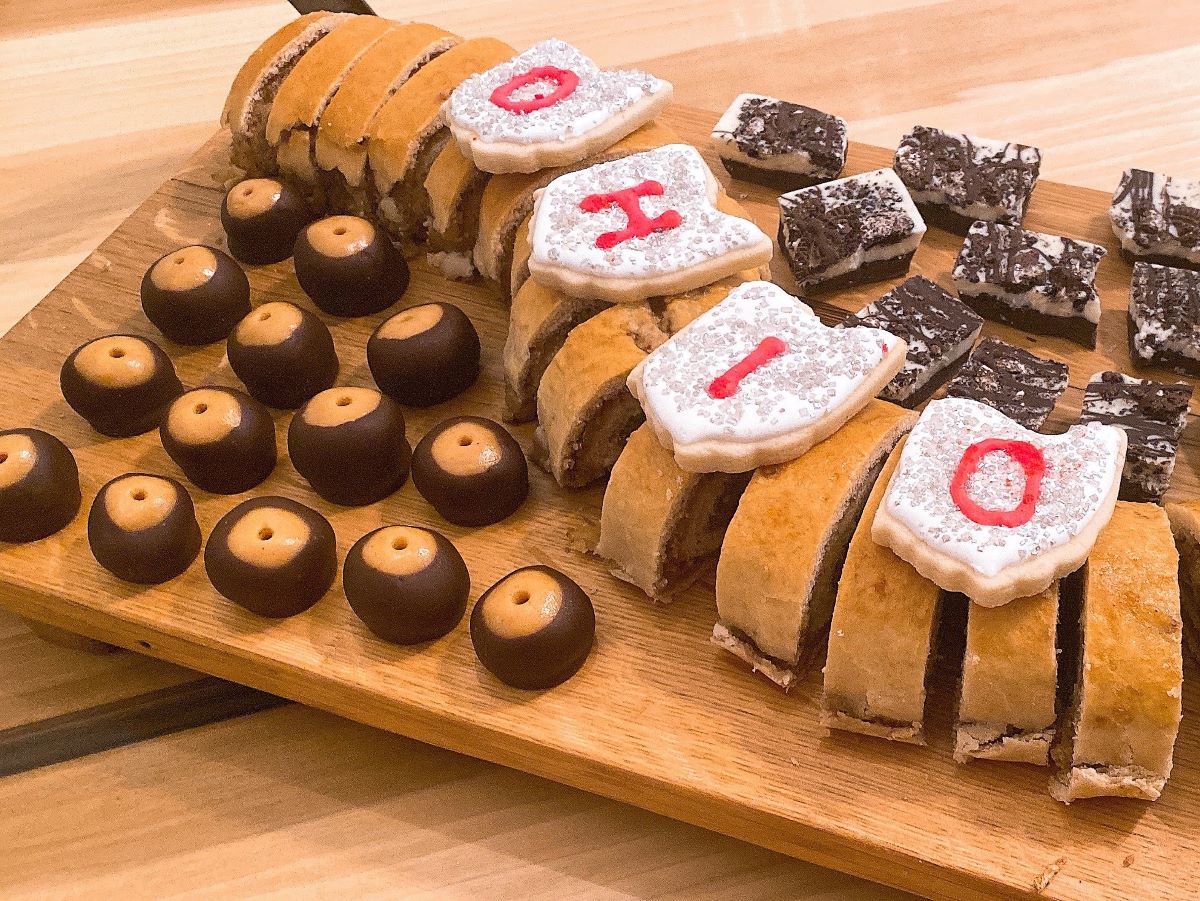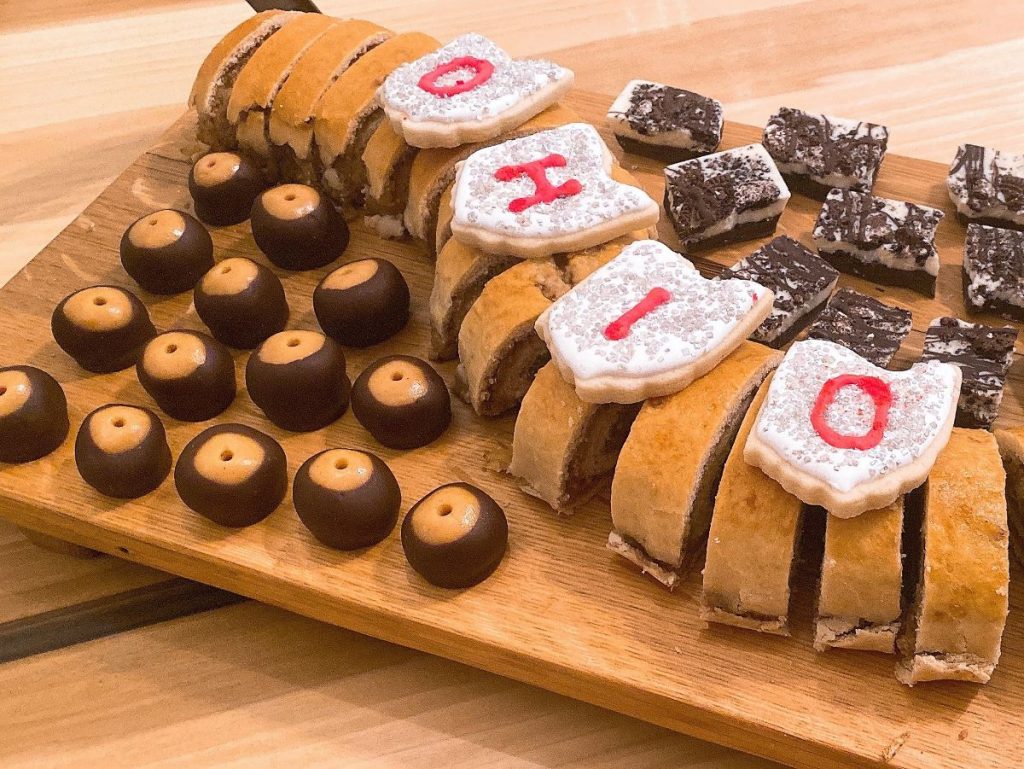 My husband started making Ohio Buckeye Candy soon after we got married, 30 years ago. The first few times he made it, he followed a recipe from a church cookbook (every church cookbook in Ohio has at least one Ohio Buckeye Chocolate recipe)! And then, he decided to start messing with it, tweaking the ingredients a bit here and there.
EEK! That could be a recipe for disaster — except it's peanut butter balls dipped in chocolate. You can't go too wrong!
Now, we firmly believe Rob has developed the absolute best buckeye recipe you'll ever try.
We took a batch to a Christmas party this year, and the plate was EMPTY before the appetizers were served! They're that good!
Rob's tips for making the best Buckeye Candy
Rob has a few tips to make your peanut butter buckeye making go smoothly (since creamy peanut butter filling is amazing)!
Let the margarine come to room temperature before you start.
Sift the powdered sugar! You don't have to, but it mixes in a lot better when you do.
Use a deep bowl for the dipping chocolate rather than a wide bowl — it's easier to coat the peanut butter balls that way.
The warmer the chocolate, the thinner the coating you get on the Ohio Buckeye candy.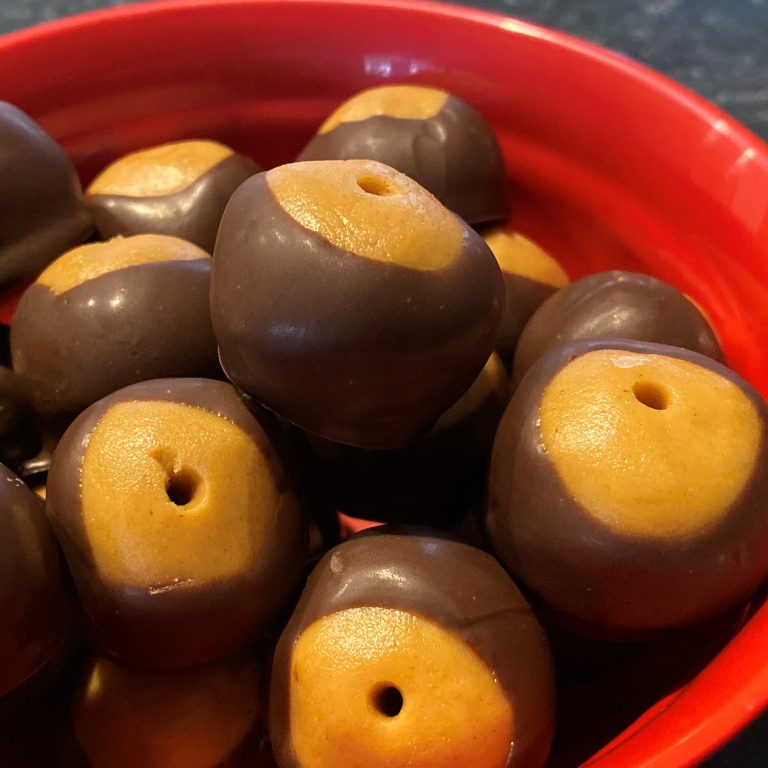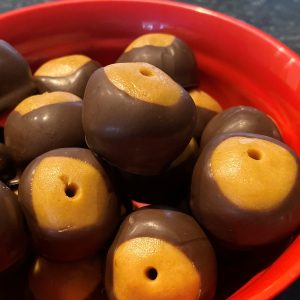 Buckeyes
Creamy, chocolate covered, peanut butter balls
Equipment
Mixing bowl

Measuring cups

Small ice cream scoop or spoon

Glass bowl

Microwave

Silpat

Toothpicks

Spatula

Sifter

Wooden spoon

Parchment paper
Ingredients
1

cup

peanut butter

cheap brand works best

1/2

cup

margarine

Parkay recommended

Pinch

salt

3

cups

powdered sugar

sifted

1

tsp

vanilla

1 1/2

bags

Ghirardelli Dark Chocolate Melting Wafers
Instructions
In a large mixing bowl, mix together peanut butter, margarine and salt until well combined.

Add sifted powdered sugar, 3/4 cup at a time, incorporating well before adding more.

Once that is well-combined, add the vanilla and mix together with wooden spoon.

Roll peanut butter mixture into balls (36 -- more or less depending on desired size) and place on Silpat.

Once all peanut butter balls are formed, place them in a plastic container to chill in refrigerator overnight. The balls can be stacked, just place wax paper between layers as you go.

The next day (they can store in refrigerator at this stage for a few days), pour 1 1/2 bags of the Ghirardelli chocolate pieces into a microwave safe mixing bowl and melt according to the directions on the bag.

Using a toothpick, dip the peanut butter balls 3/4 of the way into the chocolate, coating the sides and bottom but allowing a small amount of peanut butter still to show.

Place dipped buckeyes on parchment paper and allow the chocolate to set.

Try not to eat them all before gametime (haha)

Store in a lidded container in the refrigerator up to one week.
Notes
You need about one bag of the dipping chocolate for each batch of Buckeye balls. The leftover chocolate can be poured into a plastic bag, air removed and allowed to harden to be used again another time. Break it up into pieces before melting again.
Even if you're not an Ohio State Buckeye, I bet we can both agree that Ohio Buckeye Candy is a wonderful treat!
Please Save — and share — this Buckeye candy Recipe
Save this post to your Pinterest page and share it with your friends on social media! We really appreciate it! Enjoy!!!