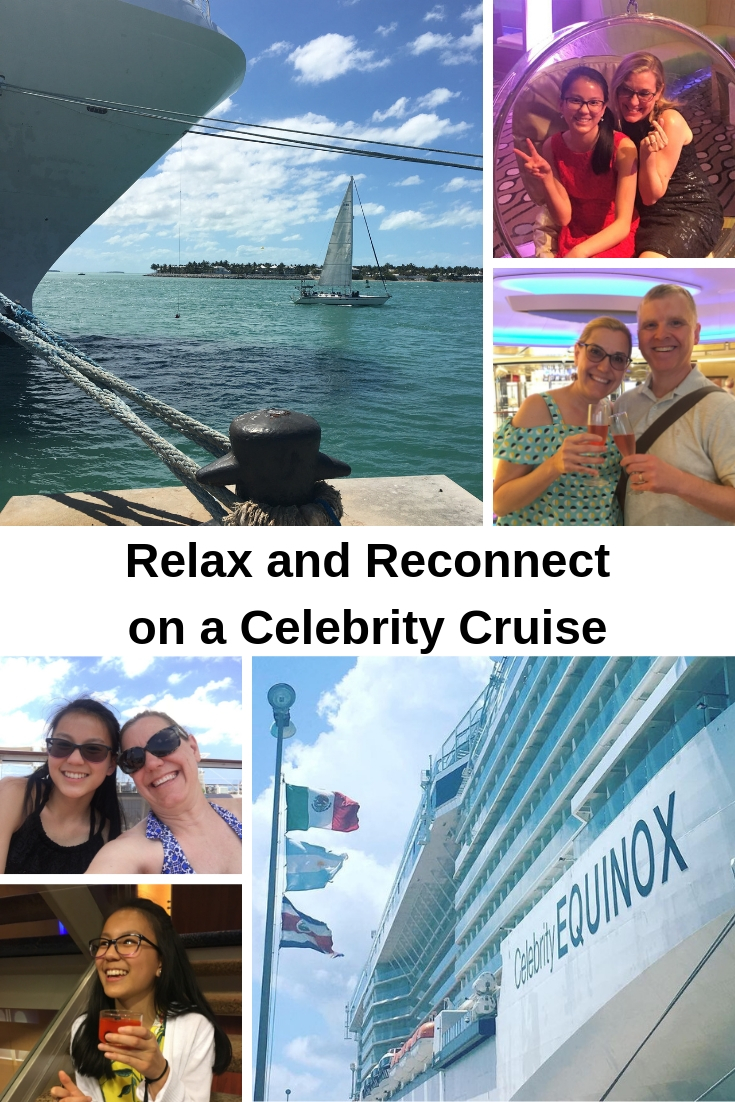 The past few years have been a whirlwind around our house — you know, life with teens and a new job thrown in! We've been going full tilt for so long, I can't remember the last time I sat to read a book "just for fun." Or, slept in "for no reason." You know?
So, we booked a spring break cruise, forcing ourselves (you know?) to unplug and unwind.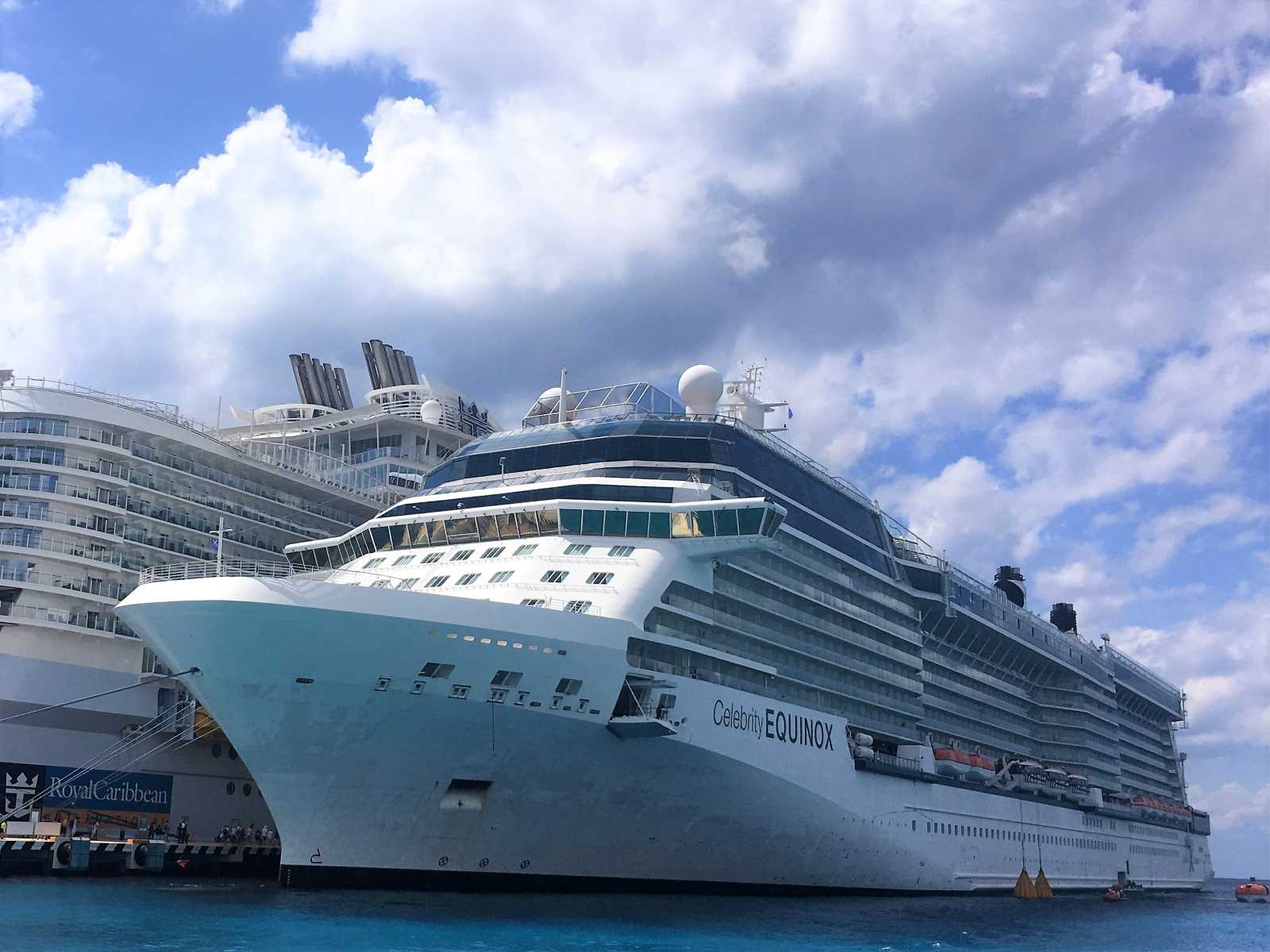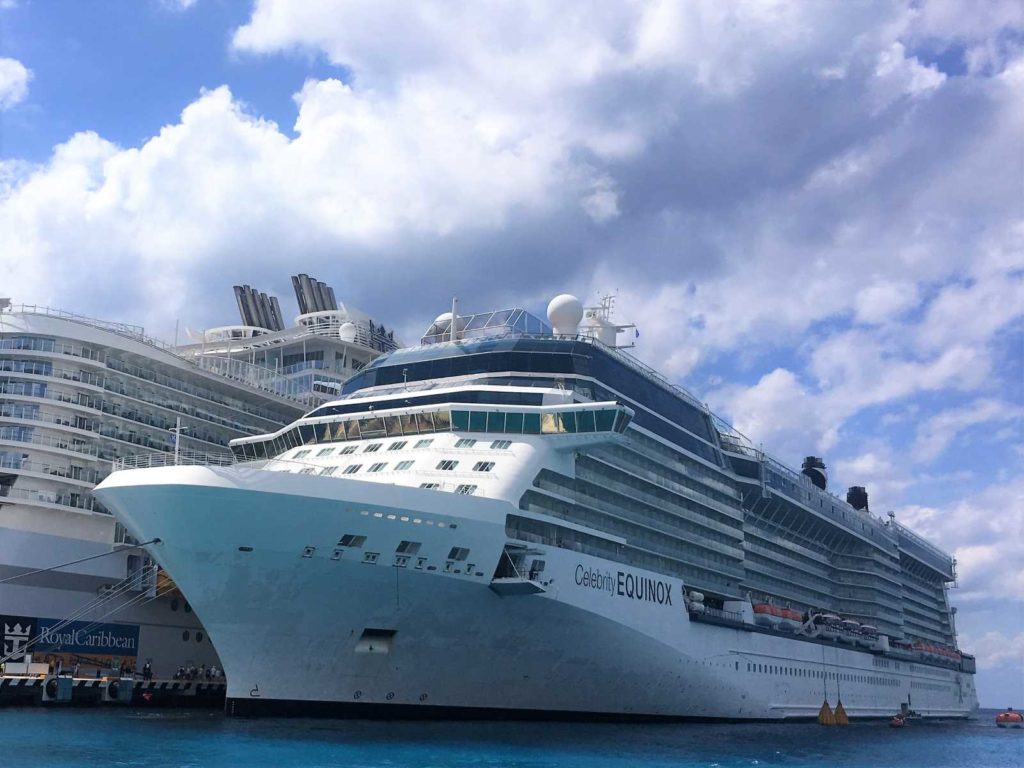 I booked our cruise on the Celebrity Equinox — in part because there happened to be a medical conference onboard to offset some of the cost. But mostly because we've been wanting to repeat the itinerary of the first cruise we ever took back in 1993 and this happened to fit. We've also never sailed on Celebrity before, and I wanted to know more about their "modern luxury" approach to cruising.
Read more: HOW DOES CELEBRITY COMPARE TO ROYAL CARIBBEAN?
Celebrity Equinox Review
Prefer a video review? Watch it now or save it for later!
The Celebrity Equinox is one of Celebrity Cruise Lines' Solstice Class ships. The Equinox has been sailing to ports around the world since 2009.
The Equinox has about 1,400 cabins — some of them suites, 10 restaurants, eight bars — each with its own "ambiance," and a fabulous theater.
The ship has the requisite pools, hot tubs, spa, fitness center and kids' clubs required of major cruise lines. One of the standout features of Solstice class ships is the grassy lawn on Deck 15 — at least I think it's amazing!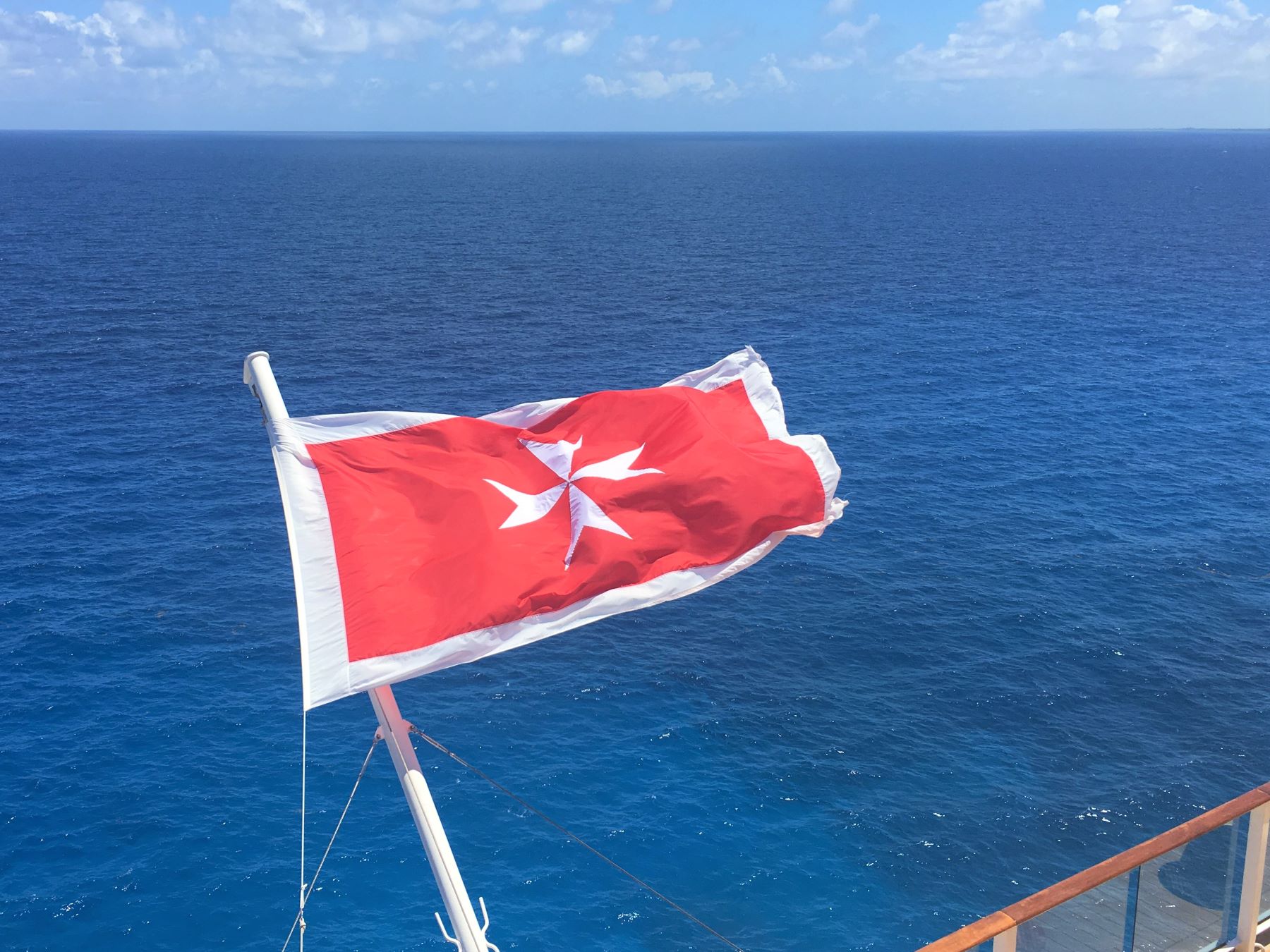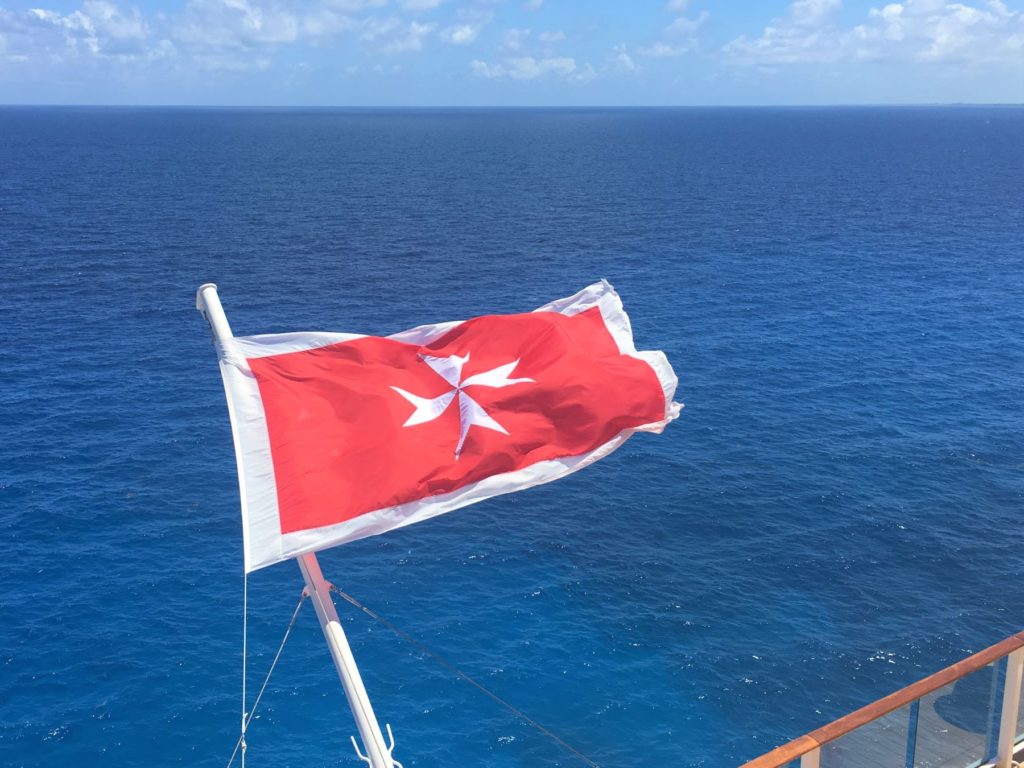 But, I'm getting ahead of myself.
The staff of 1,500 serves about 3,000 guests each sailing, making the job seem effortless. Though, I know it's not!
Celebrity Equinox Itinerary
Our spring break cruise on Celebrity Equinox took us to the Western Caribbean ports of Key West, Costa Maya, Cozumel and Grand Cayman with two days at sea during the week.
The Equinox sails on other itineraries, as well, like the Eastern Caribbean and Mediterranean, depending on time of year. Most cruises are seven days, though many experienced cruisers will do back-to-back cruises on the ship when it offers complementary sailings.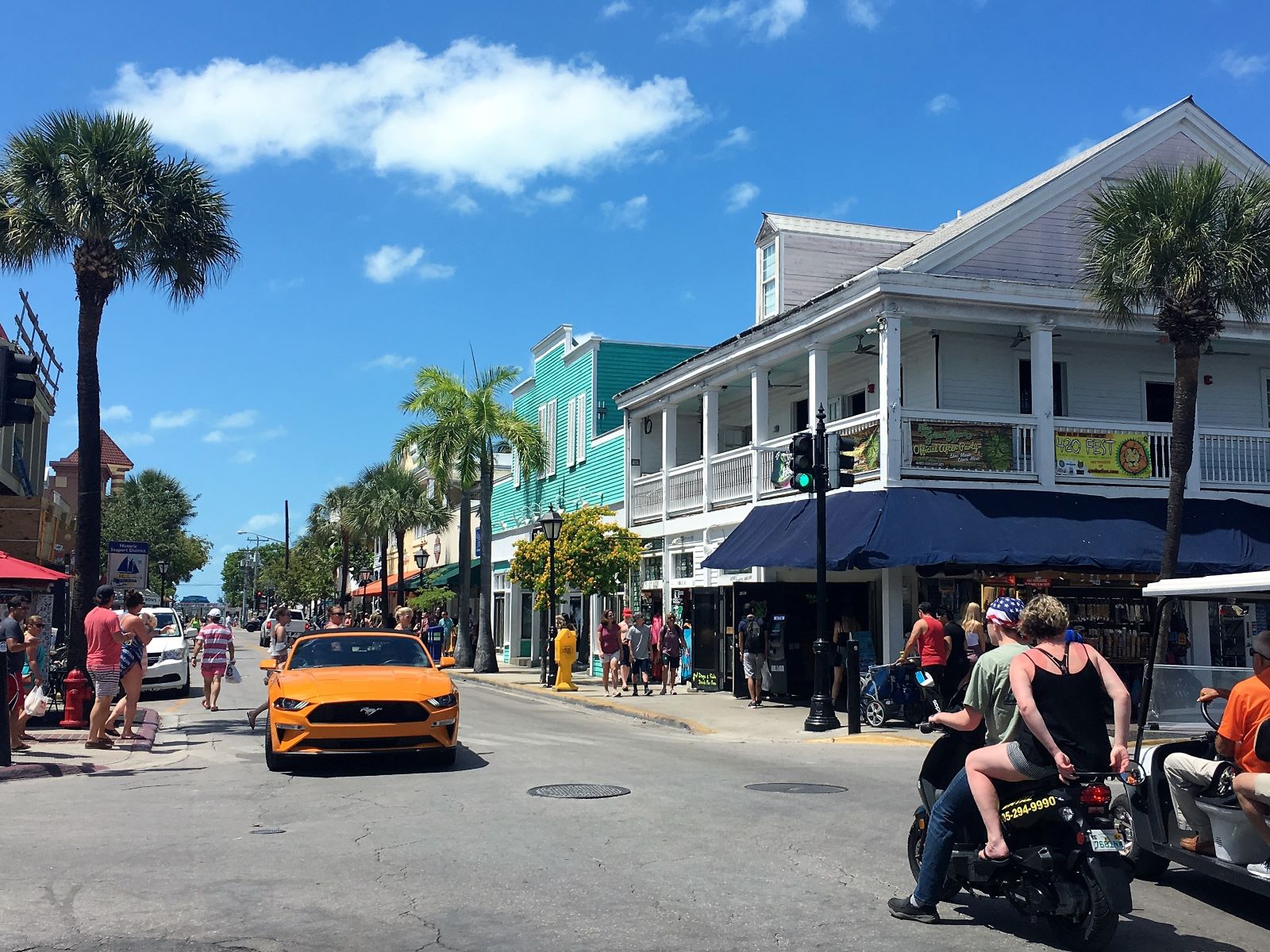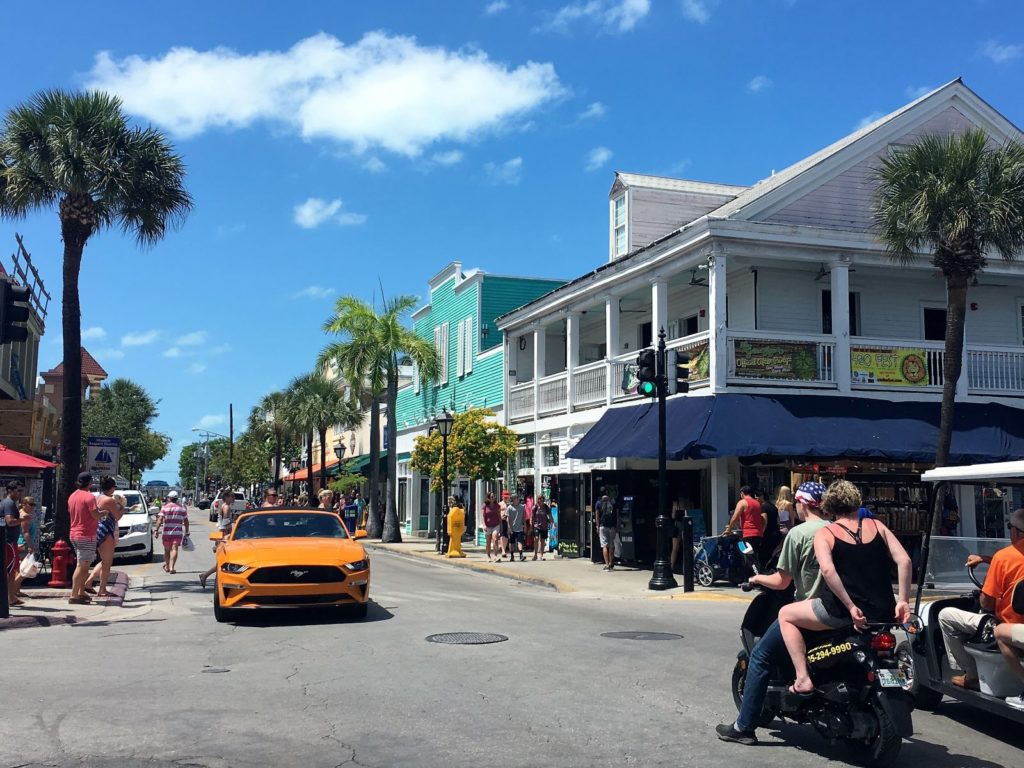 PRO TIP: If you have the time for a two week vacation, a back-to-back cruise is a great way to do it. Pick a ship going on two different itineraries back-to-back and book your vacation. You only have to travel once for two great vacations!
Some day we'll do that… but not this year. The kid only gets one week for spring break.
Back to the cruise. At each port, passengers with ship sponsored shore excursions are allowed to disembark first. Then, everyone else is free to go. When the ship docks at a port, it's fairly easy.
Passengers need to show their sea pass card (onboard room key used for everything, including paying for drinks and shopping on the ship) and photo ID before leaving the ship and to return. You can come and go all day, as much as you want. Just be sure you're back before the ship leaves port!
When the ship has to tender at the port, like we did in Grand Cayman, it's a little harder getting back and forth as passengers are ferried from the mooring spot to port. It takes about 15 minutes, usually, to make that trip one way. And if the water's choppy, those with motion sickness might feel woozy. Anyway, allow for extra time to get to and from the port. Otherwise, it's just like docking.
Which Celebrity Equinox itinerary is best?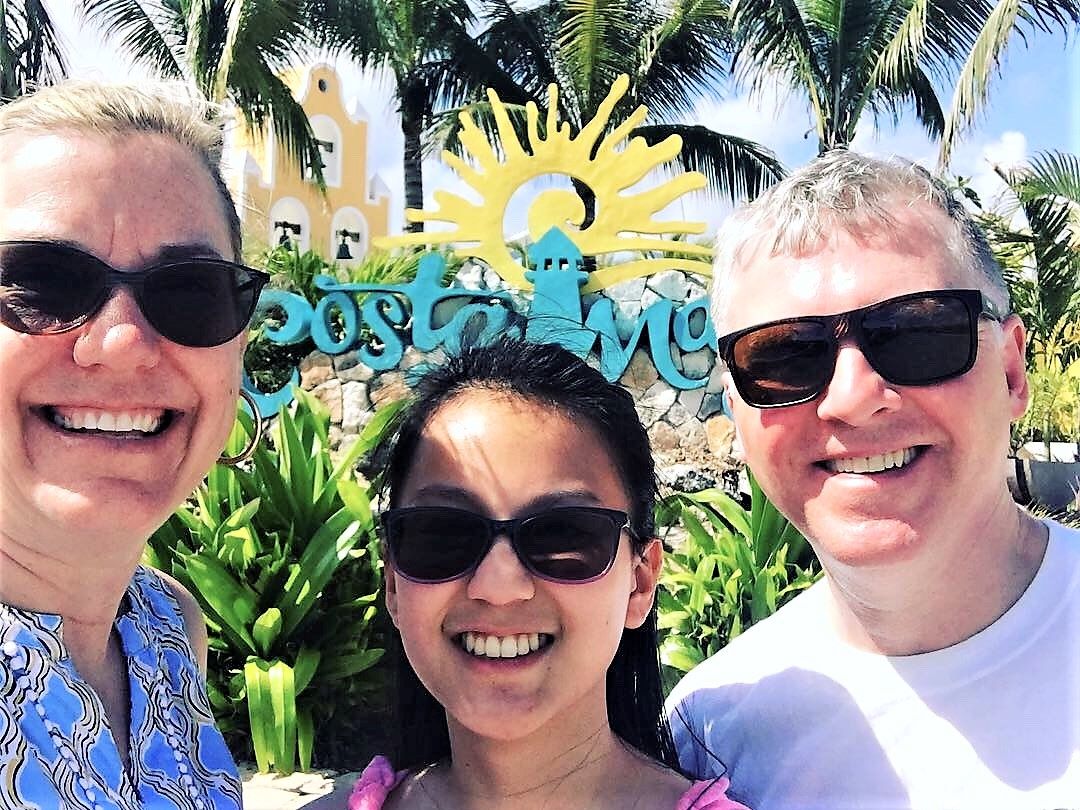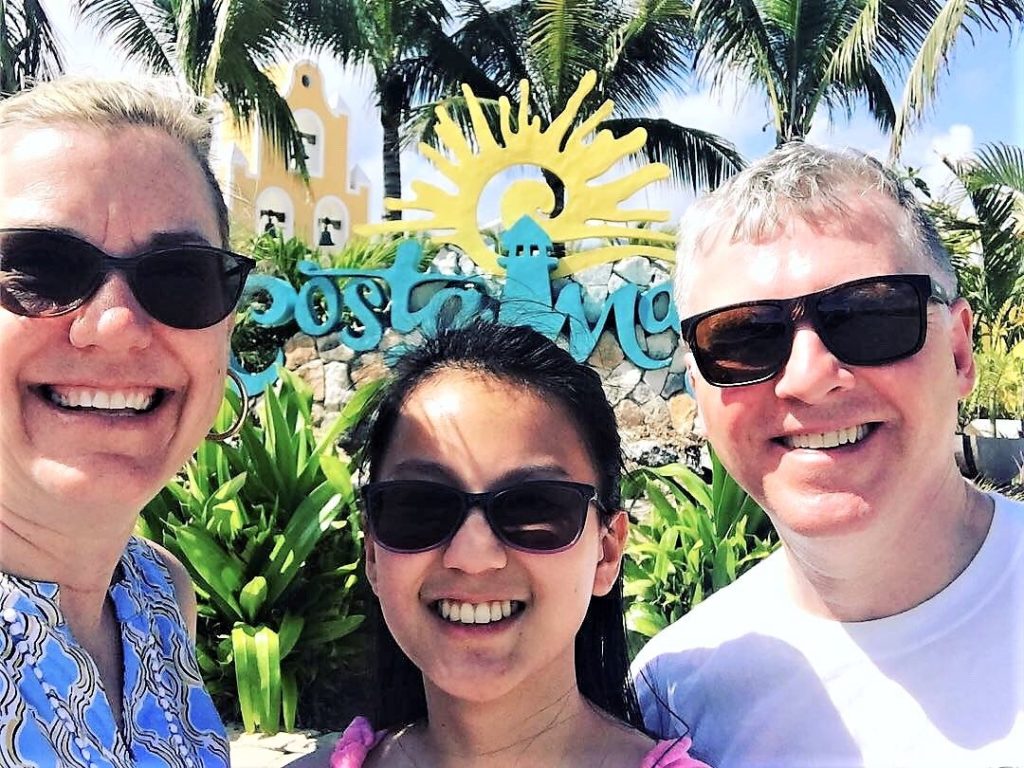 For me, there's no one "best" itinerary. I look for the features I want on a ship, going to the places I want to see, at the price I want to pay. You really can't go wrong with that formula.
The Equinox sailed out of Miami for our trip. That's the one big mistake we made! Miami is one crazy airport! It's hard to navigate, old, and not very customer friendly. For whatever reason, flights to and from Miami are also expensive. I didn't realize Fort Lauderdale airport is so convenient to the port of Miami or we would have flown to and from there instead.
What are Celebrity Equinox Cabins like?
Take a look at our cabin, about average for this ship
When I'm cruising with my husband, I really like having a balcony cabin. We look forward to relaxing on the ship, even reading good old fashioned books while the waves roll by. And, coffee on the veranda (that's the fancy ship term for really small balcony just big enough for two chairs and a table) each morning is hard to beat!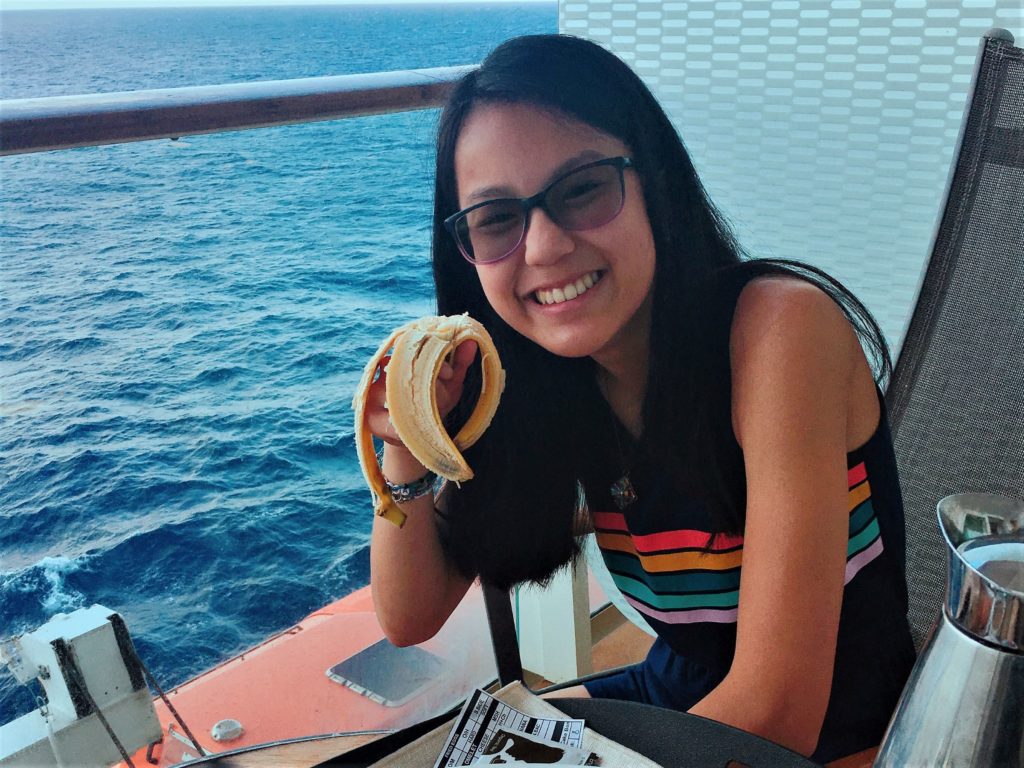 One nice thing about Celebrity Cruise ships is that most cabins have balconies. The only cabins on Celebrity Equinox without balconies are on Deck 3 and the interior cabins on Decks 7 through 11.
Check out all the Equinox cabin options on their interactive deck plan. Some cabins have an obstructed view, like the cabins on Deck 6 that look out at the life boats. Usually, you will know at booking whether a view is obstructed or not, but it's a good question to ask just to be sure you know what you're getting.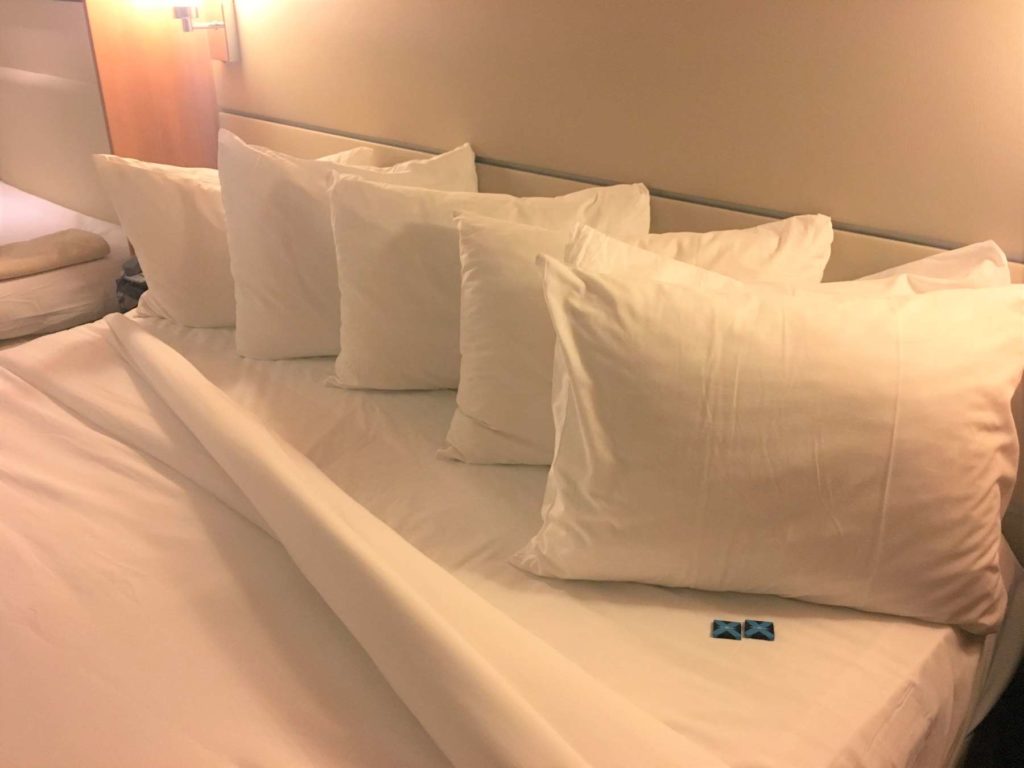 As far as the cabin itself, we had a balcony cabin on Deck 7 that sleeps three. It has two twin beds that convert to a king, a trundle bed, dressing area, balcony and bathroom.
Compared to other cruises we've taken that aren't suites, the bathroom is one of the best features. There's actually room to move around, lots of storage and a spacious shower. (I say spacious, but that's compared to other cruise ships, not your home bathroom!)
Other features included in each cabin include a flat screen TV (to watch movies, check account balance, see what's happening on board and listen to the captain's daily message), cash mini-bar and fridge, safe, blow dryer and toiletries.
Cruise Critic cabin reviews are another great resource to help you decide which cabin to book.
What can you do on Celebrity Equinox Cruise Ship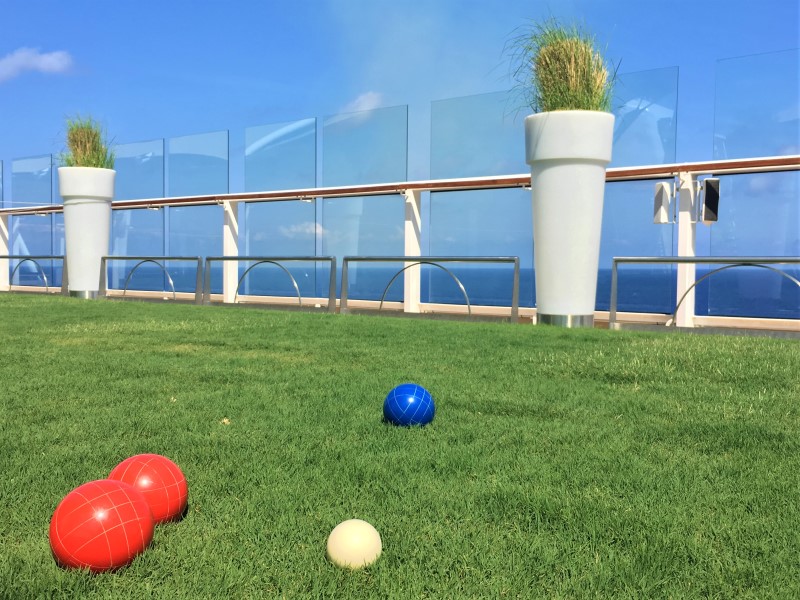 I've cruised many times in the past. Except for my first cruise (1993 — yikes), all the ships have had so many features, they are more like cities at sea than ships. You know, ice skating rinks, climbing walls, tons of shopping and restaurants.
Celebrity Equinox is not that big! Before the cruise, we wondered if we would find enough to do on board. And, while there are fewer options, we are happy to report there is plenty to do on the ship!
RElaxing on Celebrity Equinox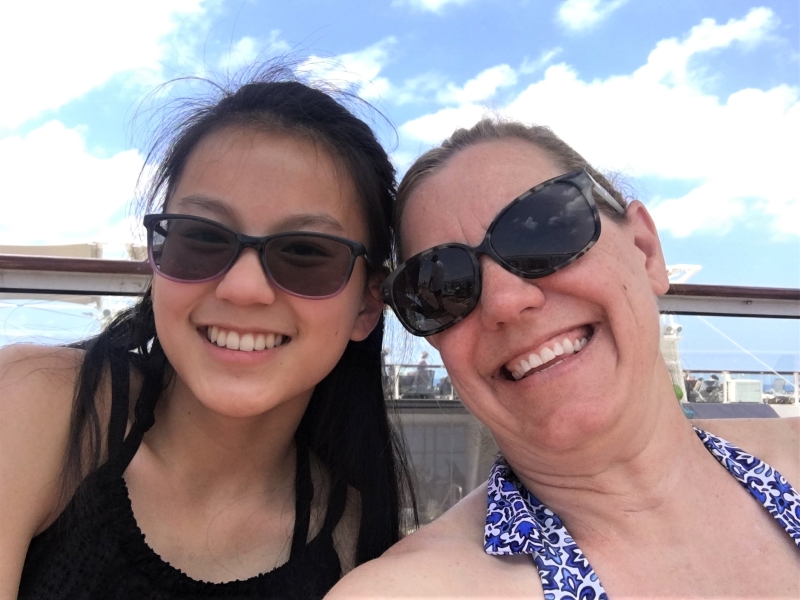 I need to start here, because relaxing in modern luxury is this ship's specialty! One of the best places to relax is your private veranda. I spent hours out there — enjoying morning coffee, watching the sun disappear over the horizon and reading books on lazy afternoons at sea.
There are loads of public spaces to relax, too:
On the grassy lawn (Deck 15),
At the pool on Deck 12 or overlooking it on Deck 14,
In Cafe al Bacio, the coffee shop on Deck 5,
At the spa!
And don't worry if you forget your book — just borrow one from the library on Deck 10!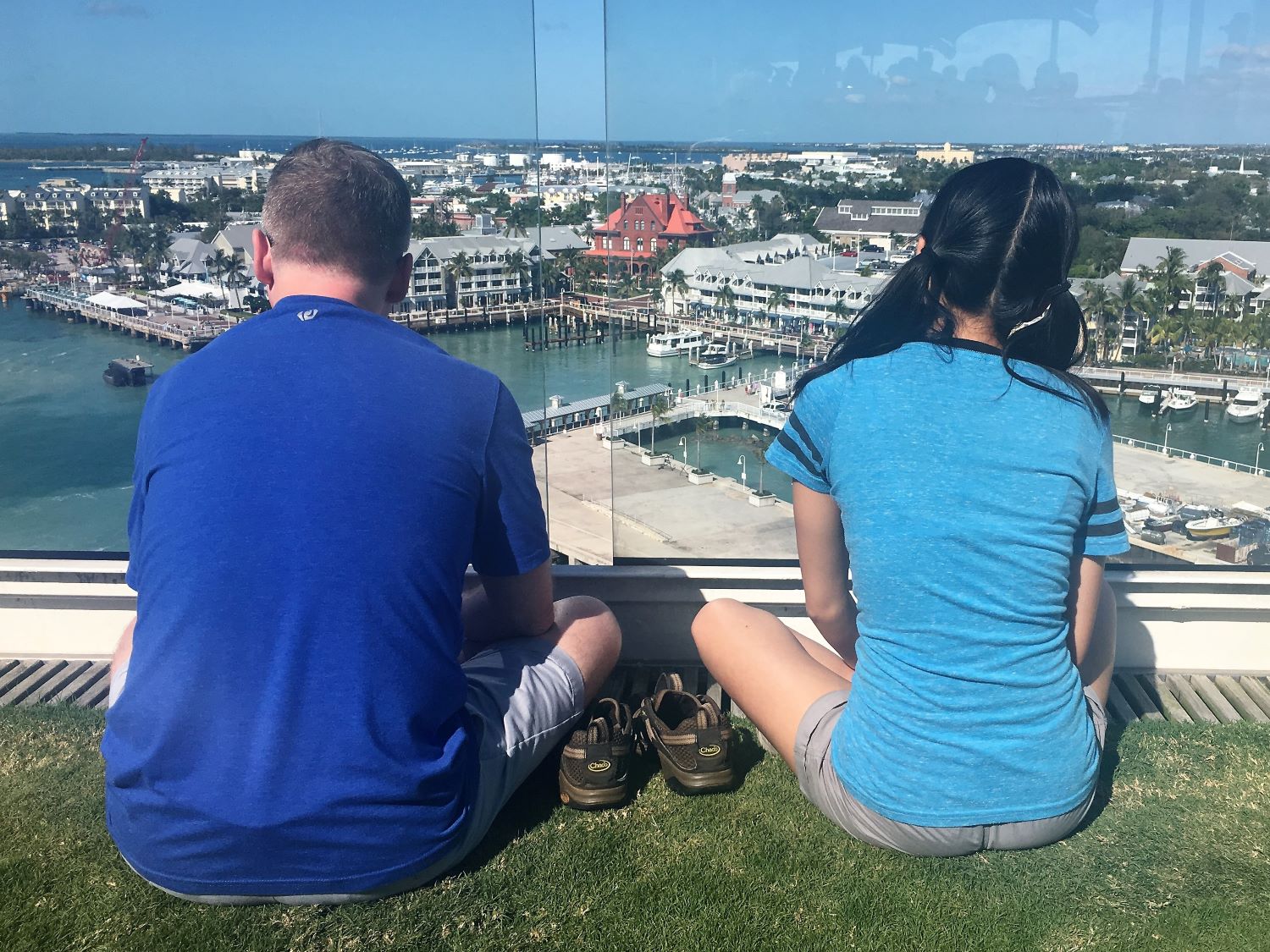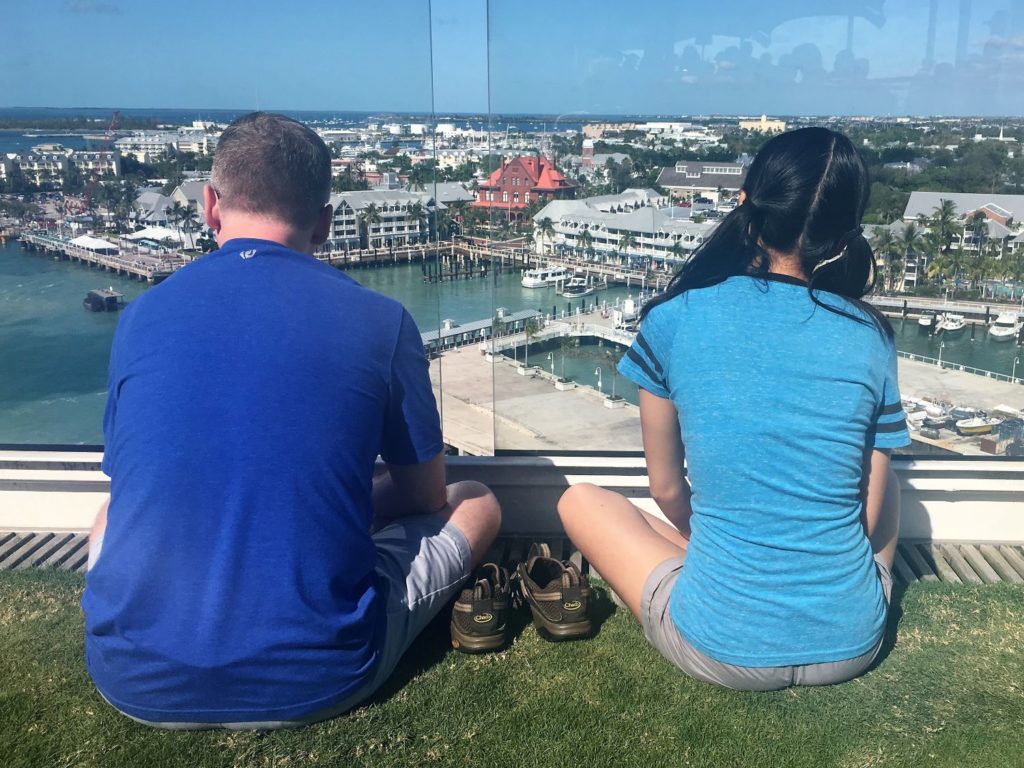 Enjoying Nightlife on Celebrity Equinox
The Equinox is geared toward "modern luxury," which seems to mean lots of late night fun without the insanity! There are eight bars on the ship, most on Decks 4 and 5, each with its own unique atmosphere. Many of the bars and public spaces on these decks also offer dancing, DJs and live music day and night. There's a party happening somewhere, and if not, you can make your own!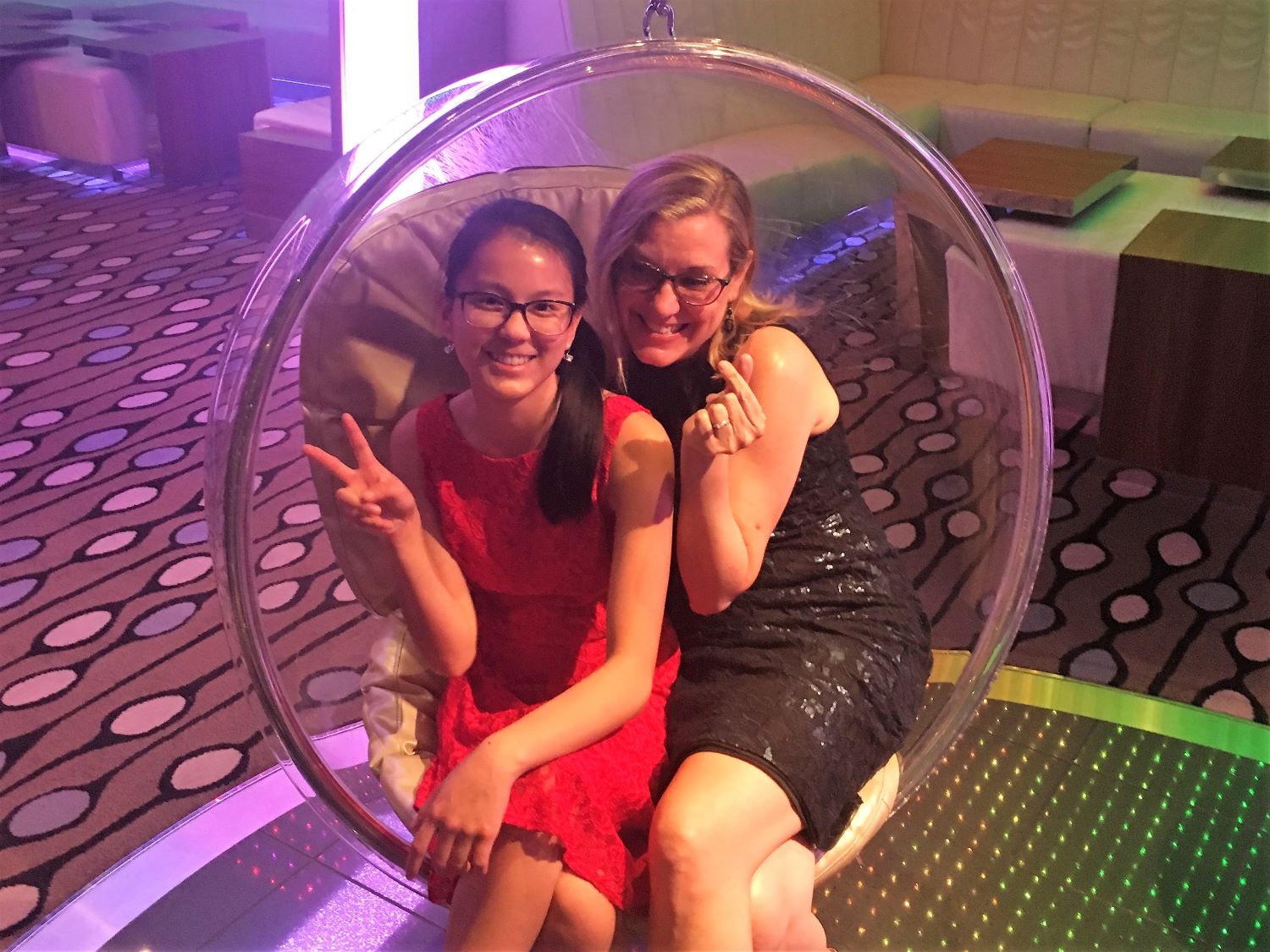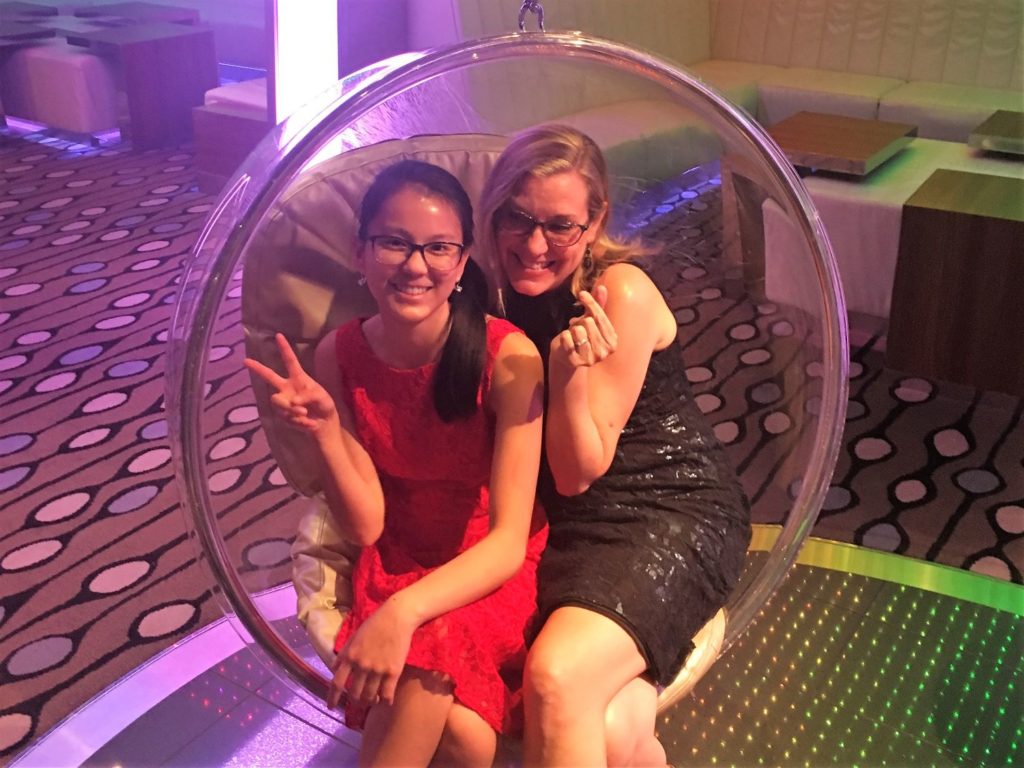 We aren't "hang out at the bar" people, generally, but we enjoyed joining in the dance fun during the week! And, the late night themed parties, like Silent Disco and parties on the pool deck, added to the excitement. While we saw a few people who enjoyed themselves a little too much (if you know what I mean), the crowd on Equinox didn't strike us as the rowdy type.
Appreciating the arts
Compared to other cruise lines I've been on, including Disney, I have to rank Celebrity Equinox's live shows just a little higher. We loved the acrobatics and aerial elements added to live shows. Beyond the theater, I loved hearing live music throughout the day — from the band at the pool deck to the solo guitarist who sang daily at the Sunset Bar on Deck 15.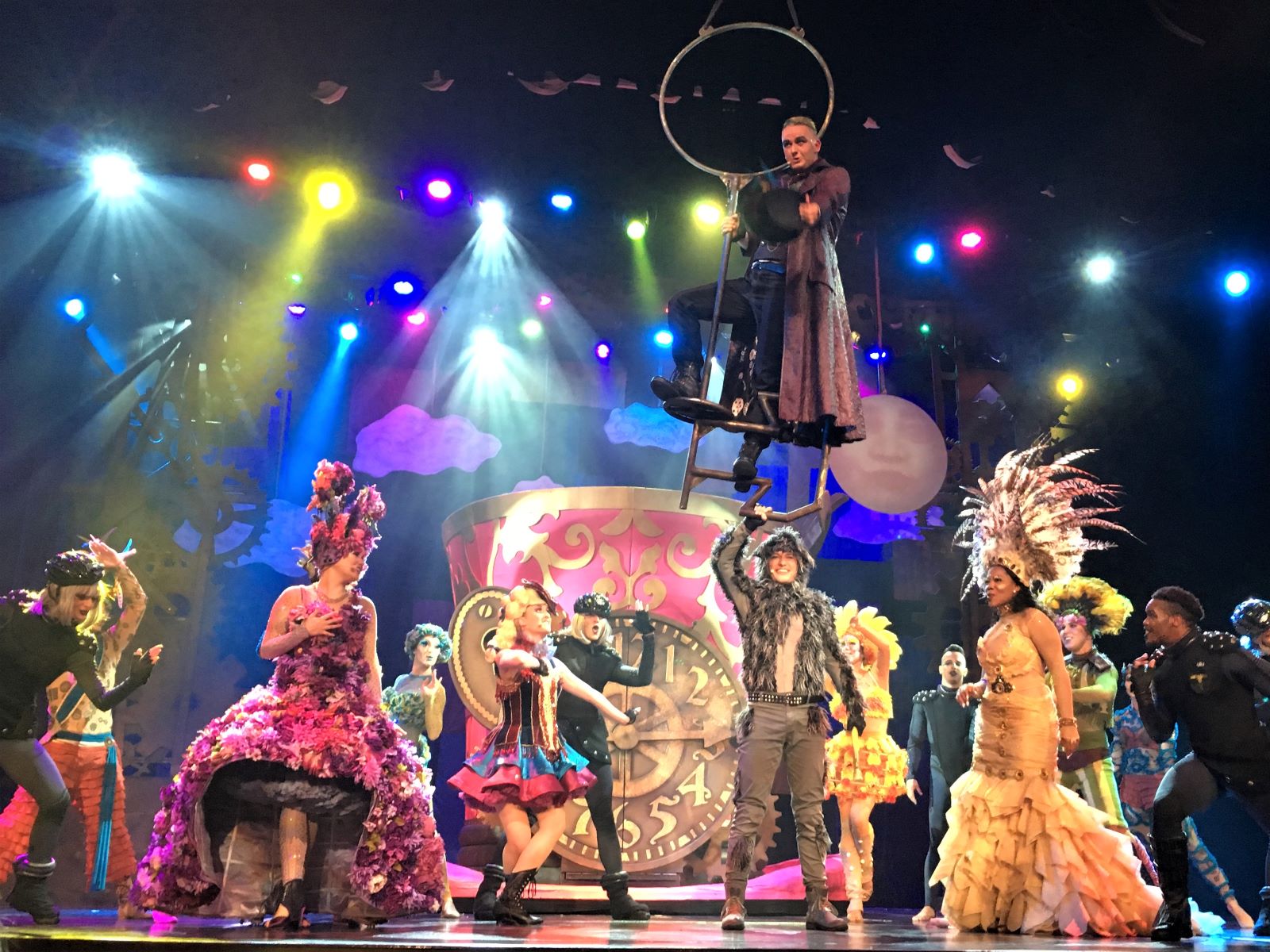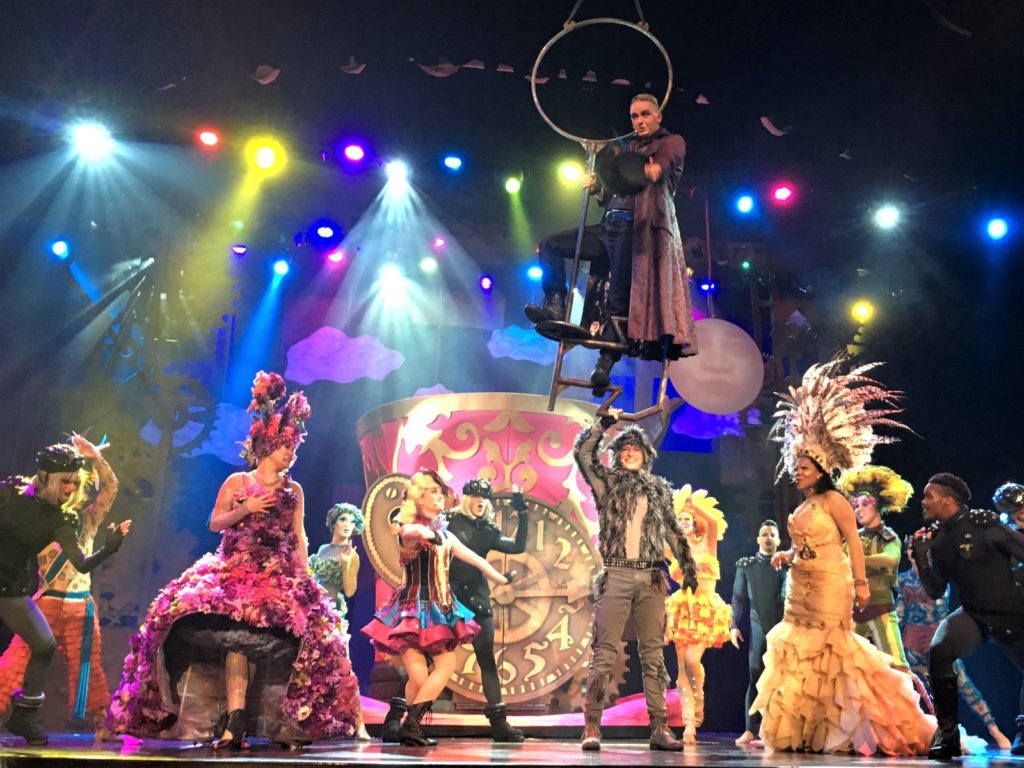 The Hot Glass Show is a cool feature, especially if you've never seen blown glass work done before. I like that guests can make their own souvenir — a cup, vase, starfish or glass ornament — by signing up for it. The prices on board are higher than what I've seen on land (about 20% more).
I asked the people working at the hot glass show if they'd ever had a guest's creation break, and they looked at me horrified. Seriously! I think I offended them, though I didn't mean to. They were quick to say they'd NEVER broken a piece and they don't ever plan to!
As with most cruise lines, there's also an art gallery at sea. The people here are pushier than I'd like. We got daily invites to attend this or that in our cabin. It's also impossible to walk past the gallery without someone asking you to come see this, attend that or whatever. Not my thing. I guess there's an audience for shipboard art sales, but I'm not it.
Connecting with Family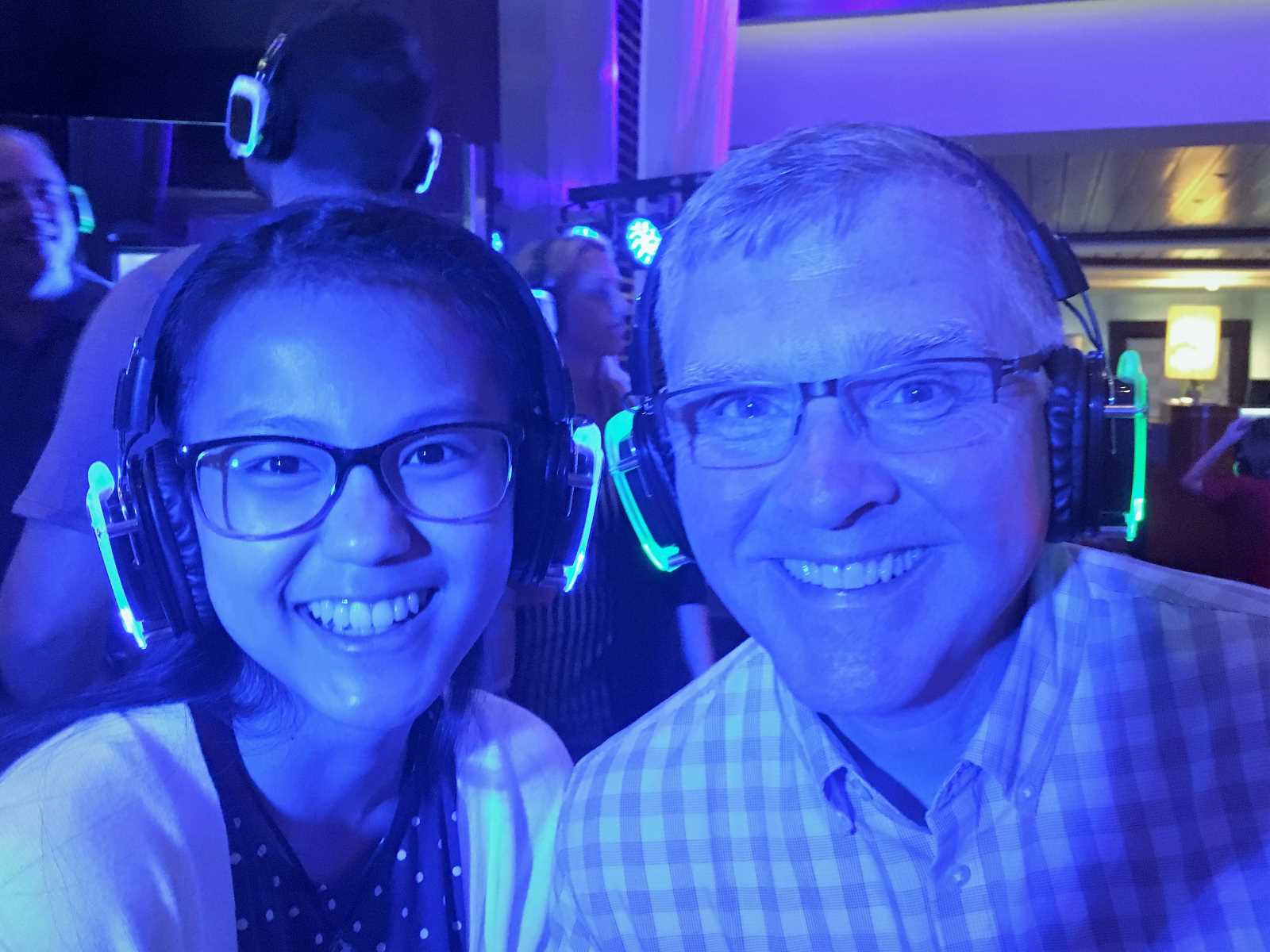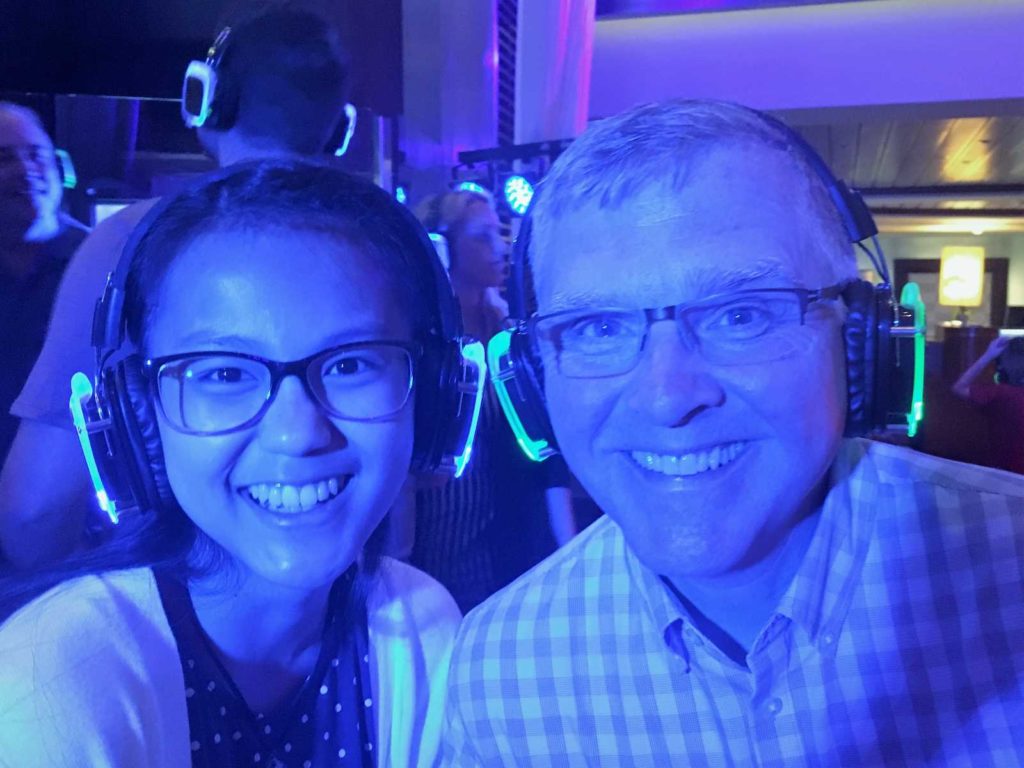 This is where Celebrity excels! If you want to spend time with family, this is the perfect cruise line to do that. The overall vibe on the ship encourages family togetherness. And, the gameroom, card room and relaxed public spaces invite families to hang out together.
While there is a kids' program, it's not a drop the kids and forget them kind of cruise line. Hours are limited, though plentiful enough to give parents free time. An added bonus, the kids' program includes activities geared for the whole family, like the "camp fire" on the grassy lawn and Family Bingo.
I loved that Silent Disco, the theater shows and pool games encouraged families to participate in things together. For our close-knit family, that's a huge plus!
Staying healthy on board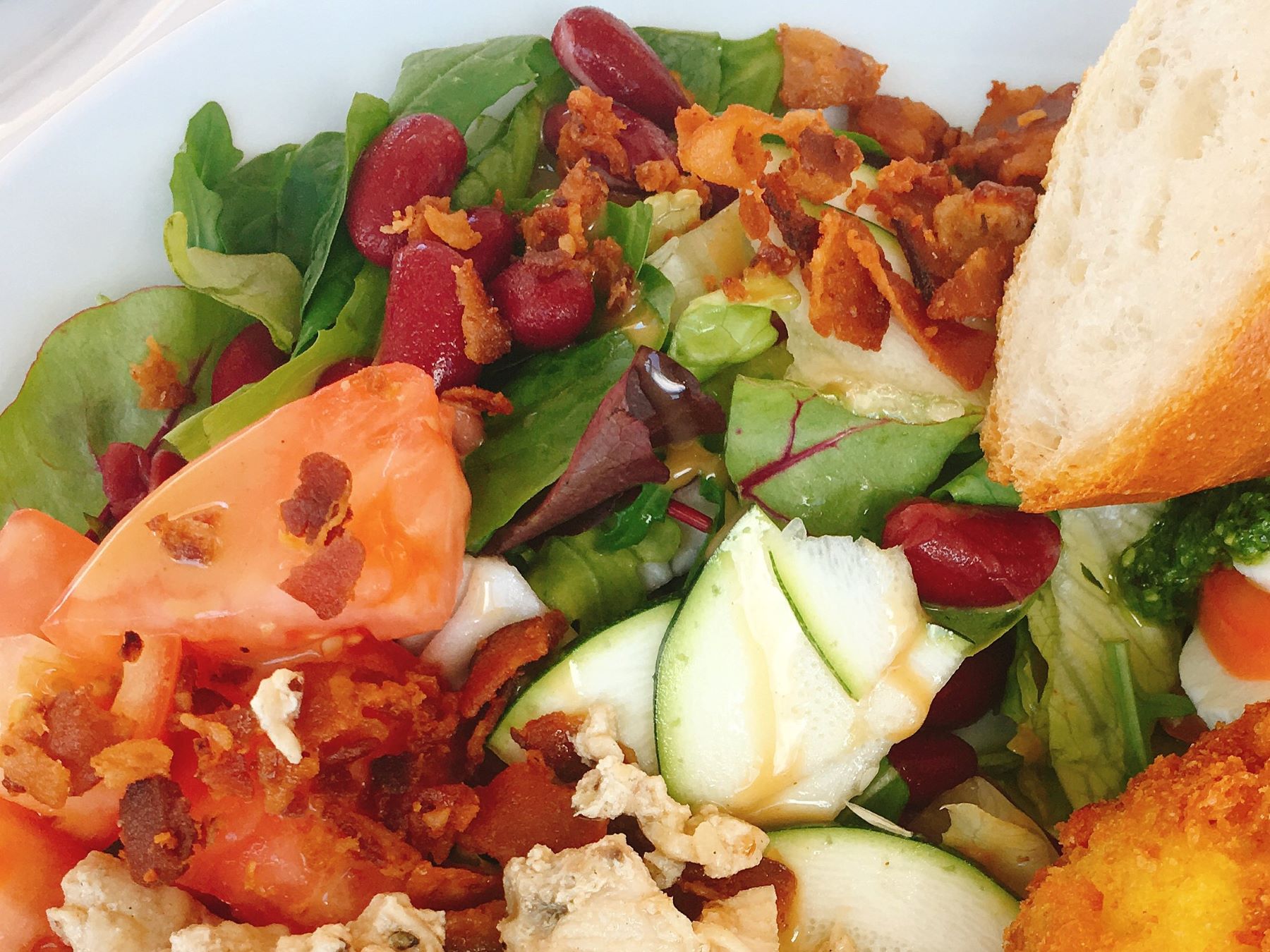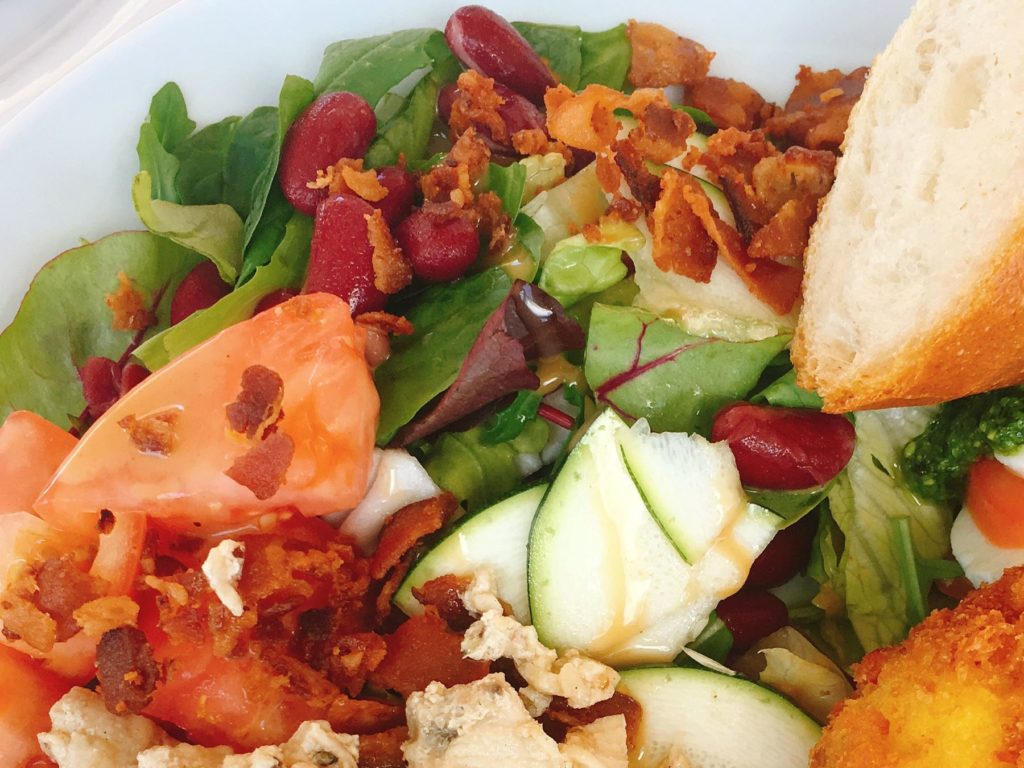 Getting a workout on Celebrity Equinox
I'm committed to healthy living, even on vacation. But, I don't want to spend hours in the gym! I can do that at home. But, you can stick to your fitness routine with free and paid fitness classes at the fitness center on Deck 12.
Fortunately, there's tons to do on Celebrity Equinox beyond the gym to stay healthy. For starters, take the stairs. Being on the smaller end of big ships, it's generally easy to take the stairs. Our cabin was on Deck 7, and we trekked up to Deck 14 for breakfast, lunch and snacks. There is no Deck 13, so it was only six flights. Easy! At the very least, use the stairs going down for some extra cardio.
Besides taking the stairs, we spent lots of time on the dance floor — both at the pool and at late night dance parties. Line dancing is a really fun way to get a workout in!
One place I feel Celebrity Equinox has missed the mark is their walking/jogging track. It is quite crowded — with lounge chairs crammed in on both sides. The crew goes through regularly, often with large carts to clear away cups, plates and bottles.
While I appreciate the clean deck for my pool lounging, it can be tough to play dodge-ems with all their stuff.
BUT, the biggest fail is that the jogging track goes past the Mast Bar — a designated smoking area that's quite popular! We used the track once and then realized it wasn't feasible for real exercise. I find it counter-productive to work on my cardio if I have to take a deep breath of second hand smoke.
Eating healthy on Celebrity Equinox
It's also easy to eat healthy onboard. The Spa Cafe offers healthy dining options for breakfast and lunch. In the Oceanview Cafe on Deck 14, there are a number of healthy options offered all day long, including a large salad bar, grilled meats, gluten free and sugar free options. And, in the main dining room, healthy options are clearly marked on the menu. You can also talk with your server about substitutions to meet your dietary needs.
>> Read more: How to eat healthy on a cruise <<
Where to eat on Celebrity Equinox
Cruise ships are known for having a variety of dining options, from casual buffets to formal dinners in the dining room, and Celebrity Equinox is no different. The difference comes in with the variety of food available on board.
Included with the "Price of Admission"
For those who consider cruising on par with all inclusive resorts, there are plenty of free dining options on Celebrity Equinox.
Casual Dining: Throughout the day, there are buffet options available in the Oceanview Cafe (Deck 14), though tables can be hard to find at breakfast time. Deck 14 also has the Mast Grill which overlooks the pool deck and offers hot dogs, burgers and fries. The Spa Cafe on Deck 12 (serving those age 16+) serves healthy bites morning through mid-afternoon. And, Cafe al Bacio on Deck 5 serves sweet bites day and night, though you have to pay for coffee.
The Main Dining Room: Depending on your cabin type, you will be assigned to a main dining room for dinner each evening. Though, many opt for casual dining at the buffet, room service or upscale restaurants instead. The Silhouette Restaurant on Decks 3 and 4 is for guests in regular cabins. Your table assignment will be in your cabin the day you board the ship. Suite guests eat at Luminae on Deck Three, which has its own, separate menu for dinner each night and breakfast and lunch on sea days. AquaSpa Class guests are assigned to Blu on Deck 5 which also serves a unique menu for these guests.
Room Service: While the menu is limited, room service is always an option on cruise ships. We enjoy having coffee delivered to our cabin each morning. The fee is included with your cruise purchase, including tip, though you can tip more if you'd like.
My one "complaint" about the main dining room is how limited serving hours are for breakfast and lunch. The window, especially for breakfast, is so narrow that it can be a challenge to eat here except during dinner.
Specialty Dining on Equinox
If you want to splurge on some high end dining, there are lots of options on Celebrity Equinox. These restaurants require a separate "cover," which can get pricey. You can save with packages offered before sailing. And, trust me, if there are openings available, you'll get asked OFTEN if you want to try a fine dining restaurant.
This, along with all the solicitations from the art gallery team, drove me a little crazy.
Maybe a lot.
Get a dining package or book in advance for savings. Or, use your leftover on board credit and splurge on a fancy dinner. Here are your options:
Tuscan Grille: Serving upscale Italian cuisine with a modern twist,
Murano: Classic French, again with a modern, upscale twist (they say "luxury without pretense"),
Sushi on Five: Japanese cuisine with a modern twist. This restaurant, on Deck 5, is alongside a main walkway. I always felt like I was intruding on people's private dinners just by walking past,
Bars and beverage packages
As I have mentioned, there are eight bars on the Celebrity Equinox. You'll also have a dedicated wine steward in the dining room each night. A la carte drink prices start at about $9 plus tax, and go higher. If you'll be drinking more than one or two drinks each day, or if you want specialty coffee, smoothies, bottled water and/or fresh squeezed juice each day, consider a beverage package.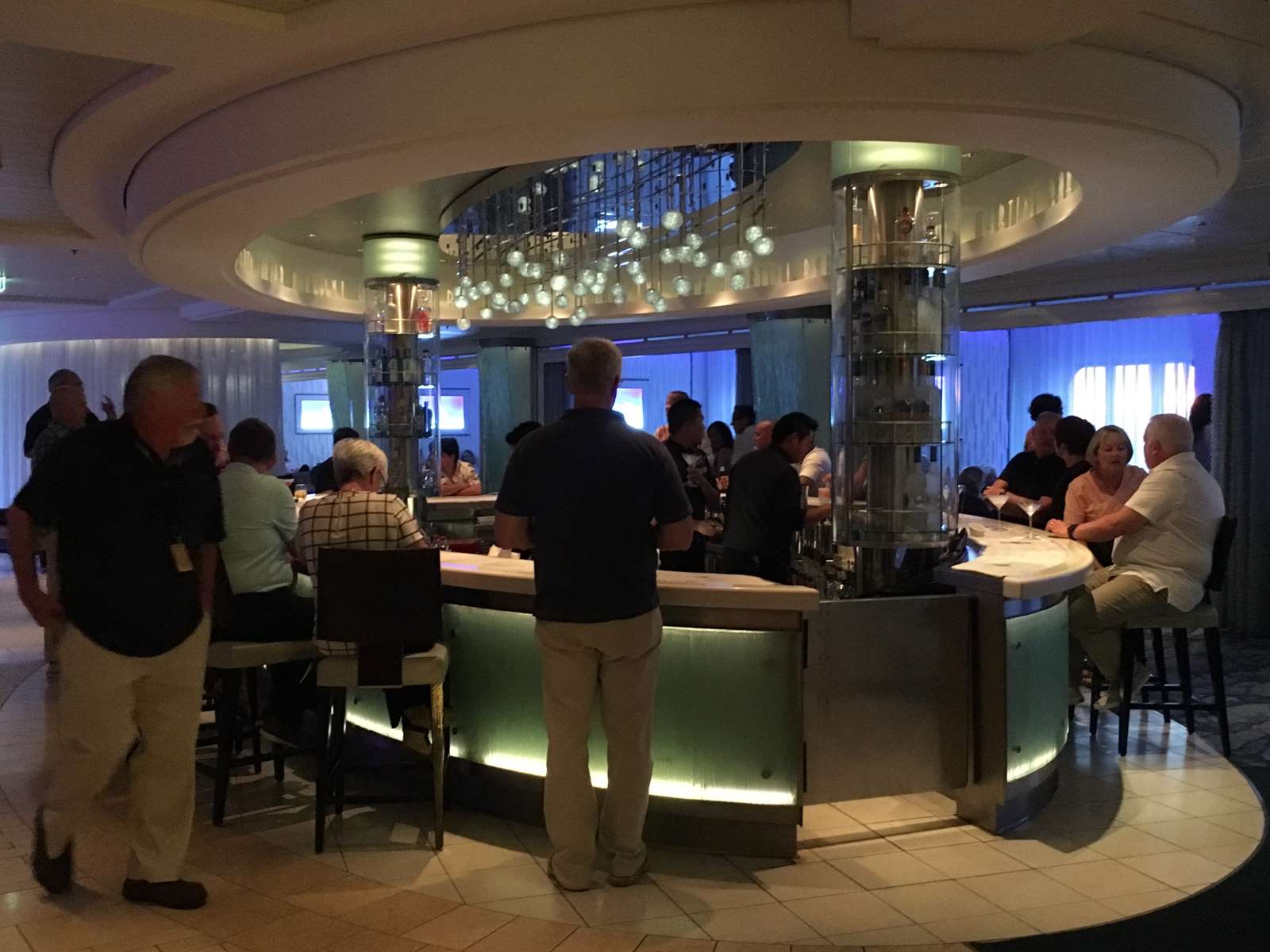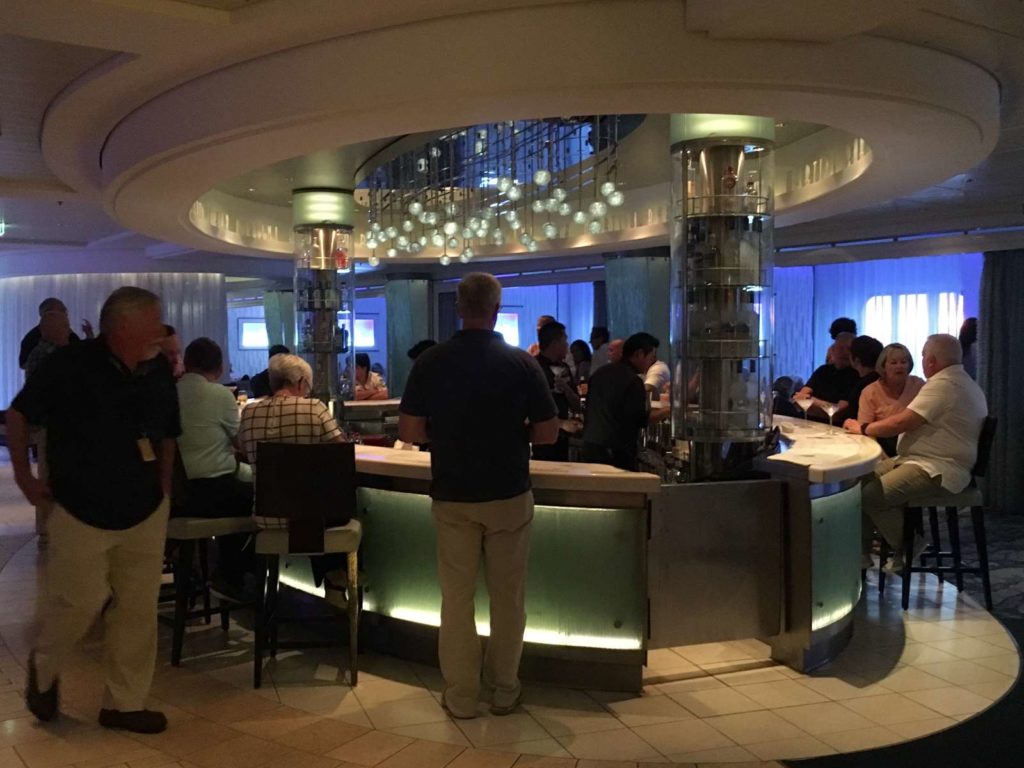 Non-Alcoholic packages include: Soda package (starting at $9/person/day), Premium Bottled Water Package (starting at $16/person/day), the Classic Package which includes specialty coffees, teas, bottled water and soda (starting at $18/person/day) and the Premium Package which includes everything else plus smoothies, Red Bull and Vitamin Water (starting at $22/person/day). Visit Celebrity's Non-alcoholic Drink packages page for full details and current pricing.
Alcohol included beverage packages: These packages start at $49/person/day for the standard package. You can upgrade to the Classic and Premium Packages if they better suit your preferences. Visit Celebrity's Beverage Packages page for prices and details.
What else do I need to know before cruising celebrity?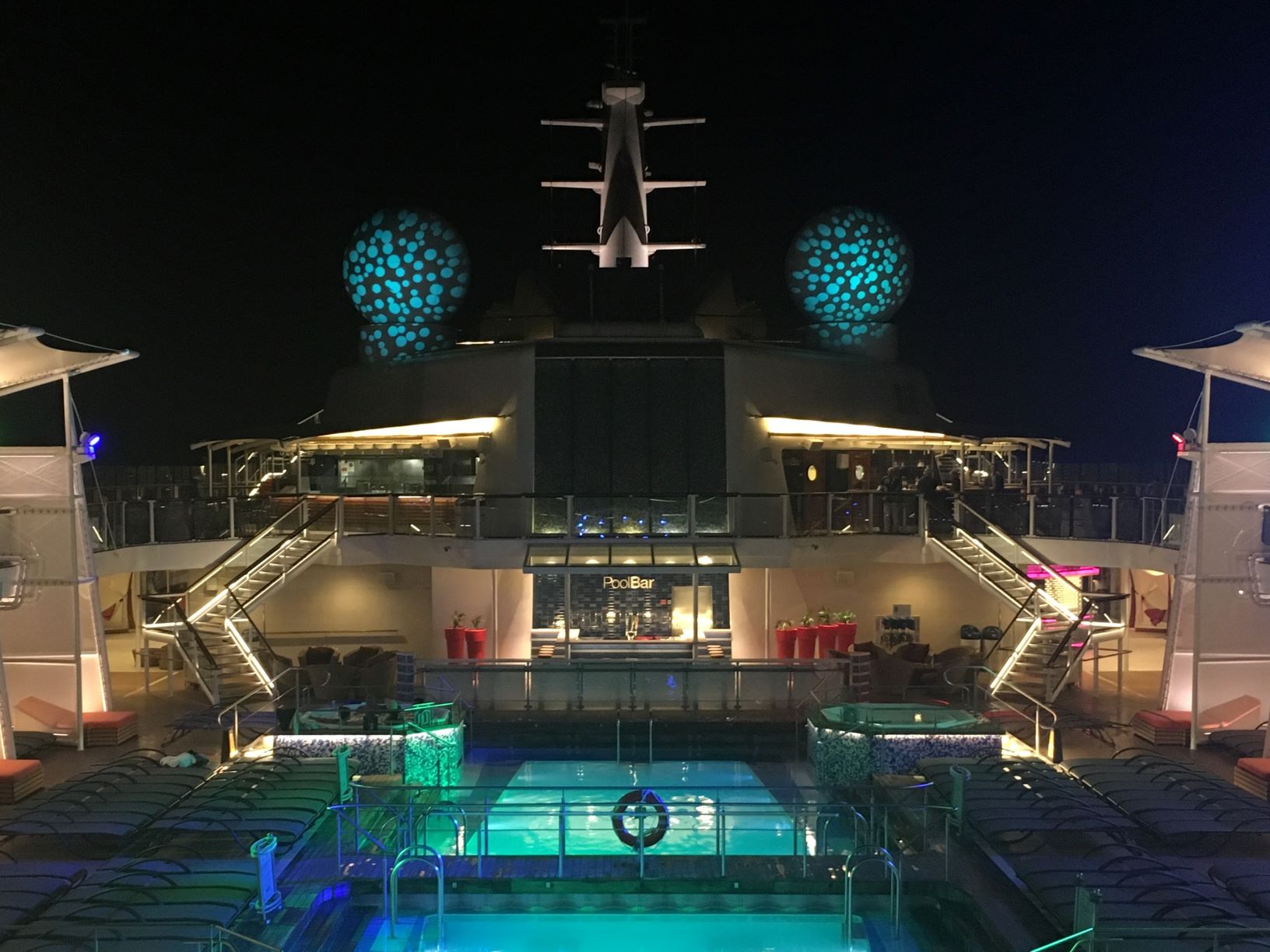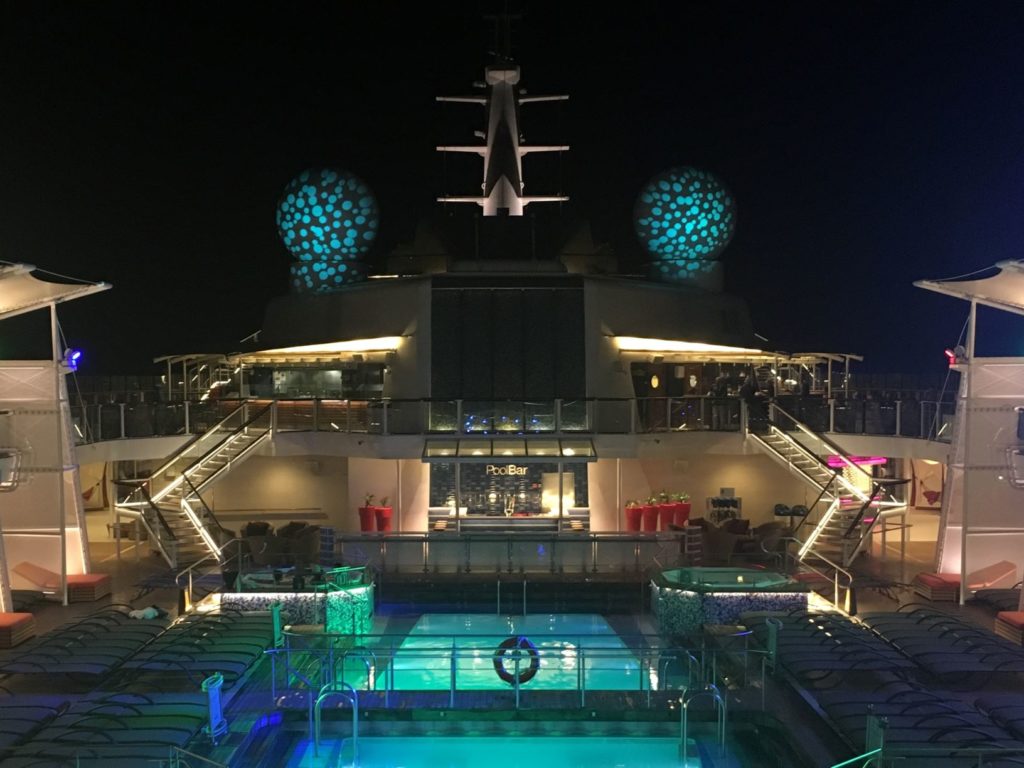 Hopefully, this answers most of your questions. If not, please leave a comment and I'll answer your questions!
The cruise line is comfortably elegant — maybe that's what modern luxury means? If you want to dress up, go for it. If you don't, then… don't! Though, please respect the dining room dress code!
If you want to dance the night away, go for it. If you'd rather curl up with a good book, or quietly tap your toes while the band plays or something else entirely, go for it!
Psst…. Pin this post to read later!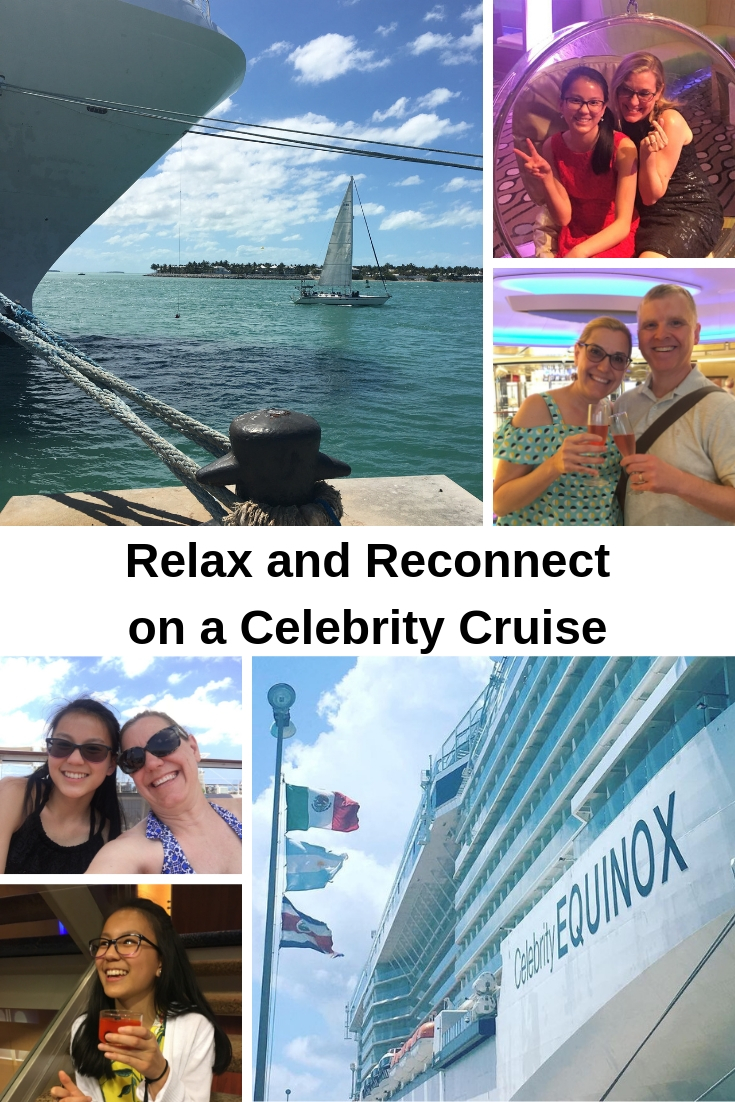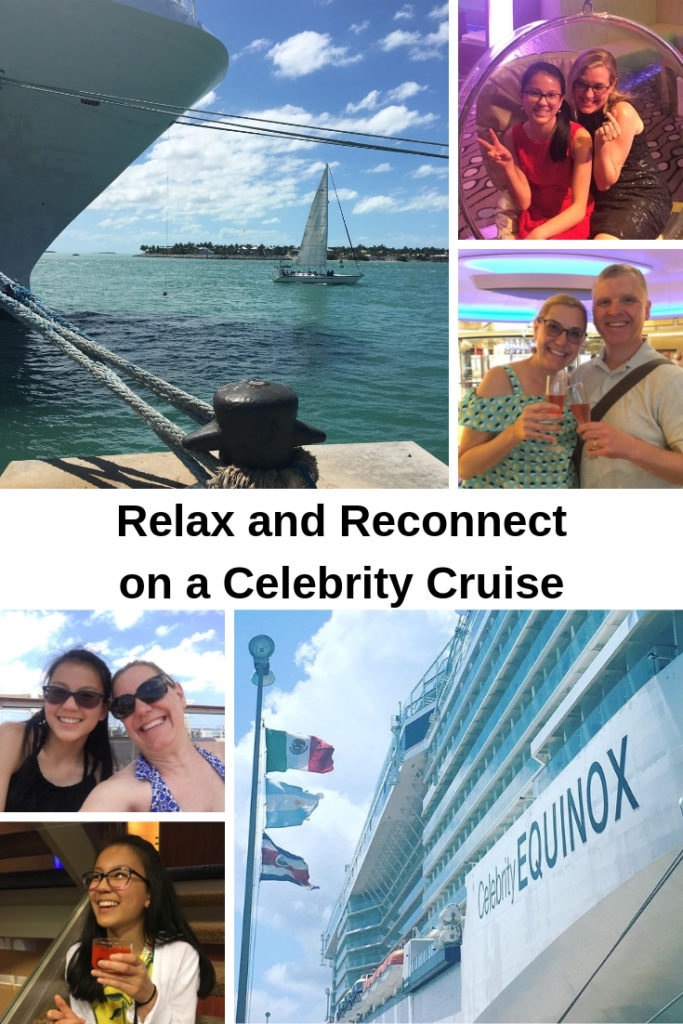 Celebrity is a comfortable cruise line — one I look forward to cruising again.