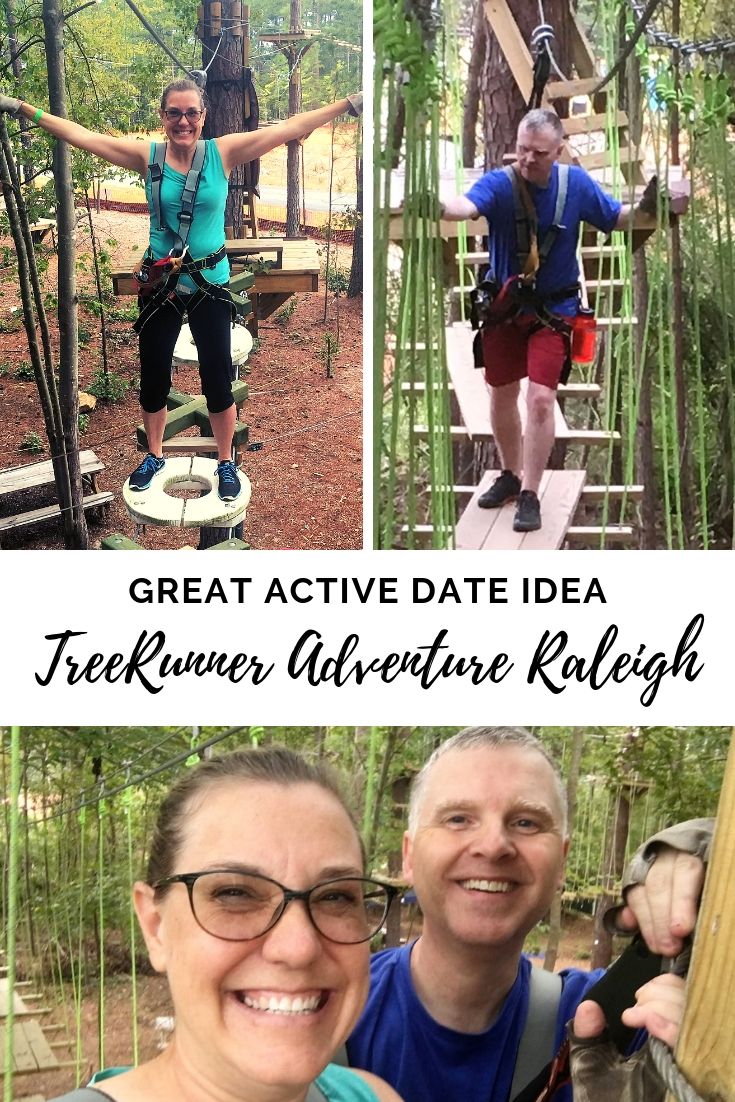 When we got married — almost 29 years ago (EEK) — I was a timid girl. I was afraid of rickety wooden bridges, climbing ladders, just about everything but my own shadow.
But, I'm intrinsically competitive, so as our boys grew, I had two choices: Remain a wimp who sat on the sidelines OR overcome those fears and participate in life.
I chose adventure… and don't regret a single moment!
That internal fire lit, I am a new person who loves adventure. I'd almost go so far as to say I crave it, but let's be real. I CRAVE coffee!!! There's a little difference there.
Being adventurous really has its advantages, especially on "date night."
My husband is an amazing cook — have you seen his Asian turkey burger recipe?
Dinner dates often end up disappointing us since he can cook as well as most restaurants do. And, ever frugal, I have never been one to justify the ticket prices at the movie theater. You know, for the price of two tickets, we can buy it on DVD and watch it 100 times!
So, doing things — taking the adventurous route — means we do things we can't do at home for less.
TreeRunner Raleigh Adventure Park
When I discovered TreeRunner Raleigh Adventure Park while researching an article, I KNEW I was on to something! I purchased tickets and scheduled our adventure online, then surprised Rob with a fun date.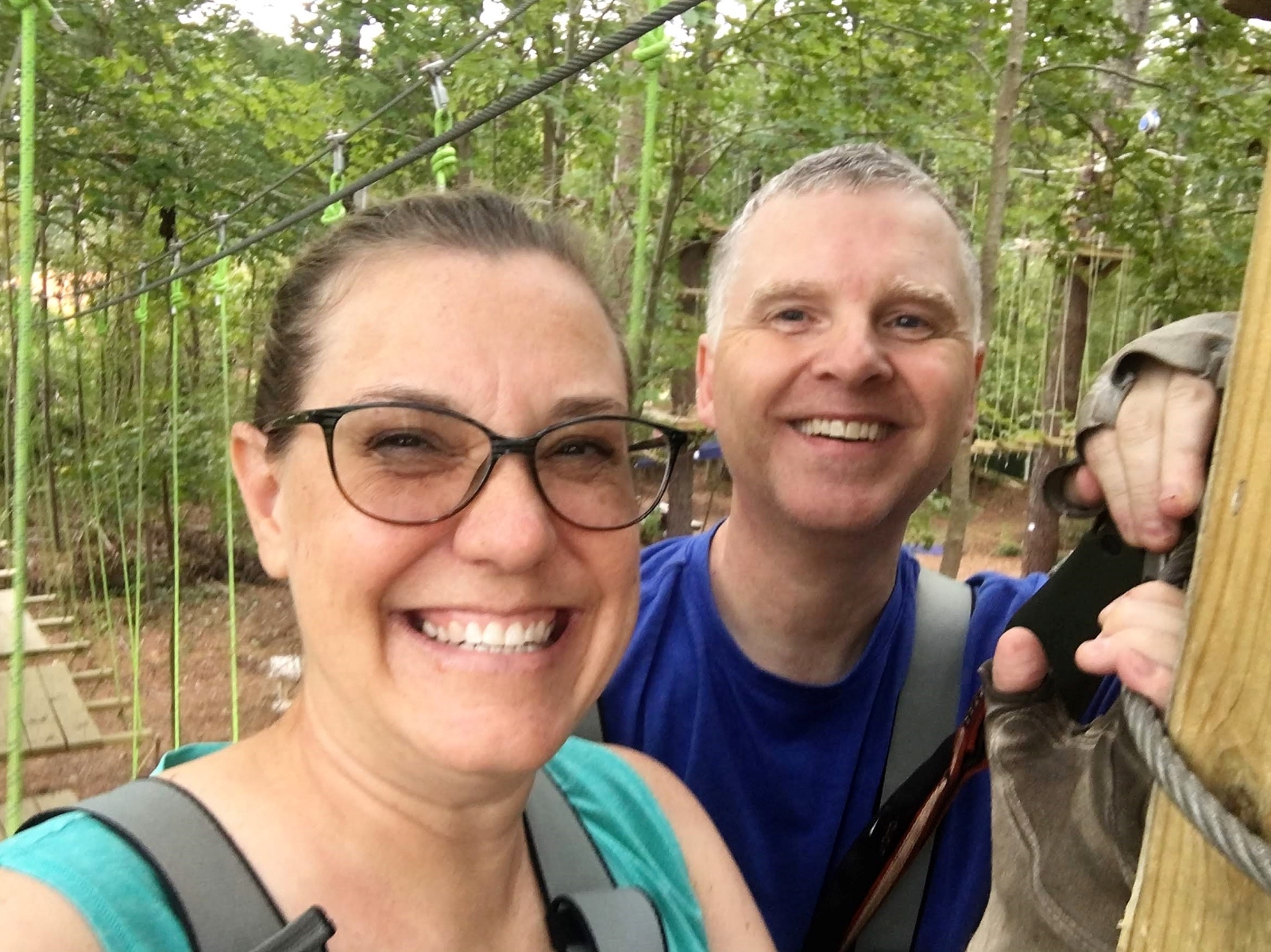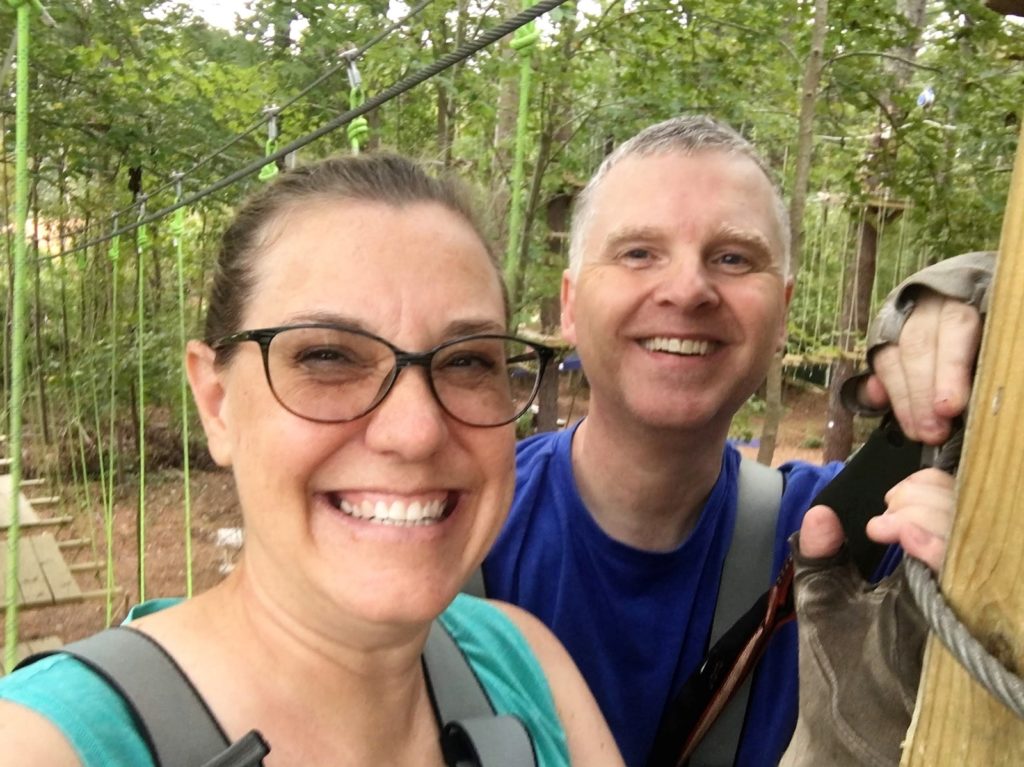 This post contains affiliate links which do not cost you anything, but help support this blog. If you shop, I earn a small commission. Learn more here.
Tips for visiting the park
We got to the park about 15 minutes before our scheduled time to check in, get wrist bands and apply sunscreen. Bug spray is also a good idea, but we didn't think of that! We did bring water bottles, though they have water available at the park.
If you've never done something like a ropes course or zip line before, you have to wear close toed shoes. It's a good idea to wear shorts that don't have cargo pockets as they can get caught on things. Wear breathable clothes, too. You'll get hot, even if the temperature isn't too bad.
What to expect before you climb
After checking in, we were directed to picnic tables to wait for our safety demonstration, harnesses and gloves. The guide explains their high tech, but super easy to use double-safety carabiner system.
The carabiner clips to the safety rope whenever you are off the ground. It cannot be undone without clipping into another safety rope.
This double safety system, which I'm sure has a more formal name, allows guests to climb without a guide at their own pace. I felt really safe using the clips and had no trouble on the course.
And then, it was time to go!
Our guide fitted our harnesses and reviewed the safety instructions. We then went to the practice area where we learned how to hook into the safety line, how to maneuver the zip lines and other important safety rules.
One thing I really like about TreeRunner is the staff's attentiveness. From the training course throughout our entire experience, staff was available to coach and instruct if anyone needed it.
After completing our training successfully, we were sent to the starting tower, where all courses begin.
The 411 on Adventurous fun!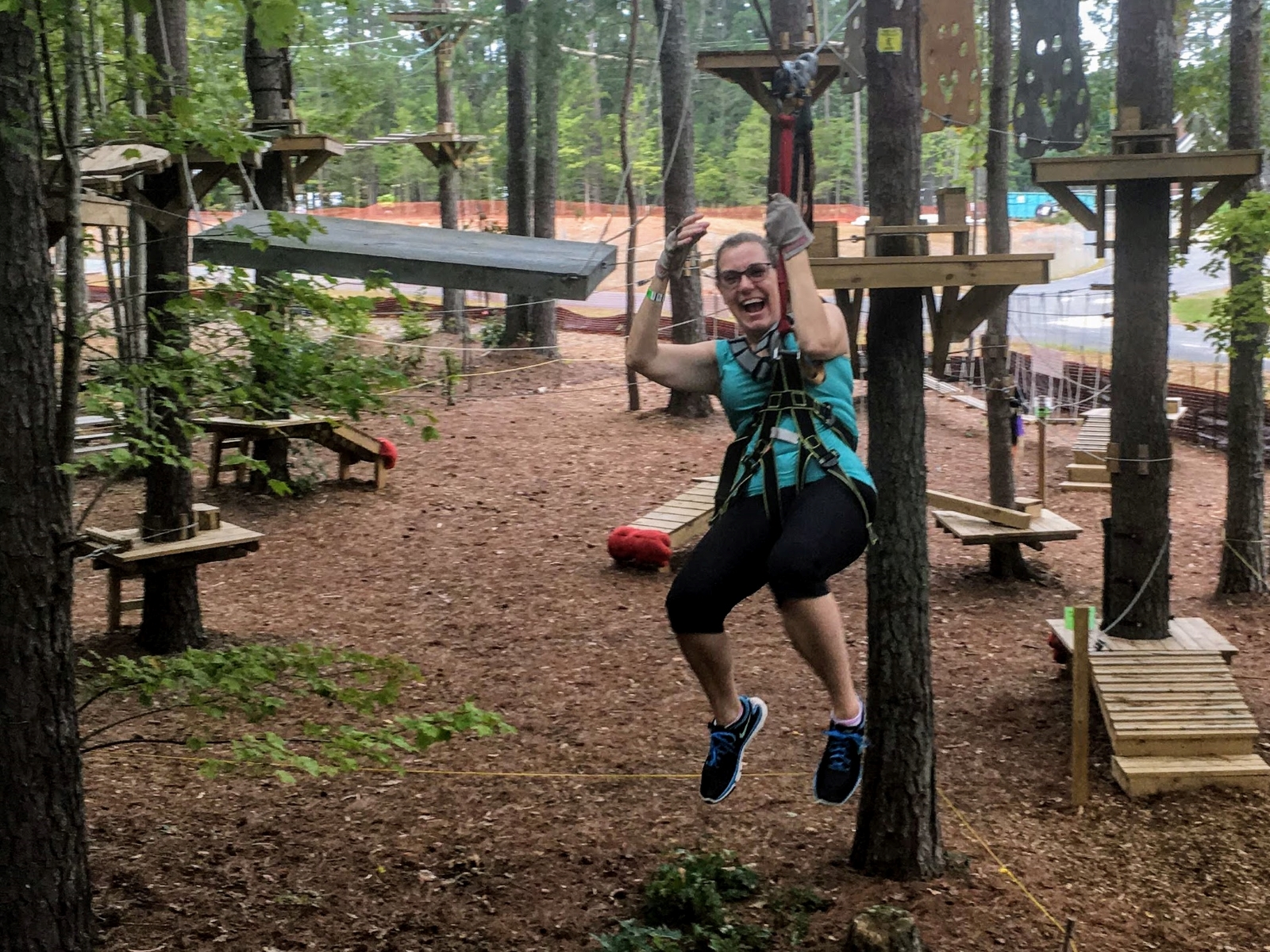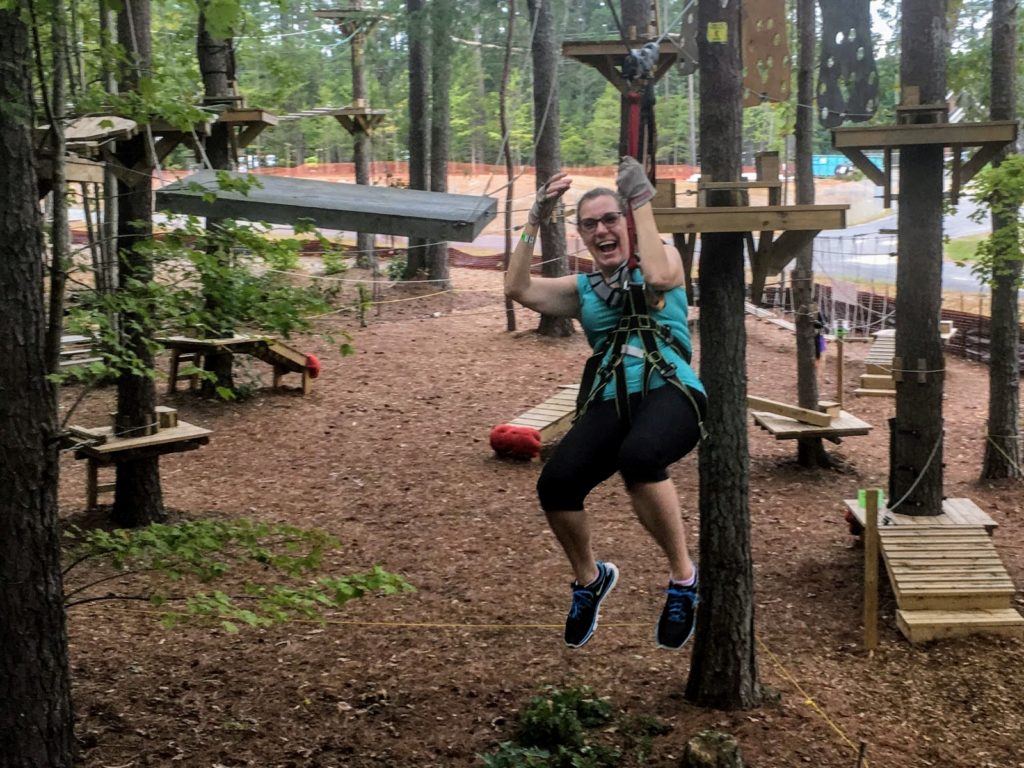 We climbed the net to the platform and then were sent to one of two "easy" courses — which every climber must do the first time before proceeding to more difficult courses.
Rob and I "sailed" through the easy course — no sweat!
Okay, lots of sweat, but not from fear!
Once back on terra firma, we took a water break and picked the next course to try. Then, it was back up to the starting platform to hook in to the new course.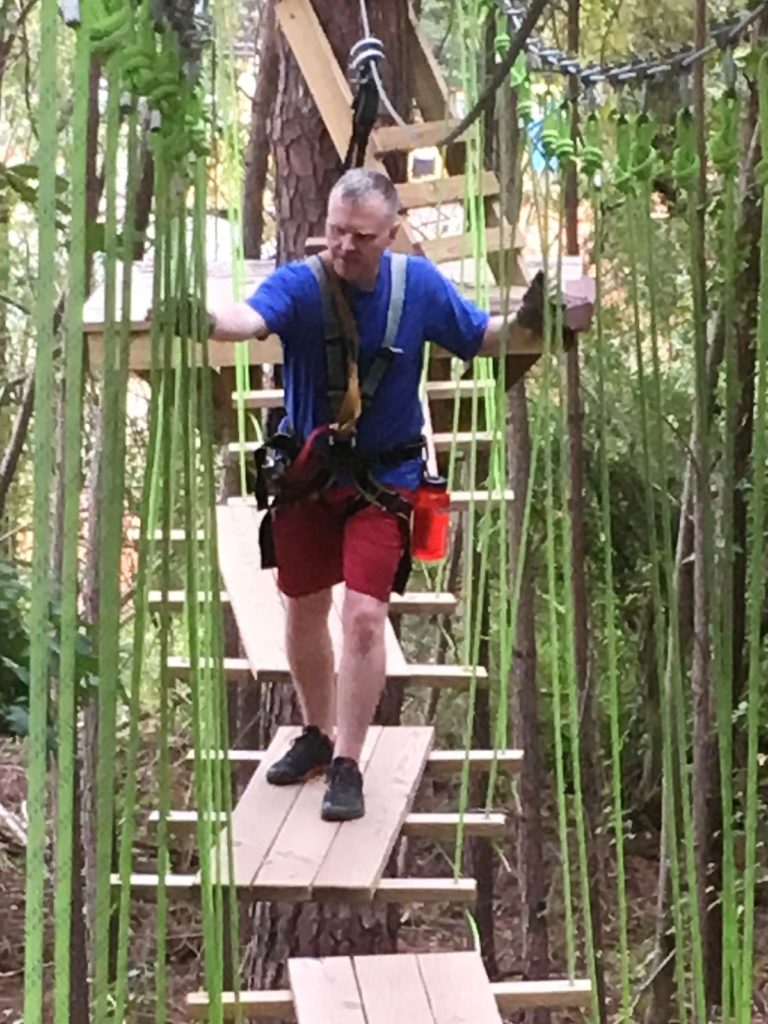 Our two hour climbing session gave us plenty of time to navigate four courses, some more challenging than others. All were fun!
We took turns leading through obstacles, especially once we realized our strengths. I did better on some, and Rob was better at others. Once through, we could coach the other through the obstacle. We had a great time!
Looking back, I realize that this is my favorite kind of "date night." Rob and I got to DO SOMETHING together. We laughed. We talked. We encouraged. All the things that make those early days of dating so wonderful — except, this was 28 years into marriage!
I know not everyone will get out on a ropes course like this, but there are lots of other options too. Take a cooking class. Paint pottery. Play pinball at the arcade. Do something new, fresh and fun!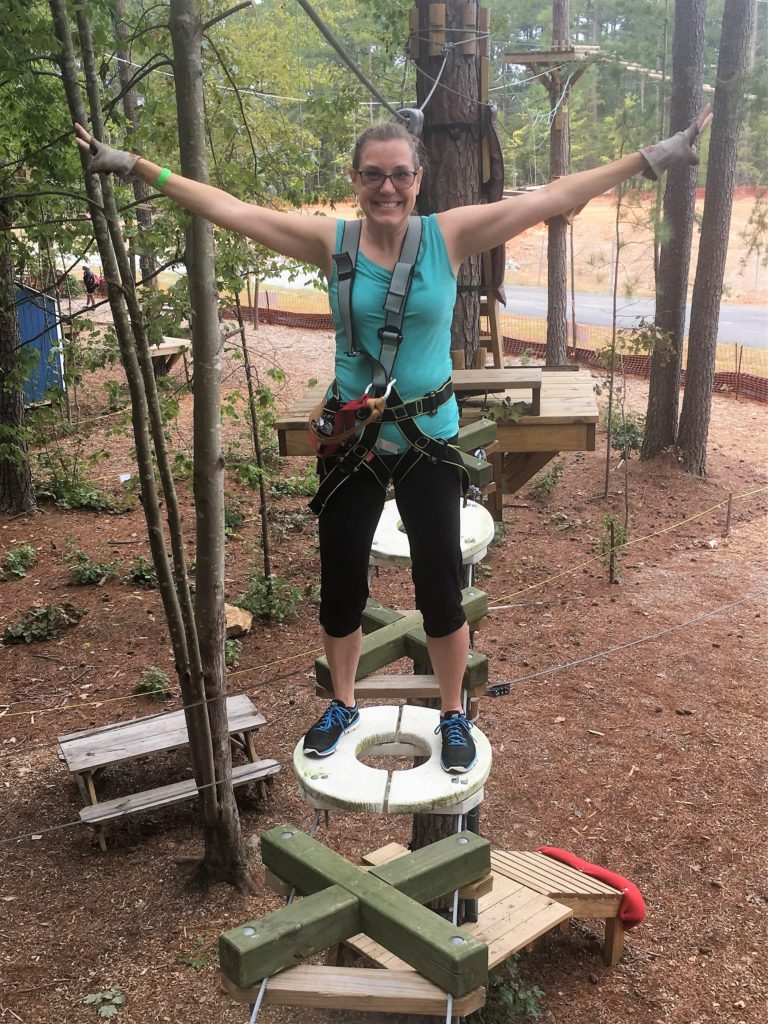 Plan your visit to TreeRunner Adventure Park
TreeRunner Adventures is located at 12804 Norwood Road, Raleigh, NC 27613. The park is open most of the year, but the schedule varies and is subject to weather conditions. Click here for current park hours.
Because the park regularly books group outings, they highly recommend making advance reservations online! And, as I said above, arrive at least 15 minutes before your scheduled climb time so you don't miss your orientation group. You can save time at check in by filling out the required waivers online.
Ticket prices vary based on length of climb and day of the week. Adult prices range from $30-$44 for a single session. The junior climb, for kids ages 4-7 is only $20. It is best to book online in advance! They also have deals on Groupon regularly, so it's a good idea to check there for savings before you book!
What to wear at TreeRunner Raleigh Adventures
Because this is a ropes course and zip line, I highly recommend clothing that will not get caught up as you navigate the obstacles. Also, it's a strenuous activity, so moisture wicking sports clothes are a good idea as well. Close toed shoes are required!
I personally recommend the following (affiliate links included for your convenience, learn more here):
TreeRunner Adventures provides the harnesses and gloves, so you don't need to buy those!
But I do recommend you bring the following items on your TreeRunner Raleigh adventure:
Pin It to save for later!
Adventure dates are so much fun — just look at our smiles! Save this post for later. If you don't live near Raleigh, find an adventure park nearby. Or, come visit! The Triangle is a great place to LIVE and PLAY!