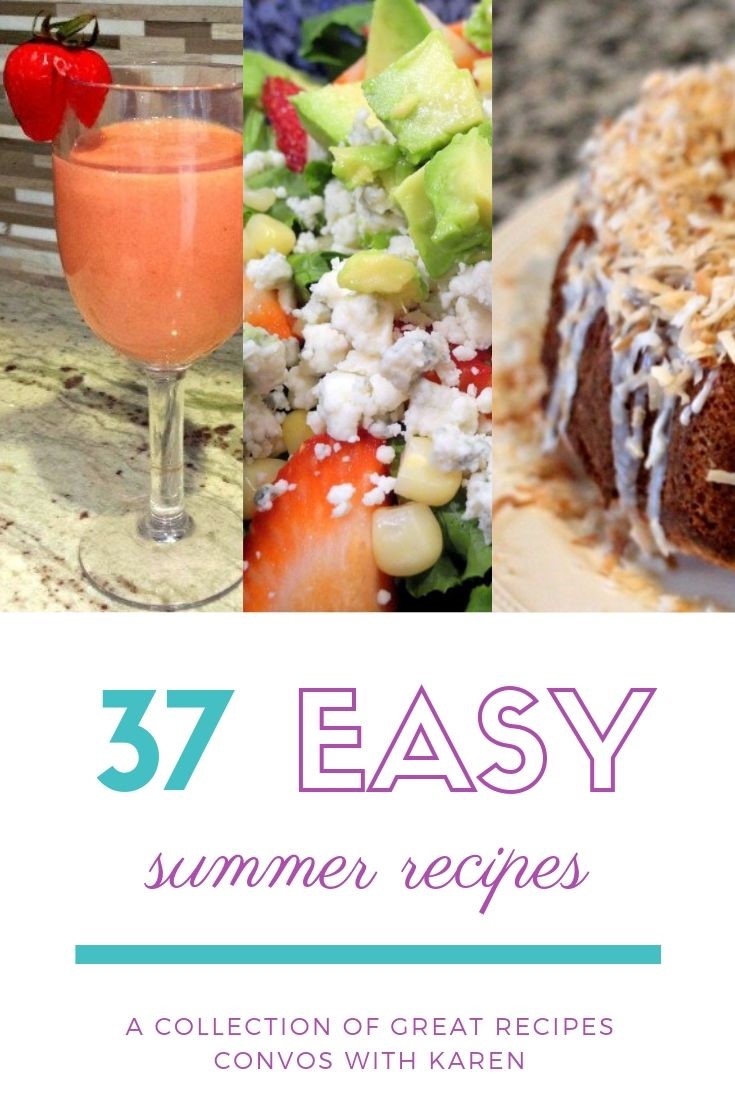 When I was growing up, my dad's extended family always gathered in Painesville, Ohio on the 4th of July holiday. That tradition faded away as the members of the "greatest generation" passed on and younger generations moved away.
But, I remember pulling into my great aunt's driveway each year, the sense of excitement building as we spilled from the car. I'll always remember sound of the screen door slamming as kids ran in and out all day, coolers filled with endless cans of soda, and Aunt Bettie fussing over us all as if we were the only one who mattered.
I enjoyed listening as my dad's elderly cousins shared the same crazy stories of their youth year after year. It didn't matter that we all knew the story. We just enjoyed hearing them told again. I so wish someone had taken the time to write them all down.
That gathering was the glue that held our family together.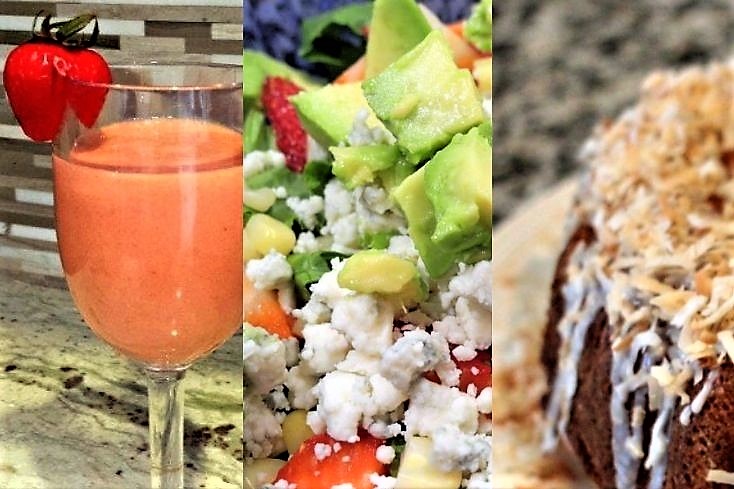 This post may contain affiliate links, provided for your convenience at no cost to you.
These days, my own family gathers at the lake to celebrate Independence Day. We spend several days together, playing board games, doing puzzles, swimming and boating on the lake and sharing silly stories again and again. It's the most special of times!
Wanting to spend time with them, I am on a constant search for easy recipes to prepare ahead or that are quick to make so I don't spend the whole time in the kitchen. I've got quite a few tasty dishes, thanks to fellow bloggers, and to make life easy for me (and you!!!), I've gathered them here.
Easy summer Recipes to get you out of the Kitchen
Wow! It's almost like a mini-cookbook right here on the screen. To make the list, recipes have to be quick, tasty and easy to make. I think, they also happen to be great for parties. Simple foods please a crowd!
Easy Summer Recipes: Party Appetizers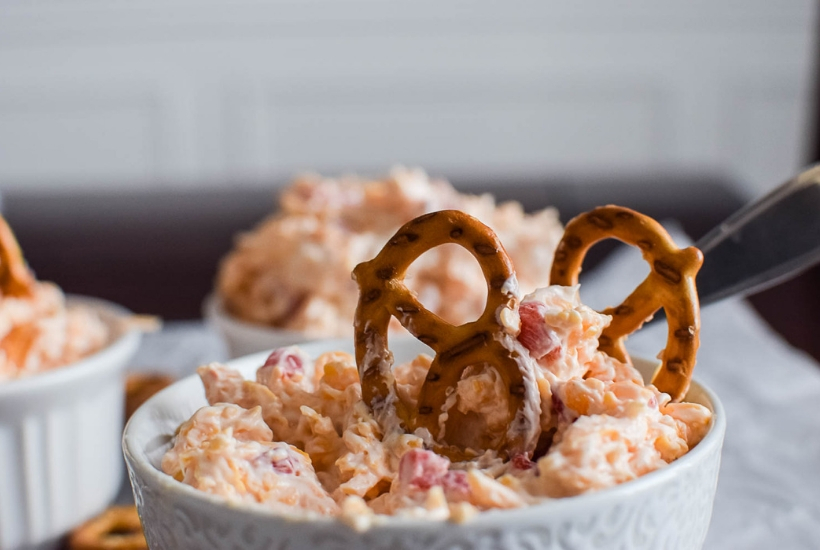 Brittany Wise at Our Home Made Easy is a full-time working mom whose blog is dedicated to real life — no pinterest perfect goals. Her post, "23 No Bake Easy Appetizers for Summer," is a great place to find all sorts of appetizers from slightly sweet to salty, savory and satisfying.
Summer Recipes for salads
When it comes to summer parties and picnics, it's hard to beat a good salad! These salads are packed with flavor, especially when made with fresh, seasonal produce from the local farmer's market!
Strawberry & Corn Summer Salad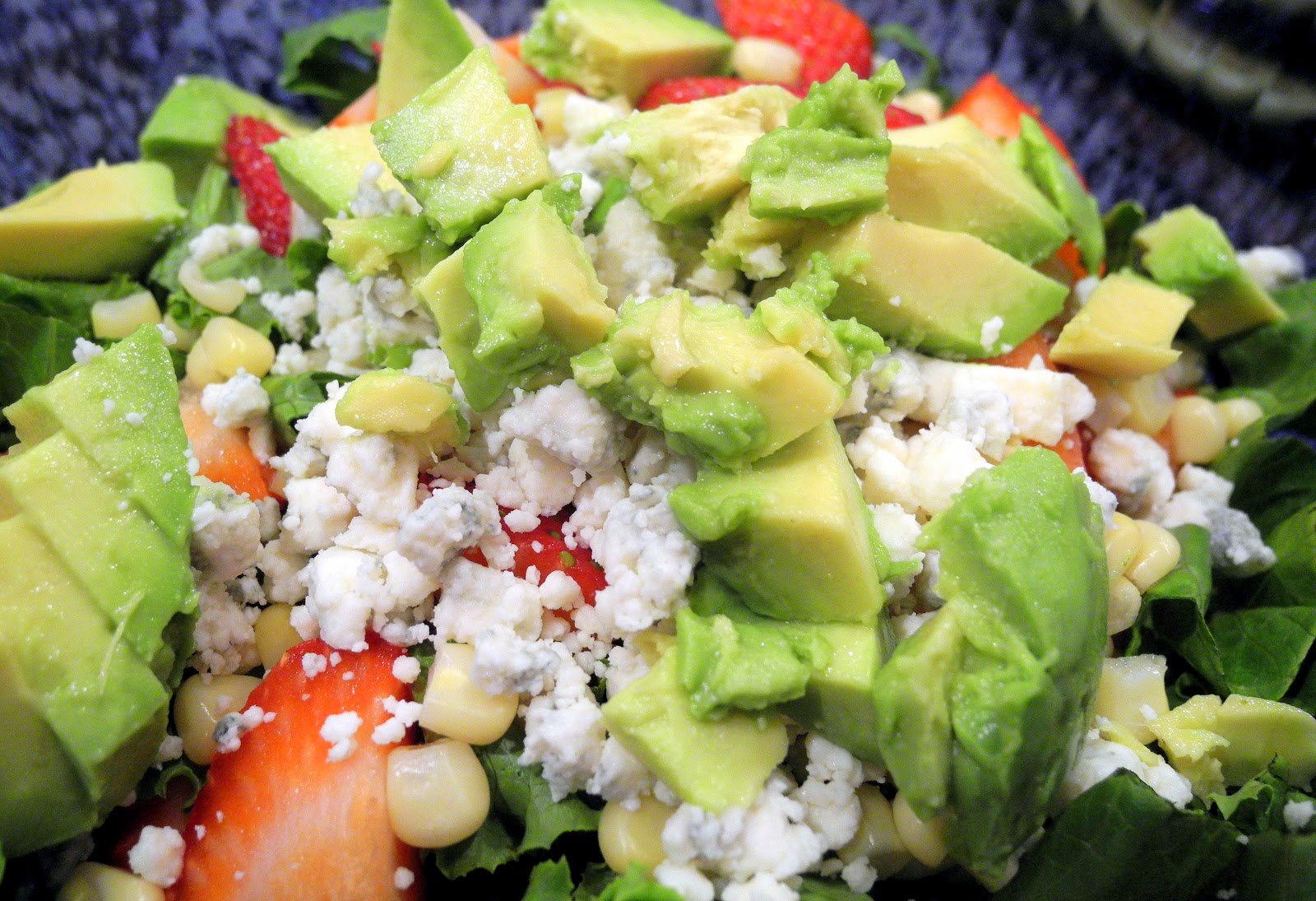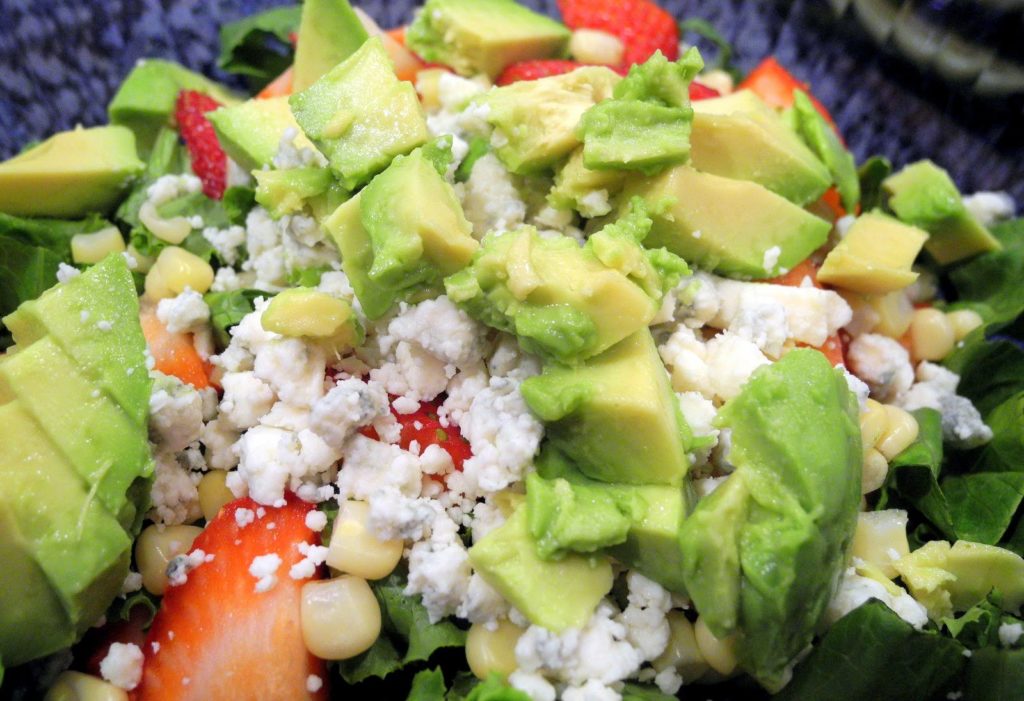 This summer salad, created by Julie Cohn at Cork, Fork & Passport, is packed with incredible flavor thanks to sweet strawberries and tangy blue cheese. Fresh corn and avocado add a contrast of textures for a fabulous summer salad.
Clementine Vinaigrette Salad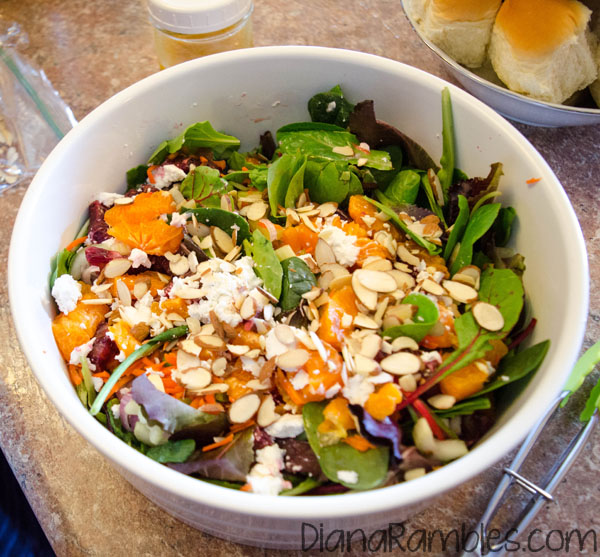 This tasty salad, created by Diana Hansen at Diana Rambles, features both clementines and blood oranges for a light, citrusy flavor. When I was growing up, clementines weren't common like they are today. But, my grandma always had canned clementines for me when I visited, so this recipe makes my heart happy!
Southern Shoe Peg Corn Salad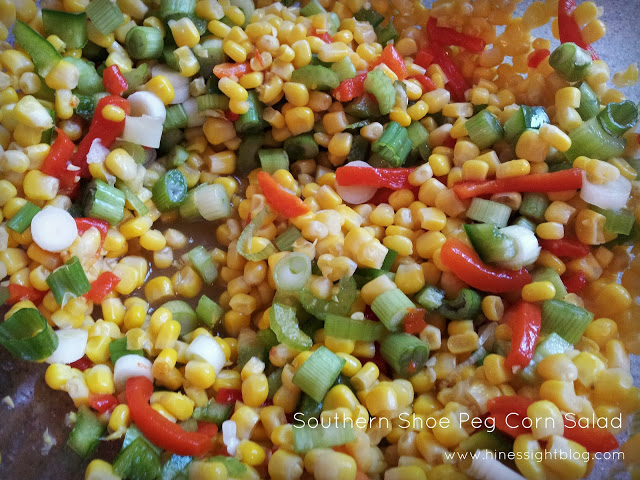 We had friends visiting last weekend and talked about shoe peg corn! I've lived in the south a long time, and had never heard of it before, but apparently it's a southern thing. If you're like me, curious to a fault, shoepeg corn is a white sweet corn, sweeter than the average corn. It got its name because it resembles the pegs that used to attach shoe soles to the uppers.
This salad, contributed by Leigh Hines of Hines Sight Blog, is actually better if you make it the day before! Talk about easy! My kids will be enjoying this salad Friday evening when they get here (though I'm making it with fresh sweet corn).
Pork Carnitas with Fresh Tomato Salsa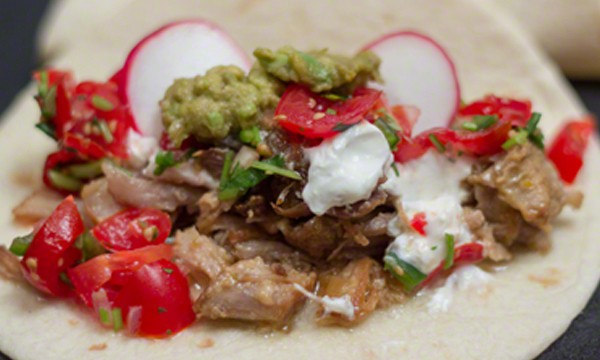 So, this isn't exactly a traditional holiday menu item, but I love carnitas. Hopefully, you'll indulge me and give this recipe from Susan Williams a try!
Yes?
Great! Thanks!
When my son, Ben, turned 16, he asked for a mission trip for a birthday gift instead of anything for himself. I wasn't ready to send him off on his own, so I went along with him to Juarez, Mexico, where we served the community in a number of ways. Our last day, we celebrated with the other volunteers at a local water park. The local people made carnitas, and I have been hooked ever since.
Beer Can Chicken with a Coffee Brown Sugar Rub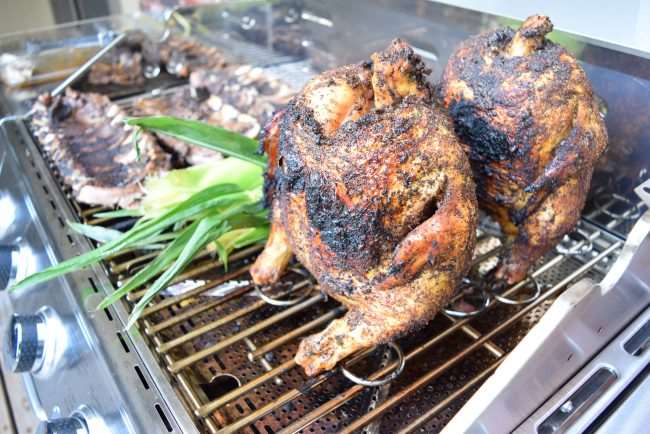 Nothing says summer more than the grill! And, this beer can chicken recipe from Nicky Omohundro at Little Family Adventure is perfect for it. It's got a coffee, brown sugar rub, y'all! Oh my goodness! If you're smart, you'll cook two, like Nicky did, and save one to eat cold for lunch the next day.
The Best Homemade Sloppy Joes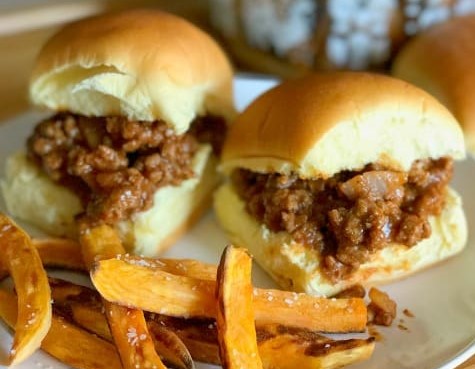 Summer sometimes means the day gets away from you and dinner needs to be on the table quick. Or, if you're headed to a picnic, you need something easy — like sloppy joes that can stay warm in a crock pot until it's time to eat.
Either way, these homemade sloppy joes from Kelly Pugliano at Eat Picks will remind you of childhood, but they're even better! I love that the sauce is thick and clings to the meat, making them a little less messy than the sloppy joes of my youth!
Tasty Summer Dessert Recipes
Summer desserts are the best. They're (usually) light, fresh and quick. Or, if you're like my family, they involve graham crackers, marshmallows and chocolate! These recipes are really simple and fun, which means you get more time to enjoy with friends and family!
Easy Pineapple Coconut Cake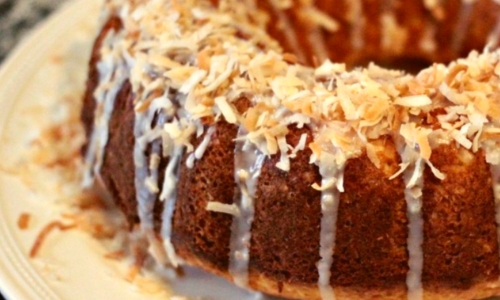 This is my contribution to this post, easy pineapple coconut cake that starts with a boxed cake mix. Though, I won't tell if you don't! It's fresh, fruity and a perfect addition to the summer dinner table. It's almost foolproof, too.
Every time I make it, it turns out perfectly.
And while I usually make it in a bundt pan — I like how the glaze gathers in the grooves — it works just as well in a sheetcake pan, too.
Easy Summer Cottage Dessert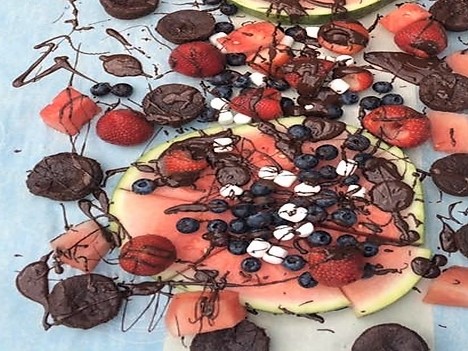 This clever dessert, created by Paige McEachren of Piece of Pie, is super easy! Fresh fruit, marshmallows and chocolate combine for a festive dessert to marvel guests. It's particularly popular with kids, though adults like it too! Prep in advance and easy clean up make this a party favorite!
Lemon Cheesecake Crumble Bars

My favorite desserts tend to include lemon, sweet and tangy, the flavor dances on my tongue. Ellie is not a sweets girl, but she loves cheesecake! So these bars, made with a boxed cake mix, are a great summer treat.
I'm happy. She's happy. We're deliriously happy! Check out this amazing creation at Day by Day in our World, written by Laura Oneill.
Easy and Luscious Chocolate Tart

Breaking the rule about light summer desserts, I had to include this chocolate tart made by Susan Williams, at That Susan Williams.
Why?
For starters, I am a chocolate fanatic! Even in summer, I find it hard to say no to chocolate. And, it fits the simplicity requirement for summer parties. It can even be made ahead. YAY!
As I write this, I'm thinking about an iced decaf coffee with leftover tart late evening as we play games and talk! Doesn't that sound perfect?
Super Simple Strawberry Yogurt Cupcakes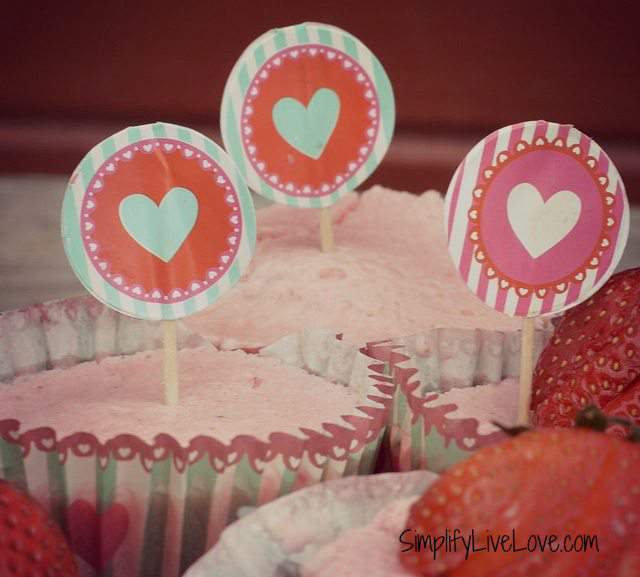 Oh my goodness, a no bake dessert that's light, fresh and fairly healthy! Yep! This one's so easy, even the kids can "cook." Michelle Marine at Simplify. Live, Love contributed this easy recipe, and I'm so glad! I love yogurt, strawberries and easy! It's also easy to tweak, which she explains in the post!
Summer Cocktail Recipes
I'm not a big drinker, but I do appreciate a refreshing drink while hanging out with friends and family. Summer drinks, light, fresh and fruity are my favorite! If they can be made in a pitcher for the group to enjoy — remember simplicity — they're even better!
Cranberry Cocktails and Mocktails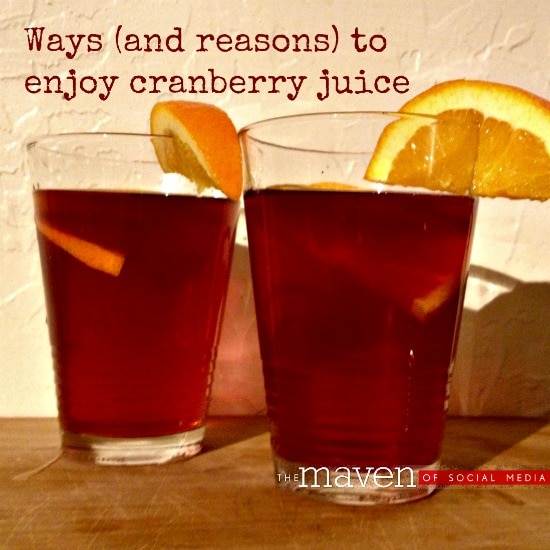 Let's start with a super simple recipe, Cranberry Sangria, which can be made ahead. Or, if you want mocktails, this post also has lots of ways to "dress up" cranberry juice to make it lighter and fresher. And, since cranberry juice has health benefits, too, it's even better! Thanks to Kerri Jablonski at I am the Maven for these easy, fresh recipes.
Orange Peach Mimosas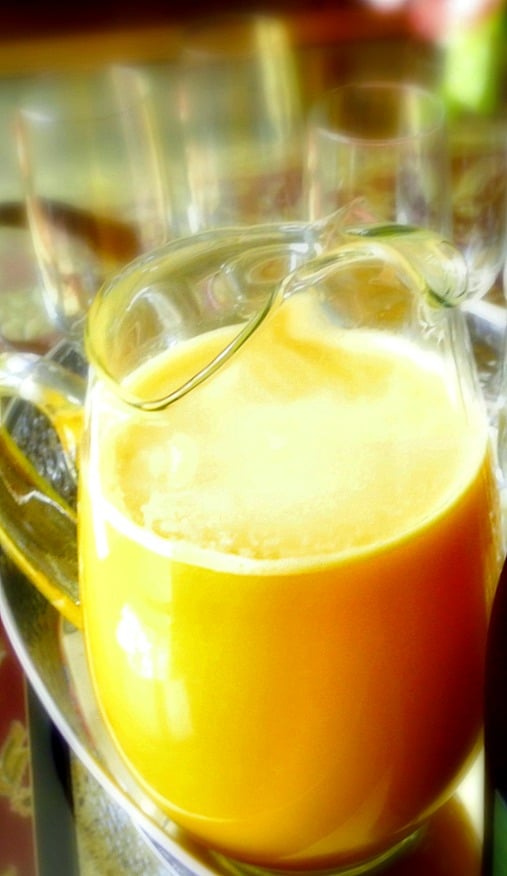 Mimosas have long been a brunch tradition here in the south. Add the southern flavors of orange and peach for a truly memorable drink. Make a pitcher and let guests serve themselves. Talk about easy entertaining! This recipe comes from Julie Cohn at A Cork, Fork & Passport (and also my go-to for cocktail recipes).
Frozen Strawberry Lemonade for Grown-Ups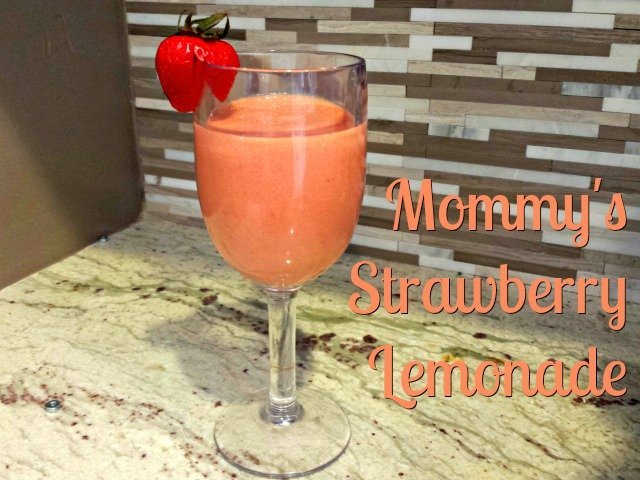 Y'all, I think I saved the best for last, "Mommy's Strawberry Lemonade" from Michelle Price at Honest & Truly! Her recipe is for individual drinks, but it's so easy you can easily adjust to make a pitcher of frozen goodness to enjoy on warm summer nights.
I love where the lemon flavor comes from (but you'll have to read the recipe for that!). So very fresh, light and satisfying.
And there you have it! Some of the best summer recipes for your Fourth of July gathering, weekend picnics or family vacations. Get out of the kitchen and enjoy the people you love most!
Pin These Easy Summer Recipes for later
Save this post to your summer recipes, party recipes and July 4th holiday boards so you can find it when you need it! We won't complain if you share it with friends and family, too!