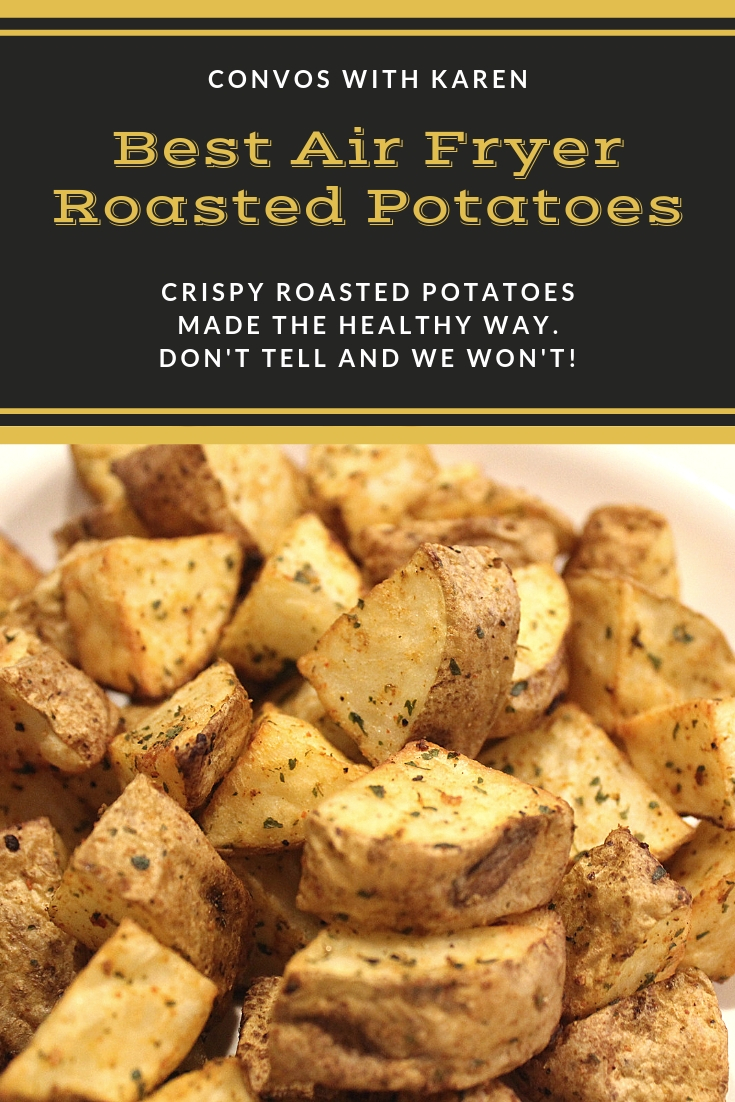 We got an air fryer a few months ago, thinking it might be a fun kitchen gadget to add some variety to our meal plan. I had no idea how much I would love it, especially for recipes like these crispy air fryer roasted potatoes!
These roasted potatoes are so good — easily as good as the old fashioned oven-roasted ones, but with lots less oil! I included the spices we used, but feel free to add whatever spices you like. This is an easy-to-modify recipe for air fryer roasted potatoes!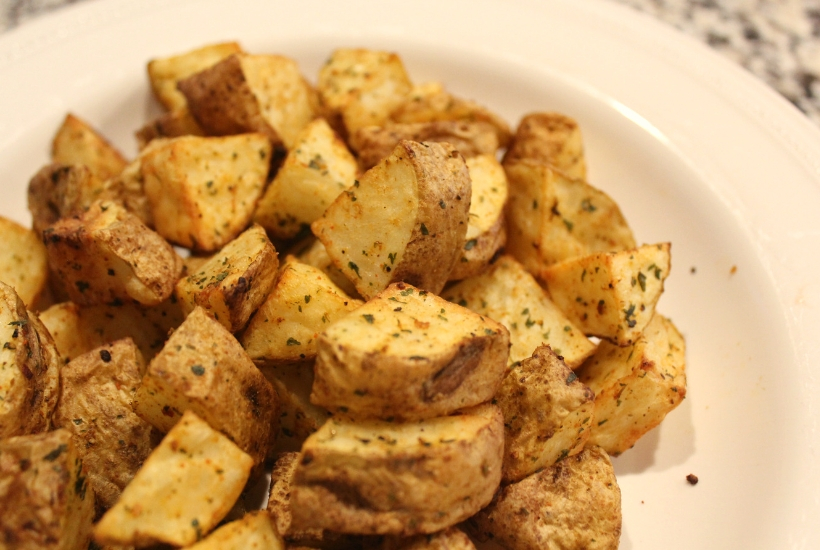 Which air fryer is best?
If you've never used an air fryer, they are large small appliances (that's an intentional oxymoron). We use a 4 quart air fryer which is a great size for our family of three.
As much as we use it, it's worth every inch of counter top real estate it takes.
However, if you have a larger family, you will want a larger air fryer. Otherwise, you have to cook food in batches.
Air fryers are essentially convection ovens; they use a fan to force hot air around the food in the fryer basket to cook it. They use a lot less energy than a large oven as they require no preheating. And, since they're smaller, there's less to heat.
Because they use convection, you don't need much oil to get a crispy fried outside. Some tips, though:
Make sure everything is coated in oil or the food will dry out.
Don't overcrowd the basket or food will cook but not fry to a crisp.
Shake food partway through cooking so all sides get a chance to crisp up.
Here are some air fryers to consider if you're ready to try my Easy Air Fryer potatoes recipe!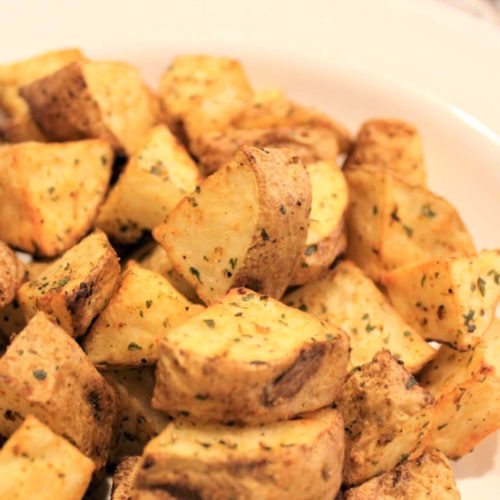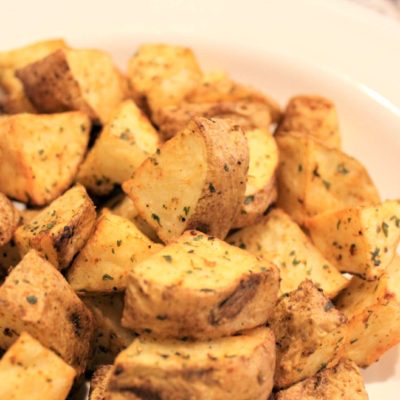 Air Fryer Roasted Potatoes
Make roasted potatoes in the air fryer, a great way to cook with less oil AND not overheat the kitchen! These tasty potatoes are crispy on the outside and creamy on the inside.
Ingredients
4

medium

russet potatoes

1/4

tsp

black pepper

1/4

tsp

kosher salt

1/4

tsp

paprika

1/4

tsp

Mrs. Dash's salt free chicken seasoning

1/4

tsp

dry parsley

2

Tbsp

olive oil
Instructions
Wash and dry potatoes, then cut into bite size cubes* and put in a large bowl.

Mix the dry seasoning ingredients in a small bowl then sprinkle over the potatoes to evenly coat them.

Drizzle olive oil over all the potatoes and toss until everything is coated.

Put potatoes into basket of air fryer, spreading evenly.

Set temperature to 400 and cook the potatoes for 20 minutes, shaking them halfway through so they cook evenly.
Notes
** Check potatoes after 8 minutes in the fryer. Toss them for crispy, even cooking and return to the fryer to finish.
If you don't have an air fryer, toss the potatoes in 4 Tbsp of olive oil, spread on a cookie sheet and bake in the oven at 375 for 30 minutes. Flip them partway through to crisp on all sides.
Save This air fryer potatoes recipe for later!
Not cooking right now? Save this crispy roasted potatoes recipe for the air fryer to your Pinterest page!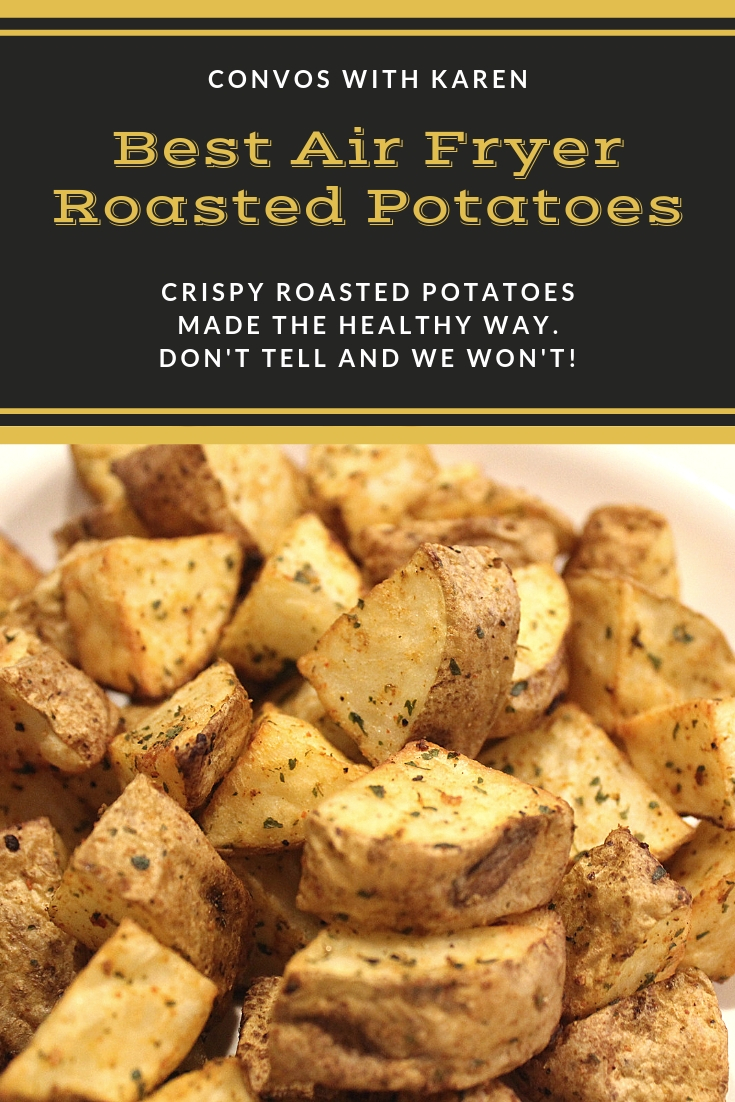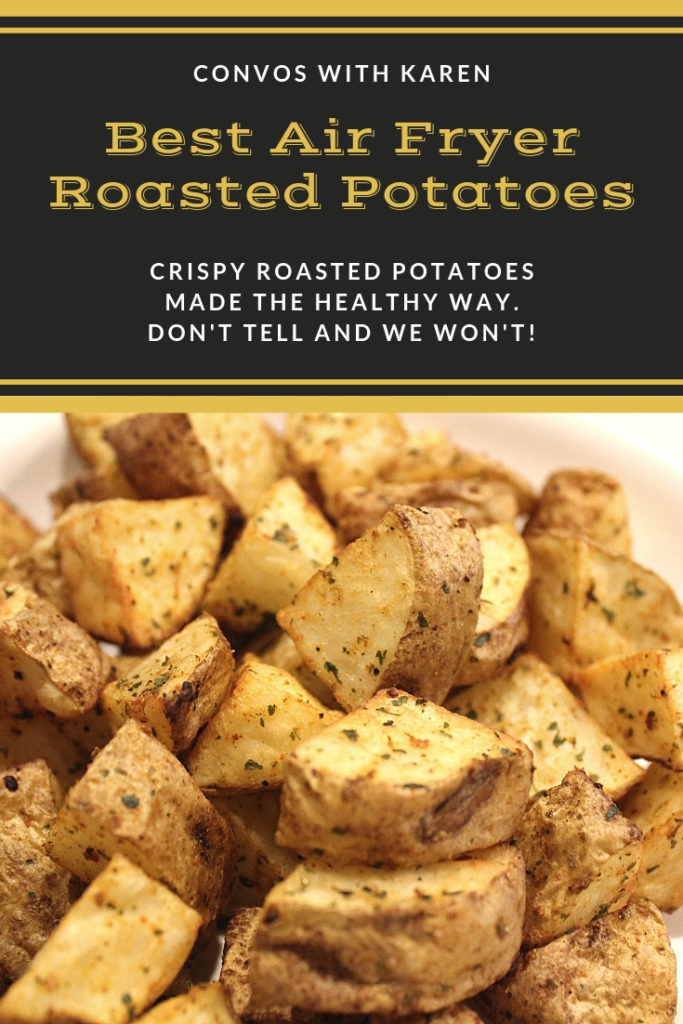 If you like this recipe, then take a look at these!
Please follow us on Facebook, Twitter, Instagram and Pinterest!
Until next time,
~Karen