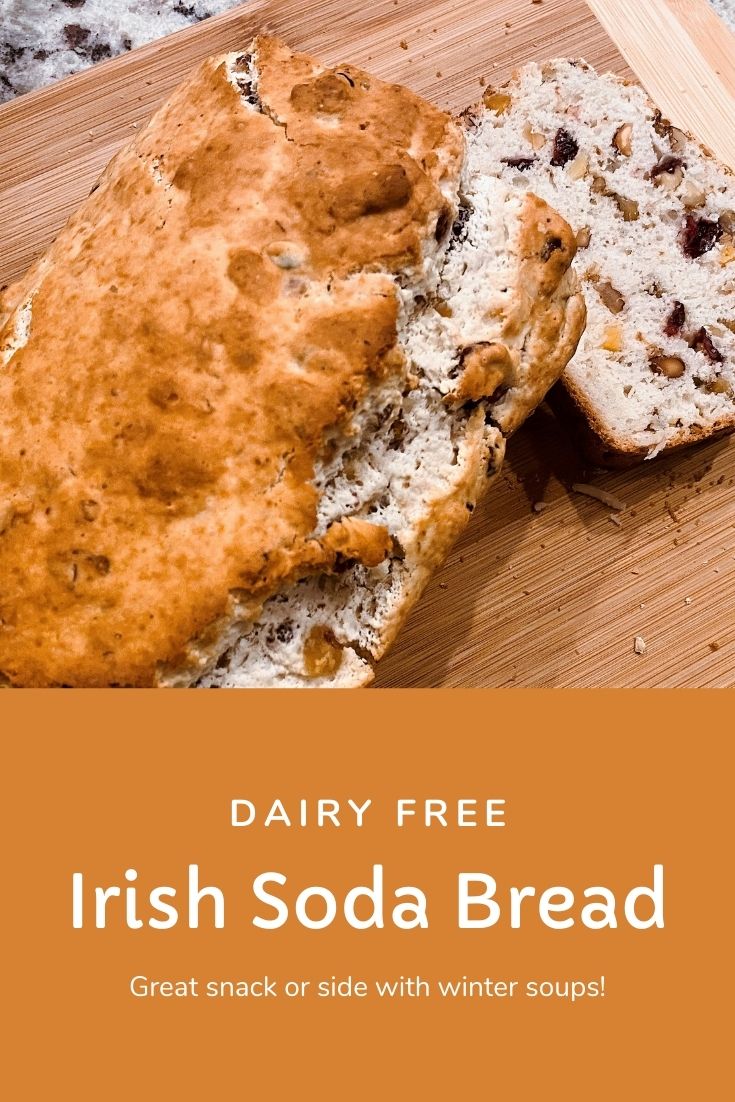 This year-of-staying-home has found me doing lots of things I never used to do, like gardening and learning to play chess.
It's also led me to expand on the things I already do. I love baking, but I like quick stuff. Don't send me to a complicated recipe. I like baking muffins, bar cookies and brownies. But, all those sweets — well, they're only good in moderation. Ya know?
So, inspired by an episode of the Great British Baking Show, I decided to try my hand at Irish soda bread.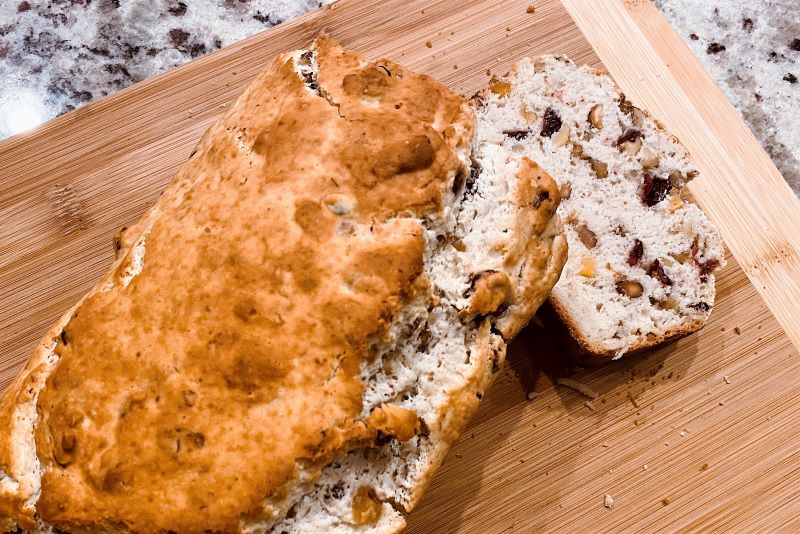 One of my kids is allergic to dairy, so I tried my hand at an Irish soda bread recipe without buttermilk instead.
The HIstory of Irish soda bread
The history of Irish soda bread dates back to Native Americans, though many cultures have their own version of this recipe.
Native Americans used potash as a leavening agent to make soda bread. Combining the potash with buttermilk (or sour milk) gives the bread its texture.
Historical anecdotes suggest that the Irish took the baking method back to Ireland after visiting the Americas and used it to survive the great potato famine.
The bread is simple to make using inexpensive ingredients, important to survive a famine.
Many cultures have their own version, but the Irish seem to have made the bread famous — and so the name "Irish soda bread" is most popular.
Making Irish soda bread without buttermilk
I would never have thought to make Irish soda bread since my kiddo can't have buttermilk. But, I watched a competitor on the Great British Baking Show making Irish soda bread without buttermilk and had to give it a try.
It turns out that making Irish soda bread without buttermilk is quite easy. There are many recipes for vegan soda bread online, using various ingredients like soda or stout instead of soda bread with buttermilk.
After reading a bunch of recipes for making Irish soda bread without buttermilk, I decided to make my Irish soda bread recipe with ginger beer.
I like to pack nutrition into everything, so to make a heartier Irish soda bread, I added dried fruit and nuts to my recipe. It turned out great — perfect for breakfast or a quick snack!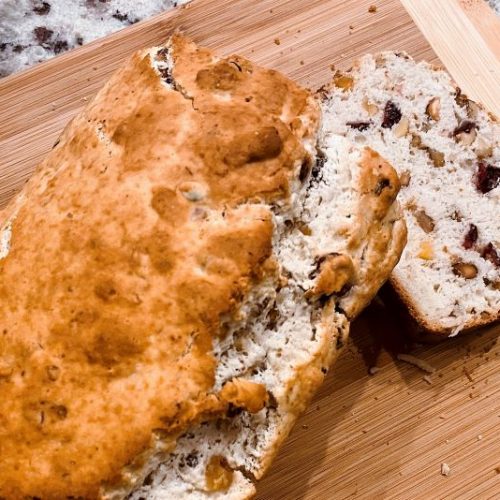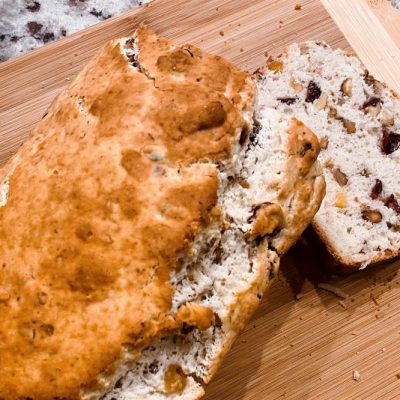 Irish Soda Bread Recipe without buttermilk
Irish soda bread is a quick bread traditionally made with baking soda and buttermilk to leaven the bread. This vegan Irish soda bread recipe uses ginger beer instead of buttermilk and is packed with dry fruit and nuts for a hearty snack or breakfast.
Equipment
bread pan

Mixing bowl

cutting board
Ingredients
3

cups

all purpose flour

4 1/2

tsp

baking powder

2

Tbsp

sugar

can use brown sugar if preferred

1/2

tsp

salt

12

oz

ginger beer

one bottle is usually 12 oz

1

cup

dried fruit

1

cup

nuts

chopped
Instructions
Preheat oven to 350° and spray bread pan with nonstick cooking spray. Set aside.

Chop nuts and set aside. This is a great step to have kids do with supervision.

In a large mixing bowl, whisk together flour, baking powder, sugar and salt until well combined.

Stir in the ginger beer until combined. Do NOT over-stir the bread just combine ingredients until all are wet (that's the scientific magic of soda bread).

Fold in the nuts and dried fruit, mixing in just a bit. (You can omit the fruit and nuts entirely for a plain soda bread)

Pour/Dump (it's a thick batter)

Bake for 40 minutes. Check for doneness and bake up to an additional 10 minutes.

When cooked completely, cool in pan on a wire rack for 10 minutes.

Turn out onto the wire rack to cool completely.
Guess what? It worked! Science is AMAZING! We really enjoyed this bread, absolutely perfect as a side dish with creamy butternut squash soup!
Parents, if you're doing school at home these days, this is a fun, edible science experiment.
If you like this recipe, check out these:
Pin this recipe to use later: