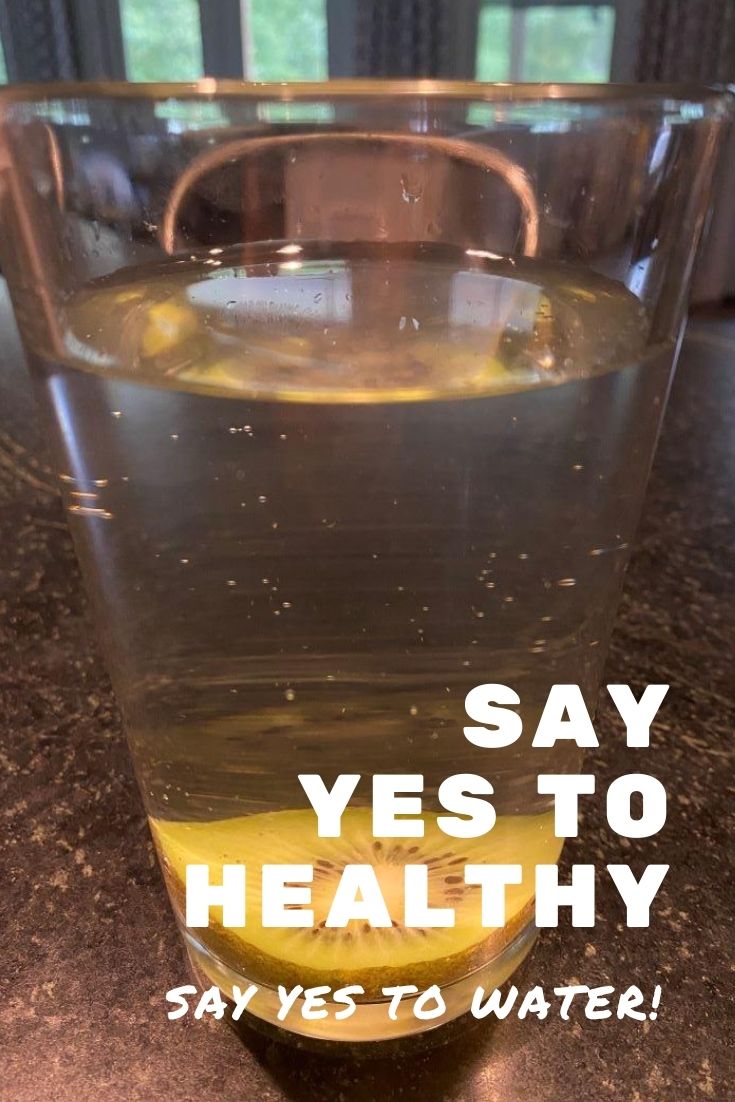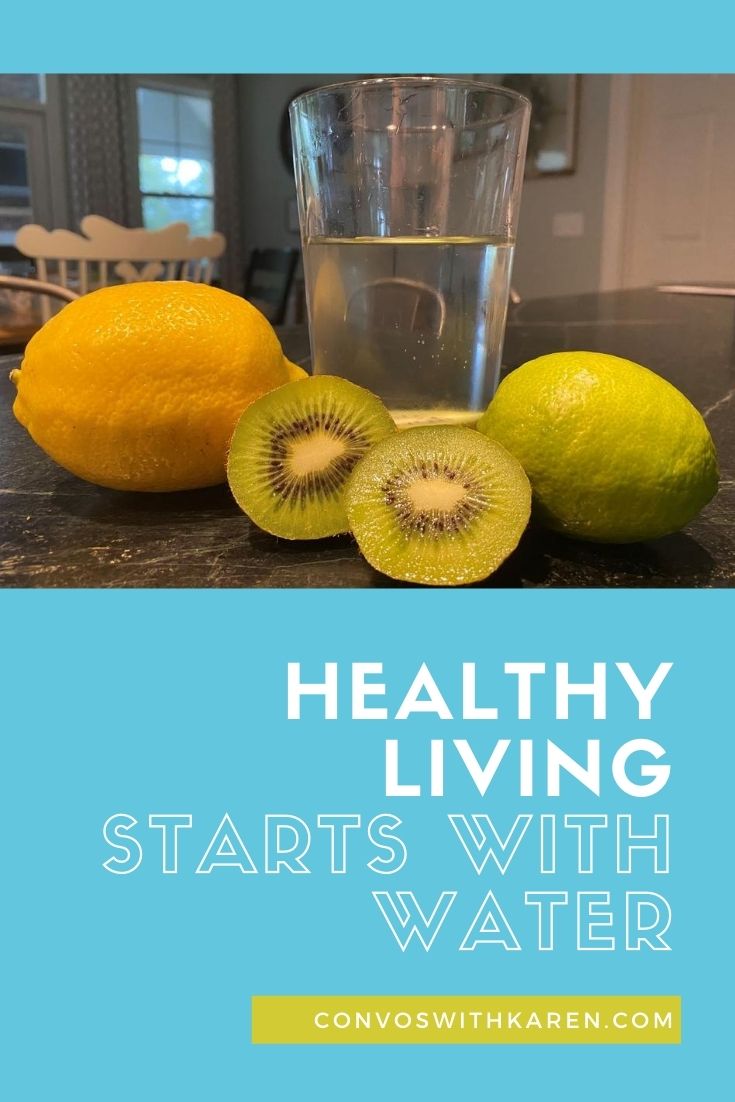 A few years ago, I finally committed to living a healthier lifestyle. I started with some dietary changes, eating plenty of healthy foods like these every day. I also made a commitment to exercise regularly, focusing on yoga for core strength, dance for cardio and some weight training (mostly using body resistance) for overall strength. It worked well…
But then, 2020 hit — and we all know what that means! My healthy eating has dwindled as this year drags on. And the Gym? Well, that's a no go. So…
I find myself a little less healthy than I was a year ago this time. I'm "fluffier" than I was. And, I'm flluffier than I want to be.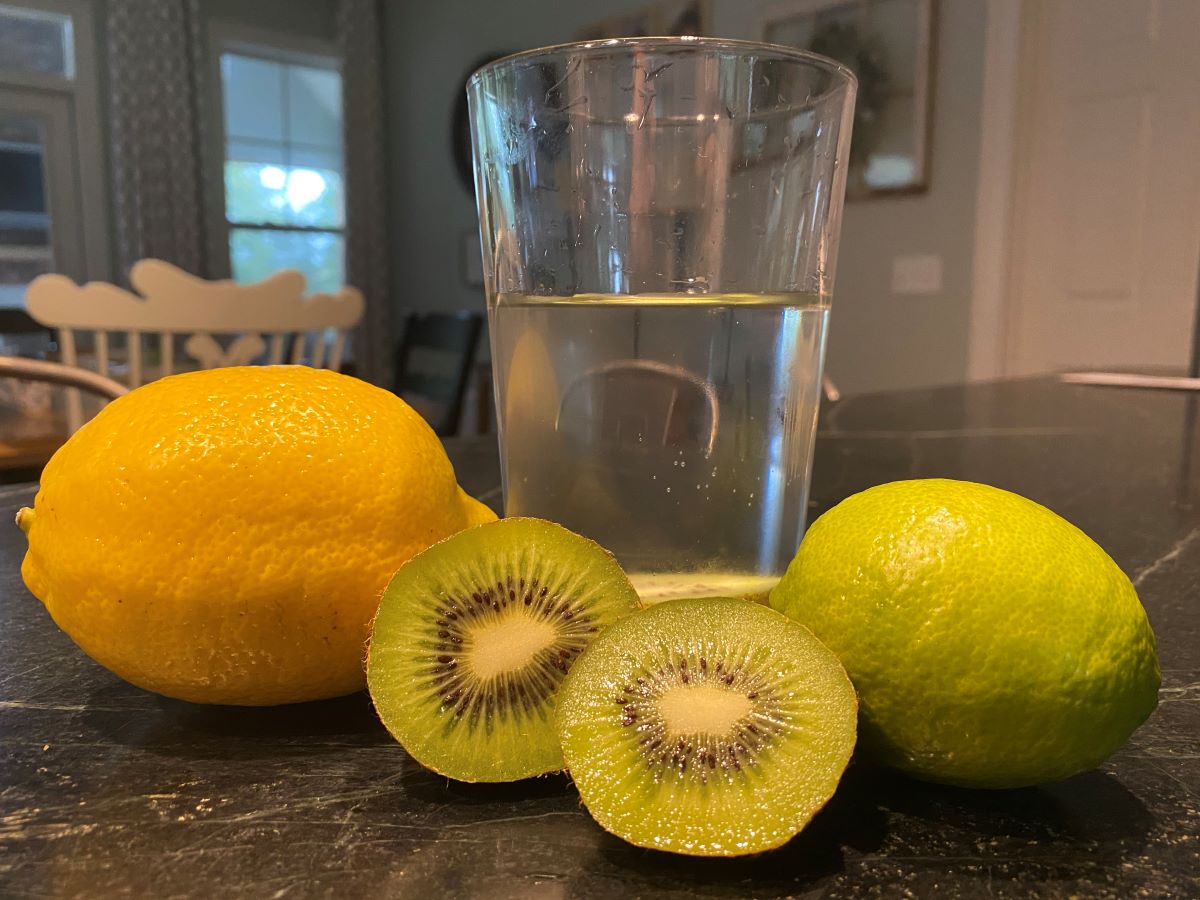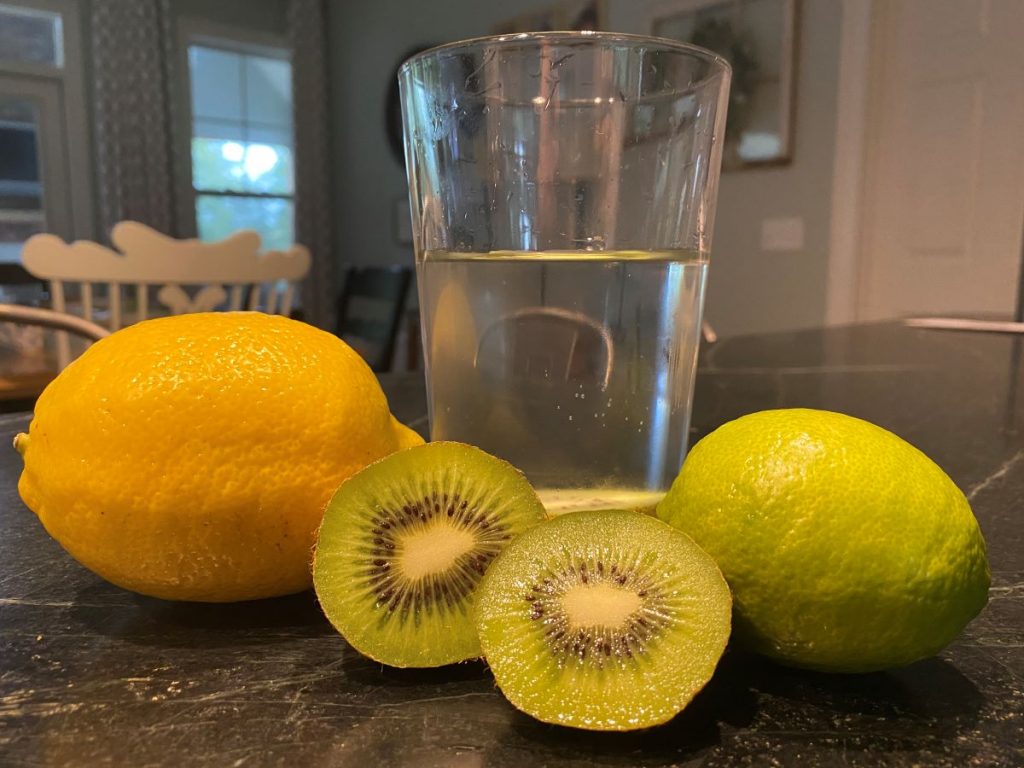 So, it's time to go back to basics.
When I started this whole thing a few years ago, the first thing I did was to drink more water.
Do you know what happens when you drink more water?
What are the benefits of water?
There are actually lots of benefits when you drink more water. I know many of the benefits of water, but still struggle to drink enough water.
My husband, a physician, does not share my struggles. For as long as I can remember, he has touted the health benefits when you drink more water.
When he was in residency, working 90 hour weeks with very little sleep, instead of grabbing another cup of coffee (like I did), he would drink more water. There's science for that!
Did you know that your brain is 73% water? Or that your lungs are 83% water? Or that muscles are 79% water? (Source)
So, when you haven't had enough water, your brain gets foggy, your lungs aren't as robust and your muscles lack needed nutrients to function at their best.
And, when you're tired, water boosts them all, making it more efficient than caffeine. (But, I still drink my coffee!)
If you're not convinced…
Here are 15 benefits of drinking water
Water improves skin health, both dry skin and fine lines,
Water improves exercise performance (those muscles, you know),
Water decreases soreness after exercise,
Water decreases the frequency and intensity of headaches (as a migraine sufferer, I suffer from far fewer headaches now that I drink enough water each day. At the first sign of a headache, I drink a glass of water — and sometimes, that's all it takes.)
Water reduces the risk of kidney stones,
Water reduces constipation (your body needs it to function, so guess where your body takes it from?),
Water may reduce the risk of bladder cancer in men (Source),
Water reduces the risk of UTIs in women (Source),
Water can aid weight loss efforts,
Water can improve brain function including memory, focus and mental performance,
Water can improve your mood,
Water regulates body temperature,
Water decreases the risk and/or severity of heart burn and ulcers.
Have I convinced you that the first step toward better health is to drink more water? Or… are you wondering…
How to drink more water when you hate it?
Oh, I know that one! For the longest time, I was in the "I don't like the taste of water" camp. I used that excuse to drink coffee, soda (pop), and juice instead. I convinced myself that coffee, despite being loaded with caffeine, was wet — and good enough.
I was wrong. Drinking enough coffee to get the benefits of drinking enough water means way too much caffeine, which can cause headaches, sleeplessness, jittery nerves and a whole lot more.
So, I forced myself to find ways to enjoy drinking more water every day. And, it turns out there are lots of ways to improve the taste of water when you hate it.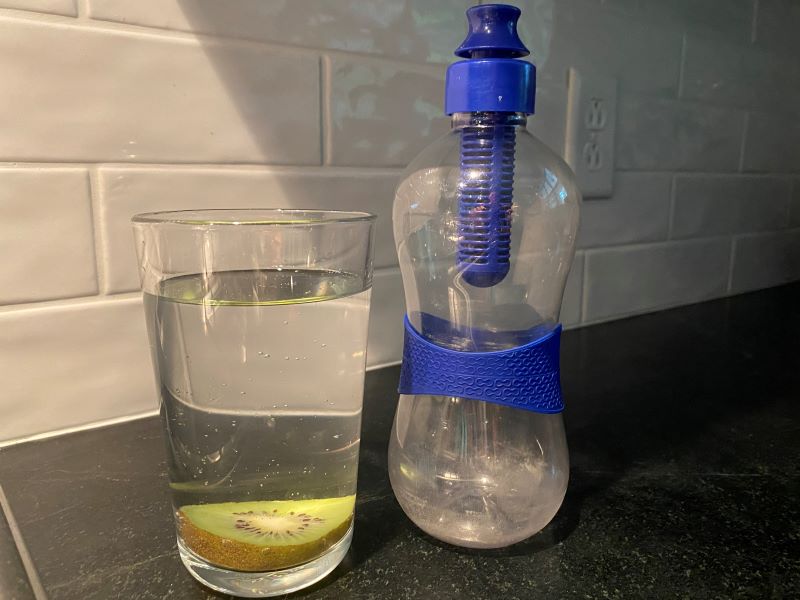 How to make water taste better:
Instead of tap water, drink filtered water. If your refrigerator doesn't have a filter,
Make it bubbly. I don't mean champagne — haha — but for some reason, adding bubbles somehow works to make water taste better. We use a soda stream to make our own bubble water. It's okay to use it without making soda!
Add flavor. We keep a lot of fruit on hand to add to water. I add a slice of lemon, orange, lime, or even apple to give water a bit of flavor without adding unneeded calories and sugar. Other things taste great in water, too, like cucumber, ginger root and fresh mint leaves. Add the flavor item and let it sit for a few minutes before drinking. Or take the wedge of citrus and squeeze it into the water.

Try making fruit flavor "cocktails" with a fruit infuser water bottle. Just add fruit to the filter section and then fill the bottle with water. This is a great one for the work day — just mix up the flavors now and then so you don't get bored!

Make it colder — or warmer. I like water that's "refrigerator cold," but I don't really like ice water. And I really don't like room temperature water. But, my husband prefers room temperature water. He even sets out a glass at night before he goes to bed for the next morning. Find the temperature you like best, and drink your water like that.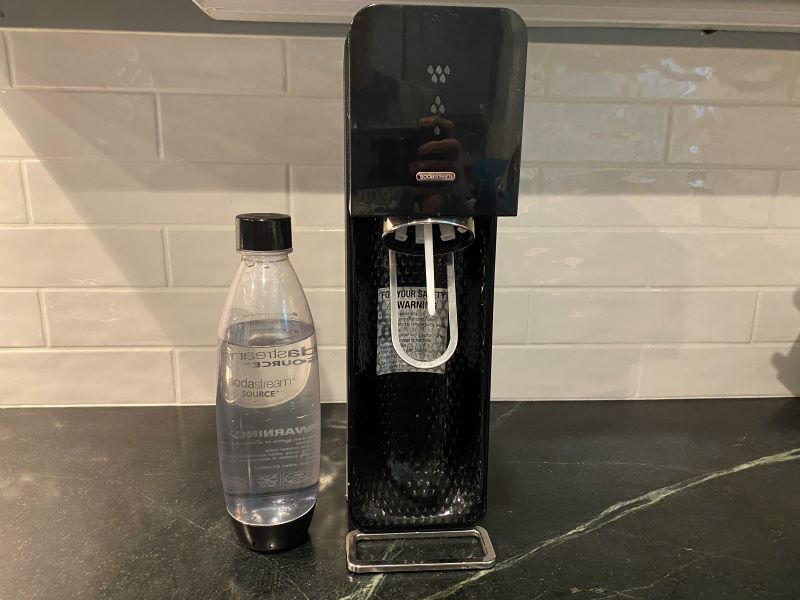 Is there a best time to drink water?
When I first decided to drink more water, I was determined to get it all in every day. Usually, that meant that I guzzled about half the water in the evening after forgetting all day long.
Big mistake! That just led to many trips to the bathroom during the night.
It turns out that the best time to drink water is THROUGHOUT the day!
There are scientific reasons for this, of course. Your body can only absorb so much water at a time. Drinking water throughout the day maximizes the body's ability to absorb what it needs. If you drink it all at once, your body can't use it all — and that means more trips to the bathroom.
It's also a good idea to drink water about 30 minutes before each meal. Your body will get the hydration it needs, which is likely to curb hunger and help you eat less!
And, if you exercise, hydrate before and after your workout. When I first started drinking water and exercising, I learned that a half cup of water about 30 minutes before a workout was a good formula for me. My muscles got the water they needed, but my bladder didn't get overwhelmed. (If you know what I mean.) After your workout, drink a full glass of water to help with muscle recovery and to offset fatigue and pain.
How much water should you drink each day?
Generally, people should drink two liters of water each day. That's the equivalent of one 2 liter bottle of soda! That's essentially 8 cups of water or 4 16 oz. bottles of water each day.
An easy calculator (because people are not one size fits all) is to take your weight and multiply it by 50%. That's how many ounces of water you need each day. You can divide that number of total ounces by 8 to determine how many cups of water you should drink each day.
If you're active, you'll need more than this. A general recommendation is to add 12 oz. of water for every 30 minutes of exercise — which includes hiking, yard work, and even house work!
For specifics based on your height, weight, activity level and even the temperature, there are many calculators online to determine exactly how much water you should drink each day.
What are the best ways to increase your daily water intake?
When you consider all the benefits of water, it only makes sense that a quest for healthier living starts with drinking more water.
The best ways to increase your daily water intake include:
Increase how much water you drink each day incrementally. Don't jump from none to 2 liters. Your body won't know what to do with that! Instead, increase your daily water intake by 8 oz. every three days until you get to the best amount for you. If you aren't much of a water drinker, taking it slow will help!

Days 1-3: Add 8 oz. of water to the amount you currently drink. Spread it out — adding half a cup in the morning and half a cup before lunch.
Days 4-6: To your new total, add 8 oz. more. Spread it out — adding half a cup mid-morning and half a cup before dinner.
Days 7-9: Add 8 oz. more. An easy way to do this is to increase your morning cup of water and the amount you drink before lunch.
Days 10+: Keep adding a cup of water every three days until you are drinking what your body needs.

Drink water earlier in the day. Getting your water in is a lot easier if you start early in the day (like when you wake up) and don't guzzle it all before bed (so you don't need bathroom breaks).
Track your water intake. Honestly, it's really hard to keep up with how much water to drink if you don't track it somehow. You can use a fitness tracker or fitness app if you have one. Or you can go "old school" with our handy chart!
Use a marked water bottle to keep track! I love this "motivational" water bottle that includes marks to track water consumption by time of day AND encouraging messages!
Have I convinced you about the benefits of water? Are you ready to take the plunge toward healthier living? I sure hope so!
Save these tips to Pinterest
Save this post to your healthy living or fitness boards on Pinterest! That way, you can find and share these tips whenever you need them!